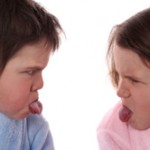 Eurovision 2013 – a glittering spectacle where Europeans come together to celebrate national pride – has drawn to a close. What better time to release a study that shows just how differently each European nation views itself – and each other?
Pew Research Centre has released a report entitled "The New Sick Man of Europe: the European Union". Its findings add weight to the argument that the current state of the European Union is unsustainable. It states, "the prolonged economic crisis has created centrifugal forces that are pulling European public opinion apart, separating the French from the Germans and the Germans from everyone else". Favourability for the European Union has fallen from a median of 60% in 2012 to 45% in 2013.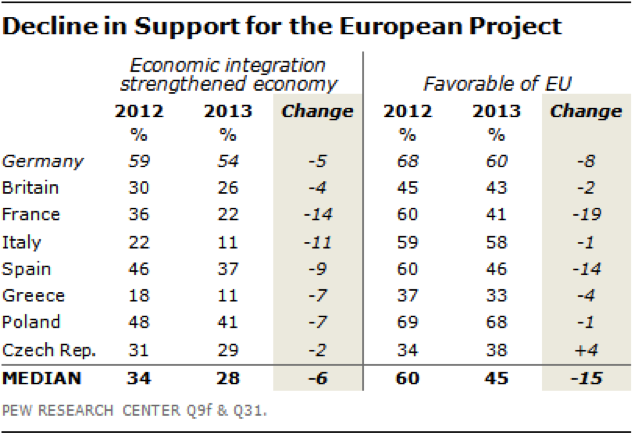 It's a compelling report that is well worth a read. For today's blog post, we wanted to share the section that we found most interesting – the opinions that Europeans hold of themselves and each other.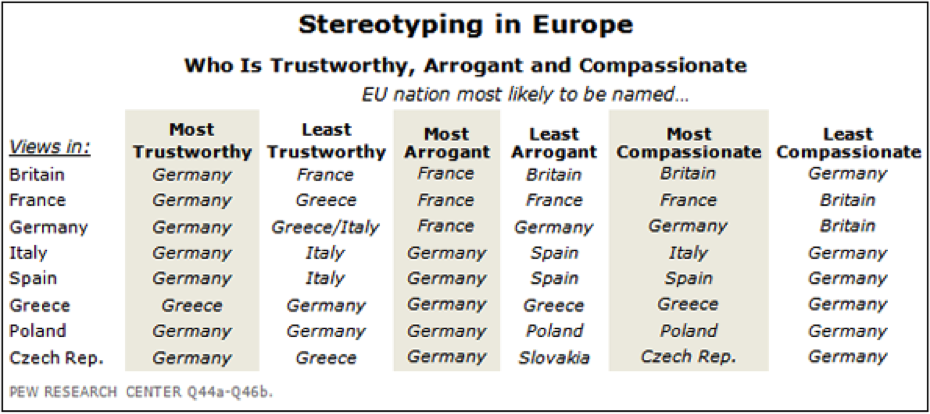 Everyone, except Greece, viewed Germany as the Most Trustworthy country (the Greeks saw themselves as being the Most Trustworthy). Italy acknowledged that they have a lot of trust to rebuild. Interestingly, Poland viewed Germany as both the Most Trustworthy and the Least Trustworthy nation. The French saw themselves as both the Most Arrogant and the Least Arrogant, while Italy, Spain, and Greece all saw Germany as the Least Compassionate nation.
And which country do you think was considered the Most Compassionate? Well, each and every country voted for itself.
The Eurovision Song Contest has been running since 1956. With opinions like those shown in this study do you think that the European Union have such longevity?