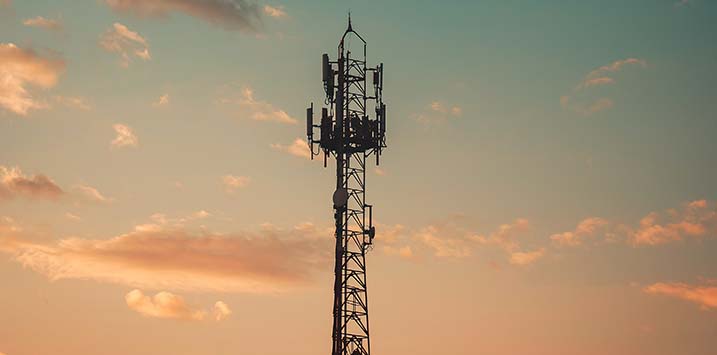 Why we continue to like Uniti Group
David Buckland has been writing about telecommunications services company Uniti Group (ASX: UWL) since March 2019 – just a month after the company listed on the ASX, when the share price was about 20 cents.  Today, Uniti shares are around $2.20. That's better than the proverbial 10-bagger in just two years. And we think there's more share price growth to come.
Following a recent call with the company, and keeping in mind Montgomery funds own Uniti, we think there could be some serious runway left to go, and at the risk of repeating some of what David has written, we make the following observations.
Uniti adheres to a sales-led capital expenditure (capex) program. This means that it doesn't invest capex on speculation. Instead, it installs internet fibre infrastructure when the client pays for it. Obviously, this has some implications for future analysis of the accounts but from a business owner's perspective, having your clients pay for growth capex is pretty handy because each site and the business becomes cash generative early.
Uniti offers a bunch of internet services and arguably the most important is the installation of fibre networks on, and connection to, broadacre development sites, Multi Dwelling Unit (MDU) developments and brownfields. Post its acquisition strategy, Uniti has effectively become the only competitor to the NBN. When it's done, the company claims it will have a fully funded fibre network covering a great swathe of Western Sydney.
One can imagine a vast network of connected homes could be an important strategic asset for another telco or a great cashflow generator for a pension fund looking for a reliable income stream. But of course, that's pure speculation at this stage.
Importantly, the company notes that the acquisition phase of its strategy is now complete, and Uniti will now focus on Integration, Growth and building Capability. In other words it is now pivoting to organic growth.
Table 1., which is from the company's HY21 presentation, shows where the company's confidence in its future revenue streams comes from.
Table 1. Strong Organic Growth in Contracted Business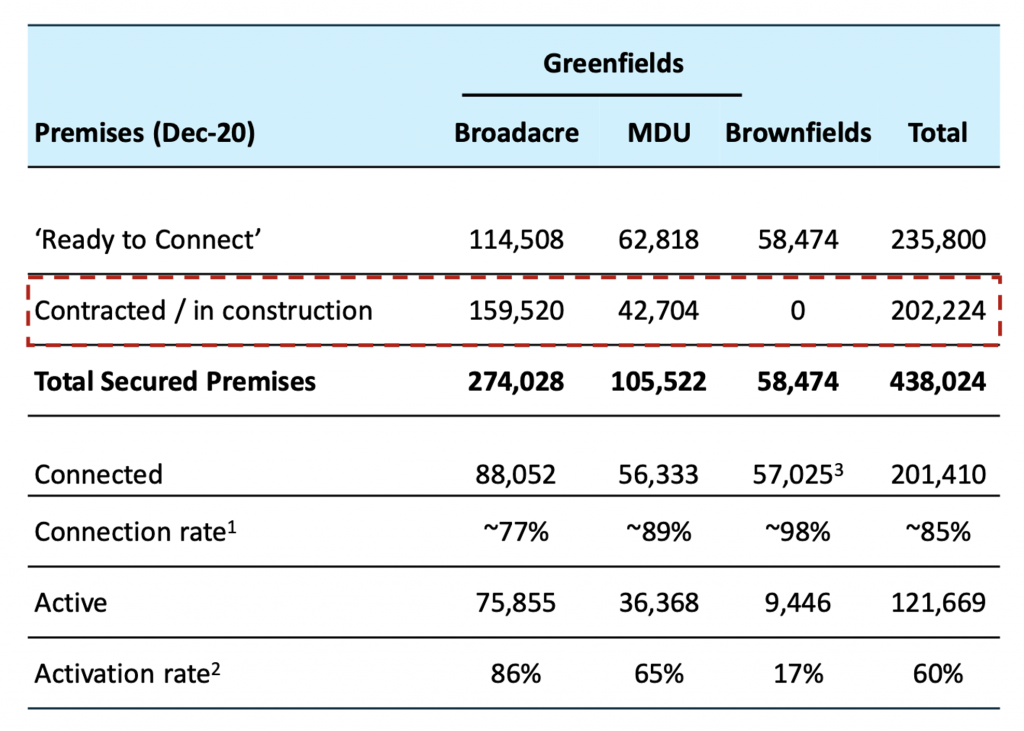 Over 200,000 premises are contracted to be connected, which will significantly increase revenues, especially if increasing internet usage leads consumers to purchase higher speed subscriptions.
At the moment the company's biggest MDU customer is Meriton. However, Stockland and Mirvac represent a third of the market, and Uniti's commercial flexibility and deployment speed may yet convince them to sign up, providing another source of growth.
Importantly, the relatively low level of penetration into existing 'brownfields' also extends the company's potential growth runway.
Obviously, the 'visibility' of earnings and cashflows is improving. The company knows how many buildings are connected and will be connected, and consequently the business is delivering sustained organic growth in annuity revenue. Only 10.5 per cent of second half FY21 revenue will be of the 'one-off' variety.
We estimate the company could see active services on its owned fibre infrastructure double in less than five years just from the existing contracted order book.
Revenues could double in five years, and at a 70 per cent EBITDA margin. In other words, 70 per cent of current revenue could be added to existing EBITDA in five years. Estimated FY21 EBITDA is about $116 million and the revenue run rate is about $200 million. So, in five years an additional $140 million of EBITDA could be added to the current $116 million, which would correspond to 17 per cent annualized EBITDA growth.
Our experience is share prices tend to follow earnings growth, and that's the company's "do nothing" outlook.
Of course, the company will be doing more. As we have already pointed out, Uniti could penetrate further into the property development sector and sign up customers including Mirvac and Stockland.
Uniti has also struck an agreement with Telstra for it to become an RSP (Retail Service Provider) on Uniti's Wholesale and Infrastructure (W&I) business. This is significant given the large untapped greenfield property opportunities it will enable Uniti to target with Australia's largest RSP as part of their FTTP (Fibre To The Premises) offering.
Growth can also come from pricing. For a 50Mb plan the wholesale price Uniti receives is about $45 per month. As data usage grows, customers are moving to higher speed tier plans. For example, a 100Mb plan generates $69 per month with no increase in costs.  So Uniti may also benefit from speed price inflation with no increase in costs.
Uniti now has over 35 RSPs available on its networks, the earnings are very high quality with approximately 90 per cent of the total revenue being recurring in nature, and the average revenue per user (ARPU) is $48 (but this excludes acquisitions).  Moreover, locked-in organic growth is underpinned by the existing contracted book, and active services on the company's owned fibre infrastructure is expected to double in less than five years from the existing contracted order book alone.
Here's a list of David's blogs on Uniti:
March 14, 2019: Are the M2 Telco Team Getting The Band Back Together
April 4, 2019: Uniti Trying to Unifi
May 10, 2019: Uniti is Now Unifying; Another Agreed Acquisition
August 26, 2019: Uniti Continues to Unify at an Electrifying Pace
December 9, 2019: Uniti Continues to Unify at an Electrifying Pace (Part 2)
August 4, 2020: Uniti Looks Set to Keep Growing
September 15, 2020: Uniti Ups the Anti for Opticomm
The Montgomery Small Companies Fund and The Montgomery Fund own shares in Uniti Wireless.  This article was prepared 11 March with the information we have today, and our view may change. It does not constitute formal advice or professional investment advice. If you wish to trade Uniti Wireless you should seek financial advice.