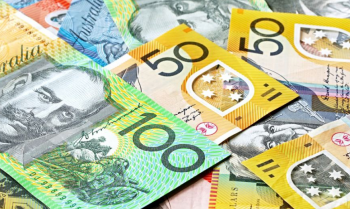 Will 2015 be the year Australia enters a recession?
This week the question, whether 2015 will be the year Australian enters a recession, was asked by one of our subscribers, here is what I had to say in response:
Sadly, successive Australian governments have done little to diversify our economy away from dependence on agriculture and resources.  These are commodity cycle industries that suffer peaks and troughs.  And so do their employees, and by extension, the income, consumption and confidence of the country.
Governments have known for decades that car manufacturing, for example, was flogging a dead horse.  But what plan or structure was put in place to grow alternative industries that could one day employ the thousands that would lose their businesses, their jobs and their livelihoods?  A failure of foresight, of ability and of planning by every government in Australia to date has lead to this moment where we stand, today, on the cusp of a recession. We already have a nominal income recession and China's growth has dropped off a cliff.  Imports in China from Australia, plunged 35 per cent in January and this will impact all of us.  There would have to be a very significant turnaround to stop our March quarterly accounts and terms of trade from revealing a significant deterioration.
If we want to avoid a recession – it's a case of too little, too late.  I cannot tell you whether we will have a recession this year or not, but it doesn't matter.  The economy is in trouble.  Unemployment is rising, confidence is falling and business is suffering from this and increasing competition from overseas.
Many on the ABC's Q&A program are putting their faith in Malcolm Turnbull.  Watching Mr Turnbull last night on Q&A explaining that Australia has to be "More productive, smarter and innovative", made me wonder why his party has cut so much funding to R&D and why we don't have a tax regime that incentivises entrepreneurs like Singapore.  Then he said "we have to be more cost effective at every level", while later explaining that government is "a third of the economy".  Note, he didn't say that was cost ineffective.
Further, a three year term is simply not enough time for any government to get the job done.  If the states changed to a four year term, our federal government should go for at least four years and perhaps five as in the UK.
Low interest rates are here to stay for a little while and for the time being that will be supportive for assets prices.  Eventually however the price of those assets (stocks and property) will be pushed way too high (we think a strong bull market is likely for some part of this year) as people panic buy amid a fear of missing out and while their wealth is eroded from low rates on cash.  After that, a large number of investors will, sadly, suffer financially again – from buying too late and paying too much.  There is a way to avoid it:  You must be invested in high quality businesses with bright prospects and buy them when they are cheap. We can think of only a handful of stocks that meet this criteria currently and have invested in them through The Montgomery Fund and The Montgomery [Private] Fund.  When we cannot find such opportunities, the only safe alternative is cash (even though rates are low) and we are 20-30 per cent invested in cash at the moment.
If you are invested in a high performing fund but one that is fully invested, and in stocks like REA GROUP (P/E Ratio 44 times), Dominoes Pizza (68 times), or many of the expensive stocks below, be sure to speak to your advisor about perhaps switching at least some of your retirement nest egg to a fund that can and does have have a large cash weighting.
At Montgomery, the cash won't make your investment 100 per cent immune to a declining market but it will allow additional purchases at cheaper prices, which offers the opportunity to significantly reduce the time to recovery.
Table 1.  Expensive stocks?  You be the judge…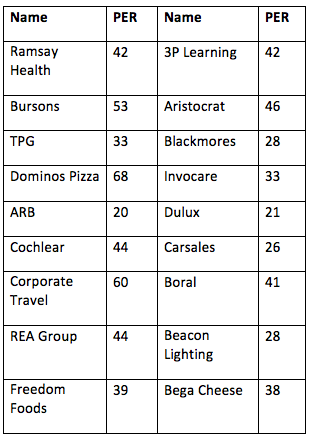 Roger Montgomery is the founder and Chief Investment Officer of Montgomery Investment Management. To invest with Montgomery, find out more.