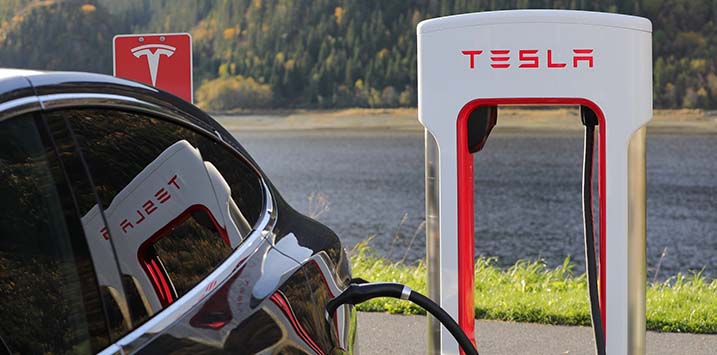 Why it will be tough to pick winners in the great EV race
If you're wondering about the best way to profit from the electric vehicle revolution, you're not alone. To date, Tesla shareholders have enjoyed the fruits of the company's first mover advantage. But, now, other brands, like Volkswagen, are revving up their strategies, as the race for EV market domination hots up.
Volkwagen's two-hour PowerDay presentation on March 15 – perhaps a replication Tesla's Battery Day in 2020 – made it clear that legacy auto manufacturers will not be leaving the electric vehicle (EV) market alone to Tesla. Simultaneously, Volkswagen's commitment to a €25 billion electrification program that includes vehicles, a US$14 billion cell order to its Northvolt partner, a global charging station network, and battery recycling, left the world without doubt that EVs are on the way to dominating our roads. Whether lithium battery technology permanently dominates is a question for another time.
We noted in September last year, "California has announced that all new passenger cars [and light-duty trucks] sold after 2035 must produce zero emissions. The United States is the largest light vehicle market in the world and California is the biggest car sales state in the US…"
Legislation always has the power to change a landscape and, in this case, it forces manufacturers to begin manufacturing EVs. Of course, retooling for EVs in one market and maintaining ICEs (internal combustion engines) elsewhere is suboptimal, especially if other jurisdictions are also banning ICEs (Figure 1.)
 Figure 1, Governments with set targets for phasing out ICEs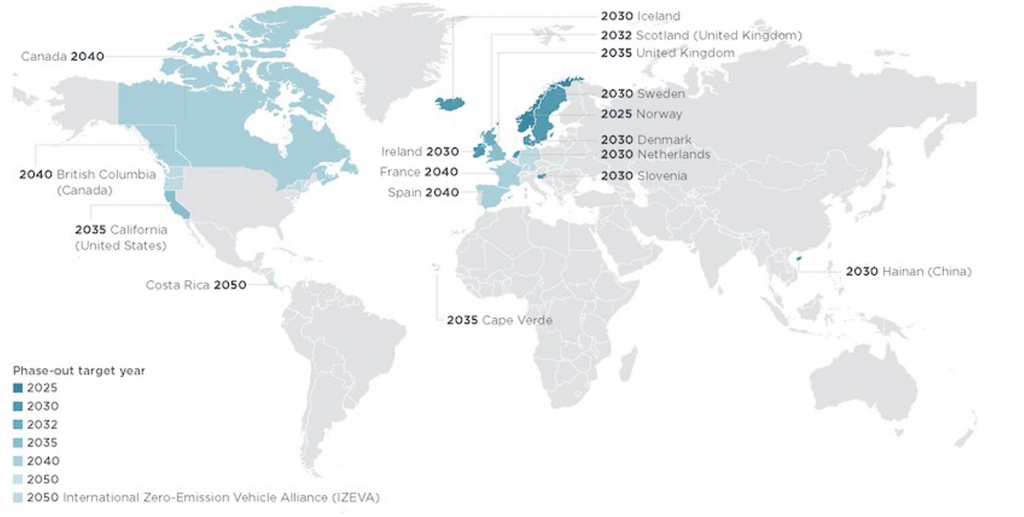 During the PowerDay presentation Volkswagen, which sells passenger cars under the Audi, Bentley, Bugatti, Lamborghini, Porsche, SEAT, Škoda and Volkswagen marques, as well as motorbikes under the Ducati brand, as well as trucks under the MAN and Scania brands, announced the following major developments:
Adding a further four battery cell "gigafactories" by 2030, which takes its European total to six, and rendering Volkswagen Group the world's second largest cell manufacturer (China's Contemporary Amperex Technology Limited (CATL) is the largest).
Twenty-seven EVs on sale by the end of CY22, clearly trouncing Tesla's range.
A new technique for the production of a unified battery design to reduce battery production costs, for 80 per cent of its models by 2030, by more than half.
As an aside, VW's goal is to drive down the cost of battery production below $100 per kWh, which most experts believe will make EVs roughly the same price as ICE vehicles.
Volkswagen is aiming to have 18,000 public fast-charging points in operation in Europe by 2025, a fivefold increase over the current number and in partnership with BP, and
17,000 public fast-charging stations in China, and more than 800 stations in the US through its Electrify America subsidiary by the end of 2021.
Commencing in 2022, some vehicles will be built on the MEB electric vehicle platform supporting two-way, charging. Green electricity from the solar energy grid can be stored in the vehicle and fed back into the home network if needed. This might render each owner a utility company.
VW's plans confirm that EV's will transform mobility. Obviously that means there are investment opportunities and risks.
Historically, world-changing technology has not conferred massive wealth on passive investors. Television, airlines and the horseless carriage all changed the course of history but, because it was so hard to pick the winners, more often than not it was consumers who benefitted rather than investors.
Today, Tesla trades on a market capitalisation of more than US$1.2 million per vehicle sold.  That compares to just US$7,000 per vehicle sold for VW prior to its PowerDay presentation.
One investment opportunity that seems to make sense might be to buy VW and short Tesla.
But while the idea of EVs dominating the roads seems clear, the investment opportunities and risks are wide and varied.
Batteries
A steep EV adoption rate puts enormous pressure on battery supply and the upstream elements used in their manufacture. Tesla currently appears to have a competitive advantage over the incumbents because it has already established supplier relationships it can build on and its per vehicle construction cost is lower. Further, its new battery design for the latest Model Y is said to be difficult to replicate by the incumbents. But as discussed previously, VW is committed to catching up if not overtaking. For investors, however, the massive investment by each OEM (Original Equipment Manufacturer) will be a drag on cash generation.
Software
In the long term it will be innovative software that could become the competitive battleground and again Tesla is said to be the leader. Obviously, disrupters can be disrupted by smaller, less restricted and more innovative tech start-ups.  On the other hand, scale and fleet size are huge advantages when it comes to marginal costs and operating leverage.  The software arena nevertheless gives investors another avenue for uncertainty and risk, as well as opportunity.
The Big Issue?
According to some analysts, ICE car sales are expected to fall by as much as 20 per cent globally within five years and by half by 2030. And while incumbent car makers are accelerating their EV strategies, as VW has demonstrated, the investment and cost required to maintain legacy ICE car sales, while EVs sales are building, may not fall fast enough to offset the declining revenues and pay for the investment in EVs.
We haven't discussed in this note the impact of the EV race on upstream raw material suppliers, such as chemical makers and commodity producers, nor the impact on battery makers and the semiconductor industries. And of course, even if you get the theme and the winning sector or player right you could pay too much and experience poor returns.
It should be already clear that while consumers and the environment might win from the EV race, finding the clear winning investment will be much harder, even if VW's share price has shot up since its PowerDay presentation.