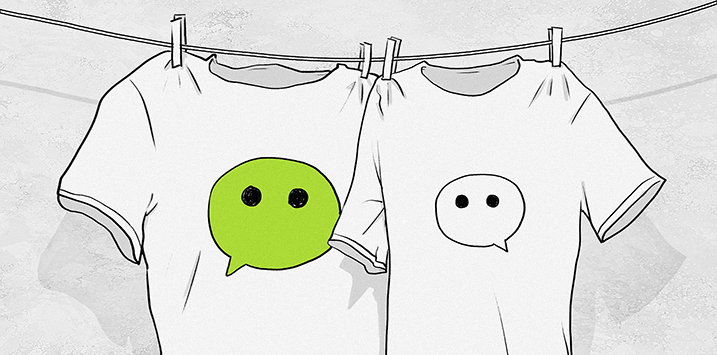 Tencent – a long runway of growth
With the sell-off of US ten-year Government Bonds from a record low 0.51 per cent on 4 August 2020 to 1.75 per cent on 18 March 2021, the share prices of selected "long duration" companies have spent recent weeks marking time, at best.
One such company, is Tencent (700: HK) which has a current market capitalisation of US$770 billion.
Having just released its results for the December 2020 Quarter, Tencent continues to enjoy very strong growth. On the December 2019 Quarter, Revenue grew by 26 per cent to US$20 billion (RMB133.7 billion) and Net Profit (Non-GAAP) grew by 30 per cent to US$5.0 billion (RMB33.2 billion).
To remind readers, Tencent is a platform of platforms business model with six cogs.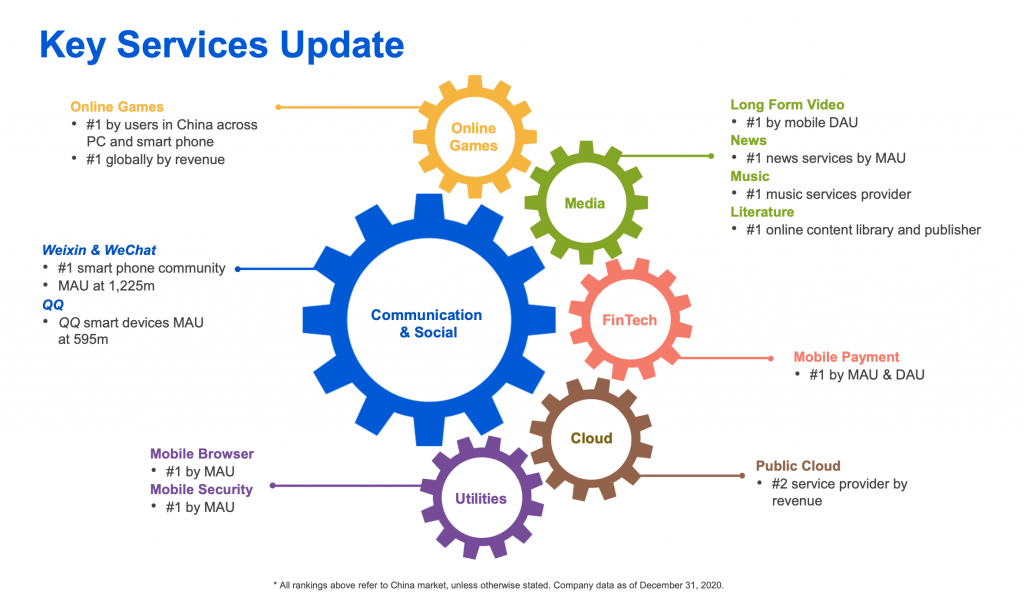 The foundation of the business model starts with Communication and Social which serves 1.23 billion users on Weixin and WeChat, with 120 million posts on WeChat Moments, 360 million readership of Official Accounts and 400 million people accessing mini programs, daily.
Online Games is the second cog, where Tencent is the number one user in China across PCs and smart phones and enjoyed 36 per cent growth in the December 2020 Quarter. International revenue accounted for 21 per cent, making Tencent the number one player in games globally.
Media is the third cog, and this includes Long Form Video, News, Music and Literature. Tencent is number one in China in each of these categories.
Fintech serves as the fourth cog and is focused on mobile payments, where Tencent is number one in China.
Cloud is the fifth cog, and Tencent is equal number two in China with 17 per cent market share, well behind Alibaba with 40 per cent market share. Cloud revenues grew at 45 per cent in the December 2020 Quarter, nearly double the pace of the overall business.
Utilities is the sixth cog and includes Mobile Browser and Mobile Security, Education and Health, and Tencent has leading market share in these categories. Health, for example, is a one-stop shop for on-line healthcare services (with 400 million total active users), such as appointments for testing and vaccination, medical insurance, as well as mobile payments to 10,000 hospitals and 200,000 pharmacies across 200 cities.
Importantly, Software as a Service recorded break-out growth in 2020 from WeCom, Tencent Meeting and Tencent Docs and these revenues are likely to accelerate. And Tencent believes it has strategic synergies with 700 third-party businesses, including Spotify, Universal Music Group, Snap, Epic Games as well as the Business to Consumer online retailer JD.com.
On 20 April 2021 we are hosting a live webinar with Damon Ficklin and Jeff Mueller from the Polen Global Growth team joining us live from Boca Raton, Florida, to introduce Polen and their special style of investing. You can register for the webinar here.
The Polen Capital Global Growth Fund owns shares in Tencent.  This article was prepared 29 March with the information we have today, and our view may change. It does not constitute formal advice or professional investment advice. If you wish to trade Tencent you should seek financial advice.