Part III: The avalanche is over – where should you be digging for A1s?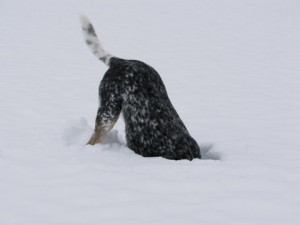 More than 900 companies reported their results over the past 3 weeks and having reviewed the bulk of them, some still remain. I should have completed digging through the reporting season avalanche within the next week or two. You will have to bear with me for a little while longer.
Rest assured that the companies that are amazing and who deserve a place in the 'investment universe' have been prioritised and covered first. While some of the businesses left to cover may make it in, overall I expect that I have broken the back of reporting season and already uncovered in the main those worth focusing on.
So since my last update you may be wondering what has transpired.
Firstly, Information Technology and Mining/Oil & Gas Services sectors have continued to stand out, with a number of additional companies receiving high MQRs ("Montgomery Quality Ratings"). To this we can add businesses that I generally classify as 'financial services', for example funds management.
Secondly, there are a number of new entrants into my A1 list this week – 19 in total. This is in addition to the 11 uncovered in my previous posts – Part I and Part II. My A1's now total 30.
To get to the magic number of 19 for this week there are 15 outright new inclusions, four that continued to hold the rating from last year and eight businesses that experienced a MQR decline. That's a net increase of 11 businesses with MQRs of A1.
Of the eight businesses that received lower MQRs, all due to specific business issues, Servcorp (SRV) Limited saw the largest decline, followed closely by Worley Parsons (WOR) and Southern Cross Electrical (SXE).
Worley Parsons experienced a number of project delays and deferrals. In particular, services in the Canadian oil sands and minerals & metals sectors, coupled with a material downturn in the United States power markets appear to be the main issues. Also, with a large segment of the business's operations being conducted in foreign currencies, the continued strength of the Australian Dollar impacted the translation of profits to the tune of $41 million. All these factors had a significant impact on profitability and performance. While Worley remains a very high quality company, the business's performance slipped.
Southern Cross Electrical was also impacted by delays and project deferrals. In this case the uncertainty around the proposed Resources Super Profit Tax (RSPT) and operational issues following the resignation of the Managing Director appears to have impacted on the frequency of tendering activity and subsequently, the awarding of new projects. All of this – because of the operating leverage inherent in the business – reduced SXE's margins and profitability.
Servcorp experienced the largest performance decline, falling from 1 to 4 (5 is the lowest). This was mostly due to the $80 million capital raising in October last year, in order to aggressively expand the business. Only time will tell if new management are able to get the business back to its former A1 status.  New, wiz-bang ads alone won't do it, although they may help.

Now don't go panicking about these companies or their downgraded status. It's not as though they are C5s!  A2 and A3 can be regarded as investment grade (with a smaller allocation), although I would adopt a wait-and-see policy with an A4.
The second table reveals the 19 additional A1s.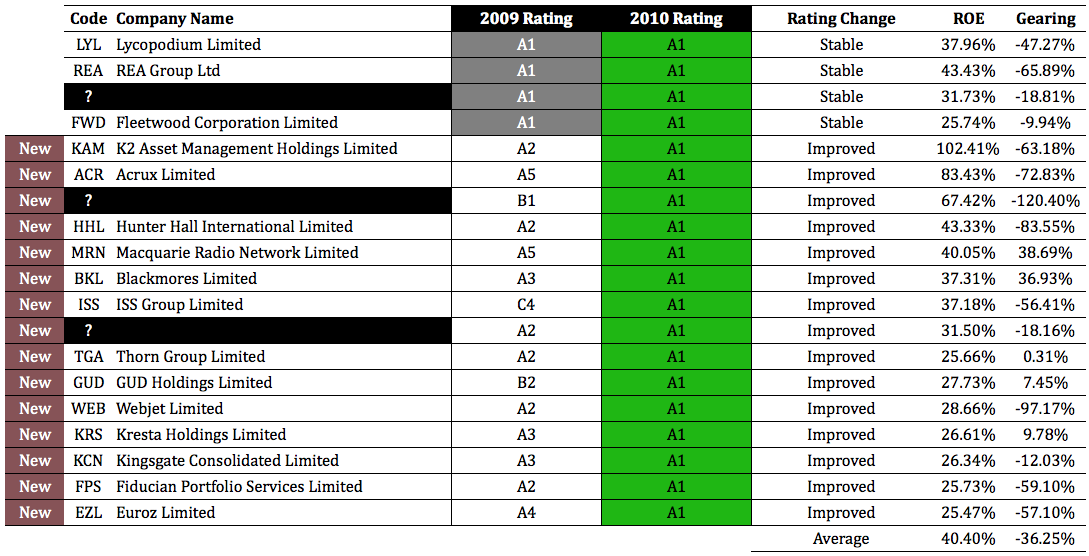 If you look to the bottom right of this table you can see the average ROE reported by my A1 list of businesses is an impressive 40.40% – significantly higher than the All Ords average ROE of 9.54%.
Also impressive is the average gearing level of my A1's at -36.25%. The negative number means that many of the businesses are debt free and have plenty of cash. If you read my McMillan Shakespeare post, you should now see why I avoid businesses that are geared; there is a ready supply of other quality players to look at that aren't laden with debt.
At this point you may have already noticed that I have blacked out 3 of the 19 A1's for this week. There is a good reason for that. I am currently researching a number of businesses to see if an investment opportunity is available at current prices.
I will reveal them at a later date along with whether or not I have decided to buy the shares. I have however left you with some important information – their respective ROE and net-debt to equity levels. Note they all have impressive returns on equity and net cash. If you dig hard enough, you may be able to find them before I reveal them.
Posted by Roger Montgomery, 7 September 2010.