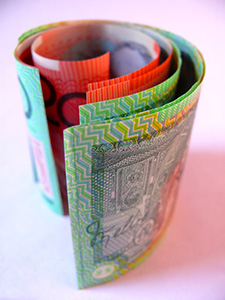 Conservative numbers from Credit Corp?
In the past we have regularly commented on the fact that Credit Corp Limited (ASX: CCP) management has generally been conservative when providing initial guidance on the year ahead. If you are interested in our past thoughts, our last four updates can be found by clicking on the links below:
• Credit Corp – Underpromise, Overdeliver
• Credit Corp (ASX:CCP) Half-Year Result
• A Look At Credit Corp Group Limited's Prospects
• They've Done It Again!
Today, we again have the pleasure of updating a table as we have become accustomed to doing over the years, and this time, it's inclusive of CCP's 2013 full year result (in red).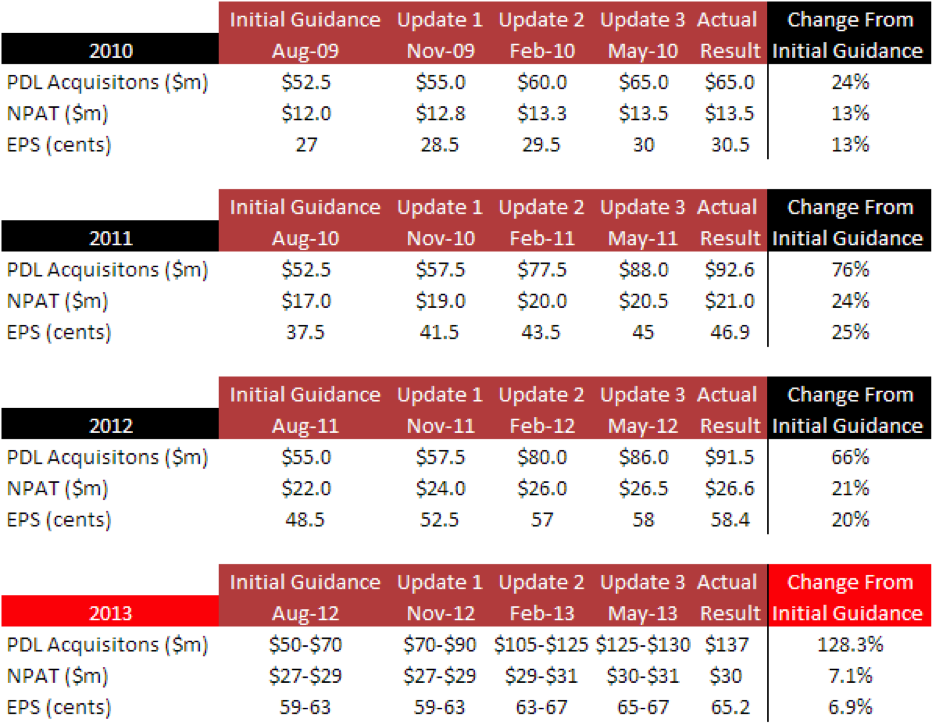 Despite initial guidance being given in the midst of tough business conditions, ample competition and aggressive pricing – conditions which could easily make it difficult for companies to secure strong purchasing pipelines for the upcoming year – the updates made throughout the financial year show stronger results.
You'll notice that 2013 proved to be another year of initial conservatism – as we anticipated. Indeed, the level of PDLs (Purchased Debt Ledgers) acquired in 2013 was a record in the company's history. Here's what we said about it in January.
"The strong levels of purchasing during 2011 and 2012, along with additional purchased debt ledgers (PDL's) this financial year of between $80m-$90m (admittedly versus guidance of $50m-$70m), will continue to contribute to earnings growth in 2013 and produce profits in excess of the 61 cents earnings per share – or a net profit of $28m guided.
… coupled with 71 per cent of customer accounts already on recurring revenue payment plans and our own modeling, on our estimates they could produce 65 cents in earnings per share, or a net profit after tax of $30m without much additional effort."
At the time we made this comment we were well ahead of consensus numbers and while we don't always get it right, CCP reported EPS and NPAT of 65.2c and $29.9m respectively.
Following the release of their 2013 result, we met with management (the CEO, CFO and Chairman) on two occasions and the story this year is similar to those that we have heard in the past. It's tough out there, it's impossible to predict how we will travel, but we are expecting growth, and for 2014, we provide the following guidance:

Are they again being conservative?
We have done the work and will provide our updated estimate for earnings in January 2014, just as we did this year.
In the interim, do you think the business's prospects remain bright? Will the growth in other products such as Money Start and US operations produce a meaningful additional contribution to earnings this year and beyond?
Montgomery Investment Management owns shares in CCP.
This post was contributed by a representative of Montgomery Investment Management Pty Limited (AFSL No. 354564). The principal purpose of this post is to provide factual information and not provide financial product advice. Additionally, the information provided is not intended to provide any recommendation or opinion about any financial product. Any commentary and statements of opinion however may contain general advice only that is prepared without taking into account your personal objectives, financial circumstances or needs. Because of this, before acting on any of the information provided, you should always consider its appropriateness in light of your personal objectives, financial circumstances and needs and should consider seeking independent advice from a financial advisor if necessary before making any decisions. This post specifically excludes personal advice.
INVEST WITH MONTGOMERY