Are we in bubble territory?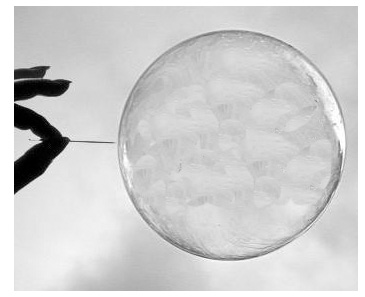 Less than an hour ago, Microsoft Corp. agreed to buy the Internet telephone company Skype SA for $8.5 billion. The company was started by Niklas Zennstrom (who remained CEO until September 2007) and Janus Friis (one of Time Magazine's 100 Most Influential People 2006) in 2002 and they sold it to eBay in 2005 for $3.1 billion.
eBay bought Skype in 2005 for $3.1 billion and sold 70% to private equity for $2 billion in late 2009. Up until yesterday, it was owned by private equity, the Canadian Pension Plan Investment Board and eBay. Now Microsoft is buying the company for three times what private equity paid —an increase in value of more than $5.5 billion in about 18 months. Skype's original founders also ended up in the syndicate through their company Joltid.
It is the biggest deal in Microsoft's history. Some of that 36-year history includes a friendship between former CEO Bill Gates and Warren Buffett. One wonders if Warren was consulted because the initial metrics are staggering. Some may argue the high price is because Microsoft was competing against an imminent IPO. With more than $50 billion in cash (much held offshore for tax purposes), Microsoft merely needs to beat the aggregate cash return, which in the US is somewhere just north of zero.
Skype's 'customers' made 207 billion minutes of voice and video calls last year – up 150% on 18 months ago. Most of those calls however are free. Less than 9 million customers per month, or a little more than five percent, paid Skype anything.
The company did produce revenue of $860 million last year, but Skype lost $7 million. $8.5 billion is quite staggering. I think Skype is great and I know many who use it to avoid paying anyone for phone and video calls.
You may recall Microsoft has previously bid $47.5 billion for Yahoo Inc. Yahoo rejected Microsoft's advances and Microsft dodged a bullet; Yahoo is now available at half the price.
Perhaps we are not in bubble territory? Perhaps it all works out? Perhaps its just a repeat of Foster's purchase of Southcorp – on a much grander scale? Or perhaps Microsoft will start charging everyone for a call? A charge of 1 cent per minute – and no loss of customers – would be worth $2.07 billion in revenue… What percentage of Skype's free riders do you think would submit credit cards etc. to subscribe and be willing to be charged?
Posted by Roger Montgomery, Value.able author and fund manager, 11 May 2011.