Why we think Alliance Aviation has strong earnings growth potential
In this week's video insight I joined Montgomery's head of distribution Scott Phillips to discuss a current holding in the Montgomery Small Companies Fund, Alliance Aviation Services (ASX:AQZ). Alliance Aviation Services falls into the category of Aviation, although it is not a typical airline business. I identify why it is a holding in the Montgomery Small Companies Fund and what we expect in terms of its future earnings.
Transcript:
Scott:
Welcome everyone to this video insight. My name is Scott Phillips, and with me today, I've got Gary Rollo, portfolio manager for Montgomery Small Companies Fund. Welcome Gary.
Gary:
Thanks, Scott. What you got for me today?
Scott:
I wanna talk Alliance Airline. Here's a business which you have followed for a long time. And there's plenty of movement at Station here. Can you just remind everyone what Alliance airlines does?
Gary:
Sure.
Alliance Aviation is an aviation infrastructure company.
What's interesting about them as they're willing to invest countercyclically. So when the aviation sector is in distress, they'll go out buy assets, aircraft, put them on the balance sheet, and then over time put those aircraft to work. And so, that's obviously happened as a result of COVID. And now we're looking at what the earnings power of was aircraft going to work you're gonna do for business?
Scott:
Yeah. Okay.
So during that COVID period, I know that they order a lot of planes when everyone else didn't want planes when trying to offload them. So have they been put to work now and what's the impact, on earnings been?
Gary:
Sure.
That's a great question. It's one of the reasons why we're very interested in the business. So for sure, the significance of the asset purchases, first of all, let's deal with that. They had thirty seven aircraft pre COVID.
But at the time we get all the aircraft they've bought at good prices as a result of COVID, they'll have a hundred. So a very significant uplifting capacity. And the other thing that's interesting is the aircraft type is different, and this aircraft type has the capability to operate at higher rates of utilization, and the more you fly, the more money you make.
Now they have had trouble getting all this to work on time because we all know about the disruption in the aviation sector. And if you're expanding capacity, we need to more pilots, and that's not been that easy. We're coming through that. That's all working away, and now we're starting to see those aviation assets going to work.
And hopefully the earnings coming through, and that's what we can see going forward from here.
Scott:
Gary, we have all known that there's always been a mantra that, you know, you don't wanna buy airline stocks, but in the case of Alliance airlines, it's not a typical airline business as such. So just explain to us, why this business is different to other airline type stocks.
Gary:
Sure.
So, my introduction says, quite carefully, Alliance is an aviation infrastructure company, not an airline. So they will buy assets and then lease them out to those that want to operate them or they will operate them themselves but flying miners from Capitol City to a mining site.
A bit different. They don't take fuel price risk. They don't take occupancy and aircraft risk, they don't take ticket price risk. So all of those factors are not at play here.
What is at play is them being cost competitive. And here we look for their competitive advantages. They have the lowest unit cost, capital cost of aircraft in the sector because they're willing to counter cyclically invest, and also they have the lowest operating cost in the sector and the greatest on time performance that combination makes them different and delivers the earnings power when all the assets go to work.
Scott:
Okay. So, looking at the share price performance of Alliance Airlines over the past few years. As you can see on the screen here now (Figure 1) , it looks like it's sort of a far tracked sideways over the past few years.
Figure 1: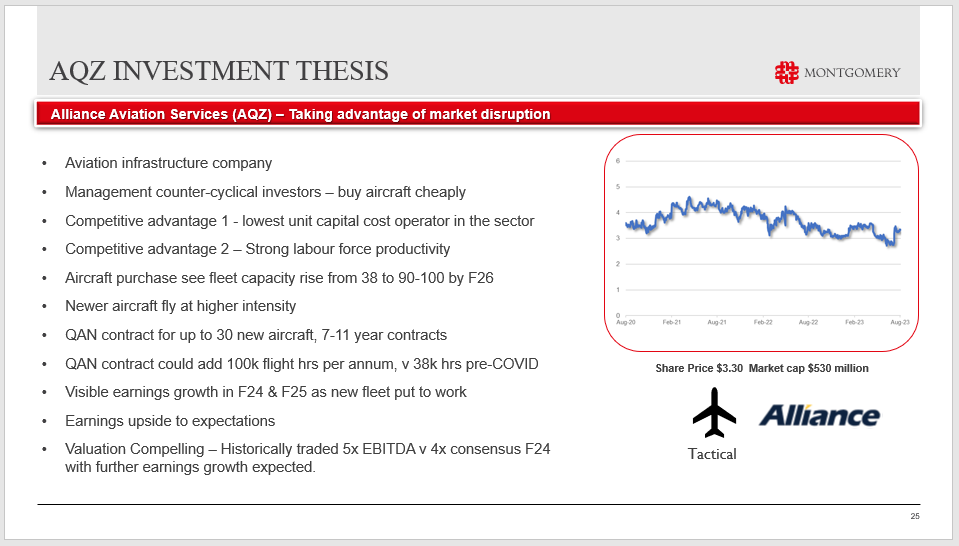 So what's going to change that and makes it such a a great investment from this period? Going forward.
Gary:
Great question.
And that's what we're all about, finding stocks that are gonna go up now. The key factor here is earnings and, this is an earnings story, the best kind to find. The reality is is that during COVID, we haven't seen the true earnings power of the business.
Qantas are now Alliance's largest customer. They are leasing these aircraft. They've got eighteen of the new aircraft in service, they'll eventually, we think, go to thirty. That dramatically lifts the flight hours that this business is operating under.
For instance, in pre COVID times, the business was doing around thirty five thousand flight hours. These thirty aircraft go into qantas if they fire fly at the full clip, will add a hundred thousand dollars. This is a business that's paid by the hour, so the earnings are gonna come through and that drives the share price.
Historically, this business has traded at around five times EBITDA. If I look into consensus numbers, which we think are too light, it's on about four times next year. So our view is undervalued under estimated earnings that should drive the share price and that's why we're invested.
Scott:
Terrific.
Now, Qantas own 19.8 per cent of Alliance Airlines. They obviously see something special in it. But they did try and bid for, the company, but the ACCC knocked them back. So is that off the table?
Gary:
Great question. ACCC situation remains still live The ball looks to be in Qantas' court if they want to appeal.
Alliance don't control that, so we'll have to see what happens. Qantas' option on that bid expires at some point in December so the clock is ticking. It could well be that that doesn't happen. If it does, then we'll get 4.75 versus a share price that's around 3.30 today, something like that. But the earnings part of this business has dramatically changed since Qantas made the bid. So, really, to be one that quarter split to go ahead, that's a key question for investors.
Scott:
Sure, and look, every investment's not without, some level of potential risk in business execution or the market changing. What are the key risks that, you know, are on your mind for this business going forward?
Gary:
Sure.
Well, for sure, the key risk is always the delivery of earnings. This business has a founder led management team, strong track record of operations. However, if the Qantas contracts don't come through the way that we're expecting, if the flight hours, the intensity of use isn't there for these new aircraft, that will impact the earnings outlook of the business. It looks to us, though, that that's not gonna be the case. Qantas' capacity is going to require Alliances contribution. So, we think that that all looks in good shape.
Scott:
So there you have it Alliance Airlines looking to take off. It's a core holding within the Montgomery Small Companies Fund. Will continue to, so keep you updated as we have on this stock over time. Continue to follow us on Facebook and Twitter. We look forward to talking with you again soon.
The Montgomery Small Companies Fund own shares in Alliance Aviation. This video was prepared 10 August 2023 with the information we have today, and our view may change. It does not constitute formal advice or professional investment advice. If you wish to trade Alliance Aviation Services you should seek financial advice.