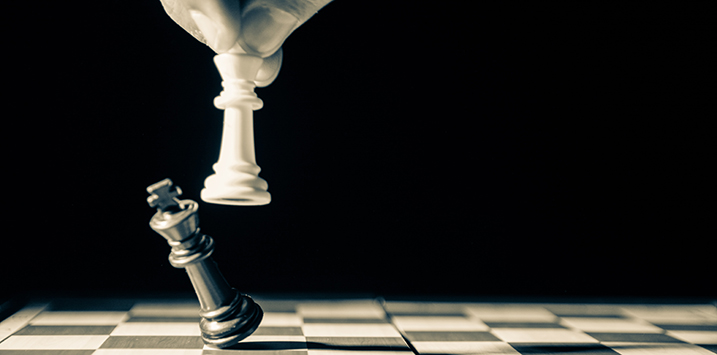 Why unfettered capitalism is failing us
One of the seemingly inevitable consequences of capitalism is the increasing concentration of market power in the hands of fewer and fewer large corporations. This issue was raised in a recent speech by ACCC Chair, Rod Sims, who noted the many ways in which increasing market power is adversely impacting Australian society. In his speech, Mr Sims also stated what I have long been advocating: governments need to do something about it.
I have been elucidating the limits of capitalism and its adverse consequences for many years. You can listen to an example of me chatting about Coles and Woolies: Statewide drive interview. And I wrote about the dangers of advancing capitalism in this article: As capitalism marches on
Left to its own devices, capitalism leads to a concentration of market power and a concentration of wealth. We are a generation now bearing witness to this concentration of wealth. As you'll see referenced below, the International Monetary Fund seems only to be just catching up.
A perfect moral compass cannot be assumed to dwell in the DNA of successful business folk and therefore appropriate regulation is required to ensure successful companies behave. In the absence of such regulation, business will behave in ways that expand and seek to entrench financial success. The maximisation of profits through seeking monopoly, crushing competition and suppliers ('vertical integration'), price gauging and rent-seeking are all predictable, as well being as the consequences of a regulatory regime unable to keep up with a deeper-pocketed and faster-moving private sector unconcerned with the need to be re-elected.
To rebalance the benefits for society, the answer is not the totalitarian control the Chinese Communist Party would have its citizens believe is required. The answer does however require more contemporaneous controls and especially a flexible, dynamic and pragmatic approach to the drafting of legislation itself. The knots in which legislators tie themselves in is but one of many reasons legislation lags. One area of legislation requiring an update in Australia surrounds Mergers and Acquisitions.
Last week, ACCC Chair Rod Sims opened the Law Council of Australia's Competition and Consumer Workshop with the Annual Address. Commencing a debate on proposals for changes to Australia's merger laws he also confirmed what I have long been advocating – capitalism needs better controls.
And lest I draft here a litany of non sequiturs, I hand the opening remarks over to Mr Sims followed by a link to the remainder of the speech for those who want to read on…
"Many markets are dominated by a small number of providers, including banking, supermarkets, mobile telecommunications, internet service provision, energy retailing, gas supply and transport, insurance, pathology services, domestic air travel, internet search and social networking services.
"While the available evidence is not definitive, it appears that market power is increasing in Australia. This trend has also been observed in many advanced economies, including by the International Monetary Fund.
"Without action, market power in Australia will become further entrenched; and will certainly not reduce.
"Market power is hurting Australians across many walks of life.
"Consumers are paying more than they should for a wide range of goods and services.
"Market power is squeezing the incomes of farmers. For example, chicken growers and dairy farmers have little option but to sell their produce to large buyers with substantial bargaining power. Farmers purchase many of their rural supplies from highly concentrated sellers.
"Small businesses generally are becoming increasingly reliant on a few buyers to access markets for their products and a few sellers for their key inputs. This can damage their innovation and their productivity.
"Many small businesses and farmers are largely reliant on Coles and Woolworths to access grocery shoppers. As recent history has shown us, this power imbalance places small businesses and farmers in particularly precarious positions with consequent damage to our economy.
"In digital markets, we are exchanging access to our personal data and attention for so-called 'free' services, but have little choice, knowledge or control over how our data is being used.
"Market power, or the lack of competition, is having broader effects on the Australian economy. It appears to be a contributor to the slowdown in overall productivity and wages growth.
"Market power can contribute to economic inequality by promoting the interests of the few with power over the interests of many. It also undermines trust in the operation of markets, and encourages wasteful rent-seeking activities to protect monopoly profits.
"There are also increasing concerns that market power reduces the efficacy of macroeconomic policy. The International Monetary Fund recently stated:
… although the overall macroeconomic implications have been modest so far, further increases in the market power of these already-powerful firms could weaken investment, deter innovation, reduce labor income shares, and make it more difficult for monetary policy to stabilize output.
"It is now recognised in the U.S. that more must be done to address increasing market power and market concentration. The President of the United States Joe Biden recently issued an executive order to undertake actions to promote competition in the American economy. The President noted:
      … over the last several decades, as industries have consolidated, competition has weakened in too many markets, denying Americans of the benefits of an open economy and widening racial, income and wealth inequality. Federal Government inaction has contributed to these problems, with workers, farmers, small businesses, and consumers paying the price.
"Among other reforms, the President has reinforced that antitrust laws, including merger laws, are a "first line of defense against monopolisation of the American economy".[8]
"This should be a wake-up call for Australia, given many of our markets are more concentrated than those in the U.S."
The full speech is available: Protecting and promoting competition in Australia