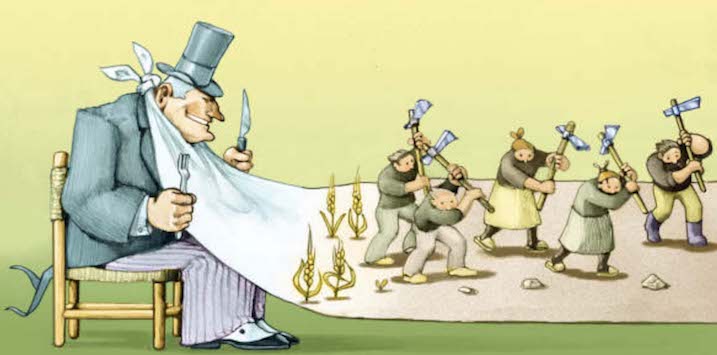 As Capitalism Marches On…
As we head towards the end of the year we often become more reflective. One of the conversations that recently has been cropping up with people I meet annually before Christmas is the various limitations of capitalism. And as I think about these conversations I have realised that time plays an important part in the power to respond in a way that has positive outcomes.
Very few, if anyone, I know subscribes to the 'greed is good' mantra offered by Michael Douglas' character Gordon Gekko in the movie Wall Street. The cost borne by society from promoting such self-interest would simply be too high to be anything other than morally repugnant. But even when capitalism's extremes aren't widely embraced, and even though capitalism has pulled many billions out of poverty, it fails on many levels.
Even regulated capitalism has failings thanks to inadequacies on the part of many stakeholders to foresee second and third order consequences, especially when those consequences might not be felt for generations.
It strikes me as more than curious that we have allowed a system and framework to develop that permits a private organization to extract an element, or to create one, and to keep all of the profits from selling it to the community with nary a cent returned to the environment from which it was extracted or to the environment for the damage caused by its waste or by-product.
Think about the manufacturer of an unrecyclable plastic box. How would society and regulators respond if the manufacturing plant had a conveyor belt which fed out into the ocean and as soon as each plastic box was pressed, stamped or molded, it was sent by conveyor belt directly into the ocean?
Society would be inconsolable.
And yet, each day, private companies are permitted to do precisely that. The only difference is that we stick a consumer, who votes with concerns only about their own lifetimes, in between the conveyor belt and the ocean.
Thanks to a myopia, capitalism permits the extraction of a private profit from a public resource.
Time frames have a lot to do with many of the weaknesses associated with capitalism.
If left to run unhindered through time, capitalism would also result in the concentration of wealth amongst the few as costs are minimized and profits maximized. We are already seeing this in action. Thankfully Europe has begun to recognize the dangers of too much power concentrated in the hands of too few. And while there are obvious dangers to a completely autonomous society (by that I mean a society where everyone can determine their own personal set of rights) it appears that the US and Australia are taking notice of the EU's decision to give some control back to individuals.
When it comes to investing, capitalism has many failures; it for example, provides the foundation upon which shareholders rights and the maximization of profits are elevated above many others. And thanks to the time it might take for the effect of short cuts and the impact of greed to be revealed, shareholders rights may continue to be elevated even as the rights of others suffer.
The cycles produced by capitalism, when combined with personal greed and jealousy, also ensures that resources are misallocated, employees underpaid, and conflicted individuals and corporations stay silent amid a threat to their incomes. Meanwhile short-termism impacts markets and investor behaviour, perpetuating booms and busts.
On this last point take, as an example, an investor who has invested with a hypothetical fund manager who held plenty of money in the safety of cash and delivered 12 per cent in year one, 12 per cent in year two and 12 per cent again in year three during a surging bull market. One hundred dollars invested with this manager would have grown to $140 by the end of the third year.
At the end of the second year however, the investor spots another manager who invests in fast growing but profitless tech and consumer finance companies that delivered 30 per cent in year one and 30 per cent in year two. So, what does this investor do? They switch to the 'performing' manager.
But sadly, in the third year, thanks to capitalism's repeating cycle of boom and bust, the manager delivered minus 30 per cent.
An investor who commenced with $100 invested with the 'performing' manager has seen their $100 in year one grow to $118 by the end of the third year. But the investor who switched boats at the wrong time in the history of capitalism, and not realizing that 30 per cent returns are both abnormal and unsustainable, has seen their $100 first grow to $125.44 with the first manager, but then fall in the third year to $87.80, after switching to the second manager.
Capitalism has many adverse consequences, such as damage to the environment and the concentration of wealth amongst a few, and these limitations can take many decades to be revealed. There are other limitations, such as the preponderance of cycles and the patterns of greed and jealousy, that are evident so frequently their patterns can be discerned. While it will take the concerted and coordinated effort of voters and regulators to change the former, you can immediately take control, or even advantage, of the latter.