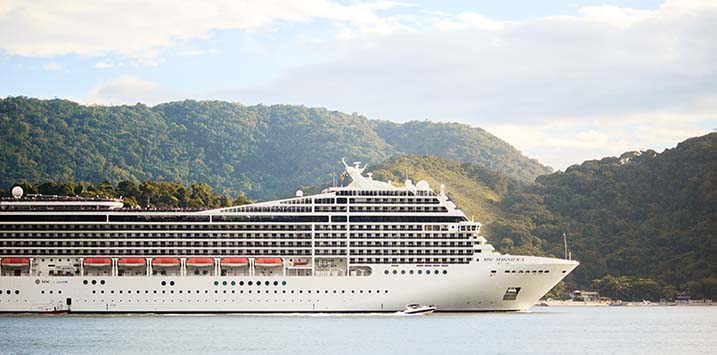 Why cruise lines could be worth buying again
When the COVID-19 crisis began, cruise lines were one of the first industries to be sold off.  But how times change as in the northern hemisphere passenger numbers and bookings are picking up again.  With the share prices of the listed cruise lines still in the doldrums, is it time for investors to get back on board?
Last week we reported on work done by UBS that mapped stock year-to-date performance against their sensitivity to positive vaccine news. The idea is that if you are going to vaccinate your portfolio for a reopening of the economy, you should aim for the best bang for buck.
The work UBS detailed, which is shown here again for convenience, revealed the sectors and industries that were the most beaten down since the start of the calendar year and which had the highest sensitivity to positive vaccine news flow.
Figure 1.  YTD sector and industry returns versus sensitivity to vaccine news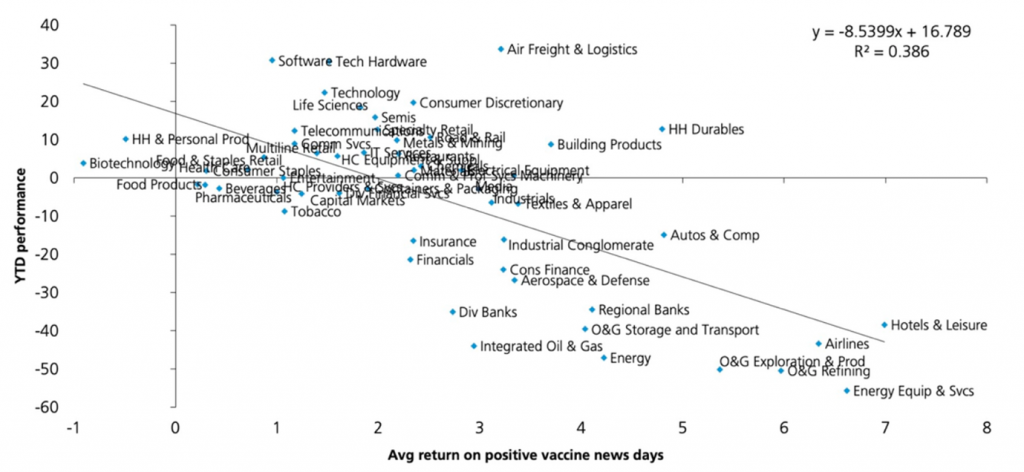 One of the sectors that produces high average returns on positive vaccine news days and has been beaten up since the beginning of the year (and may therefore offer some value) is the Hotels and Leisure sector.
Cruise lines fall into the Leisure sub-category and, prior to the pandemic, growth was accelerating. According to the Cruise Lines International Association (CLIA), the world's largest cruise industry trade organisation, cruise ship passengers grew from 17.8 million in 2009 to 30 million in 2019, an annual growth rate of 5.4 per cent.
Importantly, cruise industry revenues have grown faster than passenger growth, with approximately US$15.7 billion generated in 2010 and US$31.5 billion forecast for 2020 before the pandemic hit. Without the pandemic, compound annual growth of revenues would have averaged 7.2 per cent and the CLIA had forecast 32 million passengers to travel in 2020.
Micro-cruises are one of the fastest growing segments of the cruise industry. According to Forbes, at the beginning of 2020, there were more than 1,400 micro-cruises lasting three days or less. The fastest growing segment of the cruise industry is luxury expedition cruising, including trips to the Arctic and Antarctic.
At the beginning of calendar 2020 there were 278 ocean cruise line ships operating across 55 cruise companies with another 19 ships scheduled to debut in 2020. Passenger-carrying capacity was scheduled to increase by one-third between 2020 and 2025. In addition, there were over 500 river cruise ships. Listed global cruise companies include Carnival Corp (CCL), Royal Caribbean Cruises (RCL) and Norwegian Cruise Line (NCLH).
Figure 2.  Carnival Cruises share price 1 year to 16 October 2020
Figure 3. Royal Caribbean Cruises share rice 1 year to 16 October 2020

Figure 4. Norwegian Cruise Line share price 1 year to 16 October 2020
The emergence of green shoots
Activity however has been on hold since the coronavirus pandemic first set in, but many observers are now reporting the emergence of green shoots. Lockdowns, border controls and stay at home orders have the inevitable effect of creating pent-up demand for travelling.
It may surprise many investors in Australia to hear that limited capacity cruising has already commenced in parts of Europe and Asia.
In the US, which supplies approximately 50 per cent of global cruising passengers, members of the Cruise Lines International Association (CLIA) made the decision to extend voluntary suspension of operations in US waters through to October 31, while the US Center for Disease Control's 'No Sail' order also expires at the end of October.
In Europe, a safe and gradual return to ocean-cruising with limited itinerary sailing and reduced capacity is being supported by governments, the European Maritime Safety Agency and the European Centre for Disease Prevention. It has been reported that more than 100 cruises carrying 50,000-plus passengers have already sailed successfully in Europe since the summer.
A vaccine of course would be a significant catalyst for increasing optimism around the lifting of the US 'No Sail' order but optimism within the industry is already rising. Richard Sasso, the US Chairman of MSC Cruises noted "as an industry we are resilient and will come out on the other side of this smarter and stronger."
It is further being reported that 2021 bookings are accelerating.
What is the industry view?
Among investors of course, there is a stigma associated with cruising because of the 700 infections and 14 deaths on the British-registered Diamond Princess quarantined off the coast of Japan for an entire month. At the time, the ship accounted for over half the reported cases of COVID-19 outside of mainland China.
The industry and its supporters are now lobbying the velvet argument that while 37 million people around the world have contracted coronavirus and more than 1 million have died only 3,600 of those cases and 41 deaths stemmed from cruise ships and most of these occurred toward the beginning of the pandemic. With the benefit of appropriate and fast-advancing safety protocols the industry is expecting to be able to scale its return.
Modern cruising
Prior to the pandemic the industry was already working hard to create environmentally sustainable operations with the early adoption of new technologies and practices such as employing liquified natural gas (LNG) to cut particulate emissions by 95 to 100 per cent, nitrogen oxide emissions by 85 per cent  and greenhouse gas emissions by 20 per cent.
The use of Exhaust Gas Cleaning Systems (ECGS) Advanced Wastewater Treatment Systems and the connection to shore-side power, allowing engines to be shut down while in port, means green credentials will permit a wide variety of investors to buy back in once fears over COVID-19 subside.
Near term, the establishment by Norwegian Cruise Lines and Royal Caribbean of the Healthy Sail Panel headed by Dr. Scott Gottlieb — the former head of the FDA – has aided the development of an industry-wide plan with over 70 steps for a safe return to ocean cruising.
The global cruise industry has committed to COVID-19 testing of all passengers and crew before boarding and disembarkation on all ships with a capacity of 250 or more. Further, the debut this month of a new digital health passport called CommonPass will verify a traveller has met a destination's health requirements and generate a QR code that can be scanned by airlines, cruise ships and border officials.
Fast-advancing technology will facilitate a reopening of global activity even in the absence of a vaccine, while pent-up demand (82 per cent of passengers are repeat cruisers) for travel could see a surge in cruising activity that exceeds the expectations currently implied in share prices.
When the COVID-19 crisis began, cruise lines were one of the first industries to be sold off. In the northern hemisphere, passenger numbers and bookings are picking up again. Is it time for investors to get back on board?
Click To Tweet