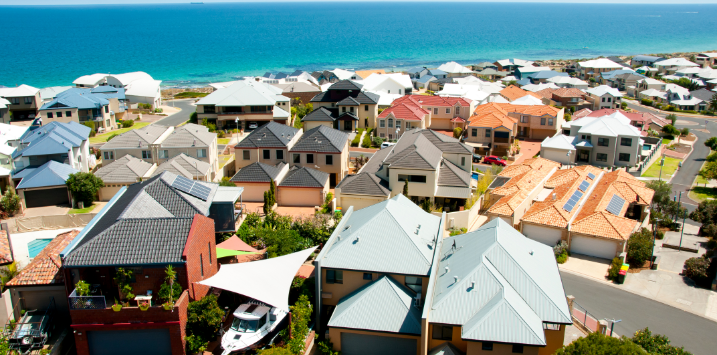 Why are property prices surging as rates are rising?
In the thriving metropolises of Australia, the real estate horizon is gleaming brighter than ever. House prices have surpassed previous highs, putting a final nail in the coffin of those pessimistic forecasters who predicted 25-30 per cent declines.
The latest figures show a surprising twist in Australia's property market, as the largest and costliest city shatters its previous real estate records. Across the nation, we're seeing a similar trend, with the PropTrack home price index indicating a national median home value increase of 0.36 per cent in October, achieving a new high.
Sydney, once the face of declining values due to higher interest rates, has made a dramatic comeback. Home prices in the city are at an all-time high, with the median dwelling value reaching $1.07 million, marking a steady 11-month rise and a commendable annual rise of about 7.5 per cent.
Other capitals like Brisbane, Perth, and Adelaide have also hit record values, defying earlier expectations. Even as interest rates have climbed, these cities have witnessed robust growth, thanks to a mix of factors, including renewed migration, a limited supply of stock and tight rental markets.
Though Melbourne's and Hobart's prices are yet to surpass their previous highs, they're on an upward trajectory, while Perth boasts the most vigorous annual price surge, and Adelaide impressive growth year-on-year. Brisbane shares the spotlight with Sydney, with home values at all-time highs.
A month ago, in a blog post entitled Don't Sell! House Prices Must Go Up, I wrote; "At the same time the population is surging (thanks to government policy), a downturn in housing construction has gripped the country. Australia is witnessing a steep decline in new home sales, and …the Housing Industry Association was recently reported to be predicting a slump in construction activity by 2024, intensifying existing housing shortages and making homeownership unattainable for many Australians."
One month in since that blog was written, and prices are fast reflecting those circumstances.
And while there's no shortage of real estate agents willing to predict what property prices will do next, you can put them all away. A year 11 business studies student can tell you property prices have to rise, or at least remain elevated if they have already risen. And that's because when demand rises (immigration) and supply falls (construction has slumped) prices can only go one way.
So, what's ahead for home prices? While the threat of inflation could prompt further rate rises, the ongoing housing shortage is likely to offset keeping property prices resilient.
In essence, the sustained rise in property values across most of Australia's cities prompts a reflection: were the property bears too quick to predict doom? Current trends suggest they might have underestimated the market's resilience.