Is Oroton an amazing A1 business?
Peter Switzer invites me every Thursday fortnight to join him on the Sky Business Channel. 4 June was like any other show. Except once Peter and I had finished discussing investing and stocks and the market, he invited me to stay on for his interview with OrotonGroup CEO Sally Macdonald.
For readers of my blog, you will know that Oroton is one of my A1 businesses. And I have often said that Sally Macdonald is a first-class manager.
Below are the highlights from that interview.
Each time a new video is uploaded to my YouTube channel I post a note at my Facebook page. On Facebook will also find my upcoming talks, editorial features, TV interviews, radio spots and the latest news about Value.able.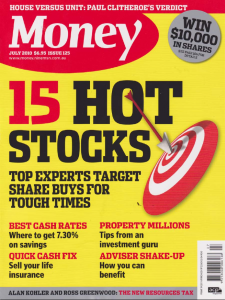 If you are yet to pick up the latest issue of Money magazine find it at the newsstand now, there are a bunch of terrific columns. Click here to read my monthly column. This month I write about 'Great Retail Stocks'.