What has probing the reporting season avalanche revealed?
With reporting season in full swing, I would like to share my insights into whose Quality Score has improved, and whose has deteriorated. Remember, none of this represents recommendations. It is intended to be educational only. You must seek and take personal professional advice before acting or transacting in any security.
To date, 232 companies have reported their annual results. I am sure you can understand why we feel snowed under. With almost 2,000 companies listed on the ASX, the avalanche still has a way to roll.
We have updated all of our models for each of the 164 companies that we are interested in. As you know, we rank all listed companies from A1 down to C5. The inputs for those rankings always come from the company themselves. I would hate to think how bipolar they would be if we allowed our emotions and personal preferences to infect those ratings (or be swayed by analyst forecasts)!
Rather than arbitrary and subjective assessments, we download some 50-70 Profit and Loss, Balance Sheet and Cash Flow data fields from each annual report to populate five templates. All of these templates employ industry specific metrics to calculate the Quality Scores. This allows us to rank every ASX-listed business from A1 – C5. Its our objective way to sort the wheat from the chaff.
For Value.able Graduates not familiar with our scoring system, company's that achieve an A1 Score are those we believe to be the best businesses, and the safest. C5s are the poorest performers and carry the highest risk of a possible catastrophic event.
A1 does not mean nothing bad will ever befall a company. A1 simply means to us that it has the lowest probability of something permanently catastrophic. Further, 'lowest probability' doesn't mean 'never'. A hundred-to-one horse can still win races, even though the probability is low. Similarly, an A1 business can experience a permanently fatal event. In aggregate however, we expect a portfolio of A1 businesses to outperform, over a long period of time, a portfolio of companies with lesser scores.
With that in mind, we are of course most interested in the A1s and – on a declining scale – A2, B1 and B2 businesses.
So, who has managed to retain their A1 status this reporting season? And which businesses have achieved the coveted A1 status? If you hold shares in any of the companies whose scores have declined (based of course on their reported results), please read on.
Of the companies that have reported so far, last year 20 of them were A1s, 28 were A2s, one was a B1 and 13 scored B2. That's an encouraging proportion, although we tend to discover each reporting season that the better quality businesses and the better performing businesses are generally keen to get their results out into the public domain early.
Its towards the end of every reporting season where the quality of the businesses really drops off. This is always something to watch out for – companies trying to hide amongst the many hundreds reporting at the end of the season. It's always a good idea to turn up to a big fancy dress party late, if you aren't in fancy dress.
This year we have seen the number of existing A1s fall to nine from 20, A2s from 28 to 24, B1s rise from one to two and B2s fall from 13 to six.
The first table shows all twenty 2009/2010 A1 companies that have reported to date. You'll see a number of very familiar names in here, including ARB Corp (ARP), Blackmores (BKL), Cochlear (COH), Carsales.com (CRZ), Fleetwood (FWD), Mineral Resources (MIN), Platinum Asset Management (PTM), REA Group (REA), DWS (DWS), Forge (FGE), K2 Asset Management (KAM), Macquarie Radio Network (MRN), Nick Scali (NCK), 1300 Smiles Limited (ONT), SMS Management & Technology (SMX), Webjet (WEB), JB Hi-Fi (JBH), Navitas Limited (NVT), Saunders International (SND) and GUD Limited (GUD). Nine have maintained their A1 rating this year.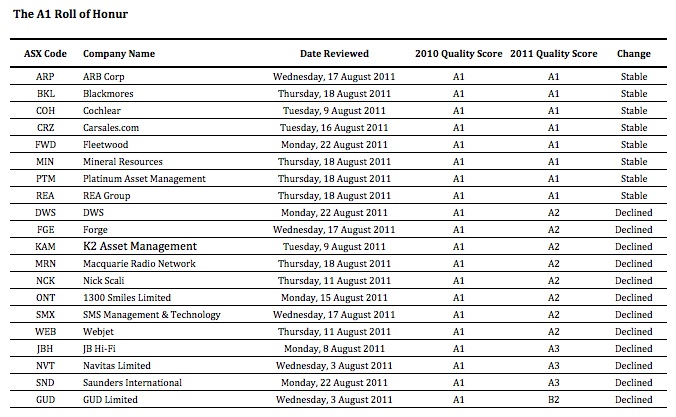 Now, before you go jumping up and down, a drop from A1 to A2 is like downgrading from Rolls Royce to Bently. When we talk about A2s, its not a drop from RR Phantom to a Ford Cortina, not that there's anything wrong with the old Cortina (if you are too young to know what I am talking about Google it!).
The only big rating decline is GUD Holdings, which made a large acquisition (Dexion) during the year. Indeed, a common theme amongst the higher quality and cashed up businesses this reporting season has been the deployment of that cash towards, for example, acquisition or buybacks (think JB Hi-Fi).
Moving onto the 2009/2010 A2 honour roll: Codan Limited (CDN), Advanced Share Registry Limited (ASW), Commonwealth Bank (CBA), Credit Corp (CCP), CSL Limited (CSL), Decmil (DCG), Domino's Pizza (DMP), NIB Holdings (NHF), OZ Minerals (OZL), Plan B Group (PLB), RCG Corporation (RCG), Sedgman Limited (SDM), Slater & Gordon (SGH), Super Retail Group (SUL), Wellcom Group (WLL), Argo Investments (ARG), AV Jennings (AVJ), Carindale Property Trust (CDP), Computershare (CPU), Euroz Limited (EZL), Oakton (OKN), Tamawood (TWD), Austal Limited (ASB), LBT Innovations (LBT), Academis Australasia Group (AKG), Chandler Mcleod Group (CMG), The Reject Shop (TRS) and Primary Health Care (PRY).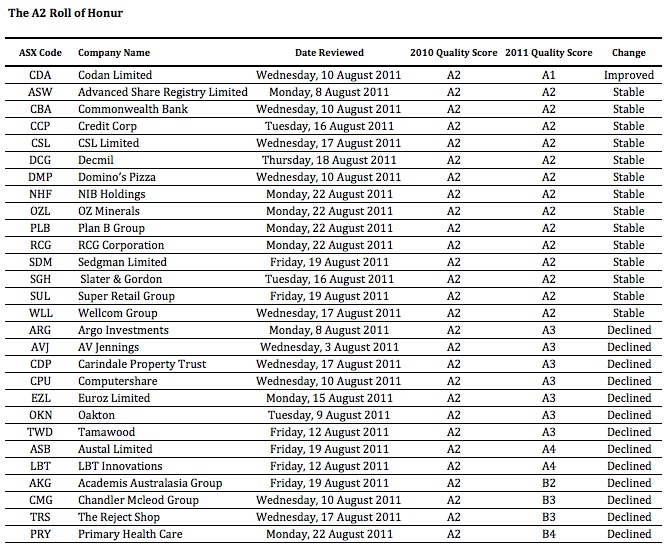 The businesses that make up this list showed slightly more stability. The biggest fall in quality this year was Primary Healthcare (PRY),which is still struggling to digest the large purchases it made a few years ago. The Reject Shop (TRS) also declined, to B3. TRS is still investment grade and we would lean towards believing this is a short-term decline, given the floods in QLD that caused the complete shutdown of their new distribution center and the massive disruptions subsequently caused. As the company said, you can't sell what you haven't got!
Finally, B1 and B2 companies: Leighton Holdings (LEI), Alesco Corp (ALS), Mount Gibson Iron (MGX), Amcom Telecommunications (AMM), Data#3 (DTL), Ansell Limited (ANN), Fortescue (FMG), Little World Beverages (LWB), Stockland (SGP), iiNet (IIN), MaxiTRANS Industries (MXI), Newcrest Mining (NCM), SAI Global (SAI), Gazal Corporation (GZL) and Salmat (SLM).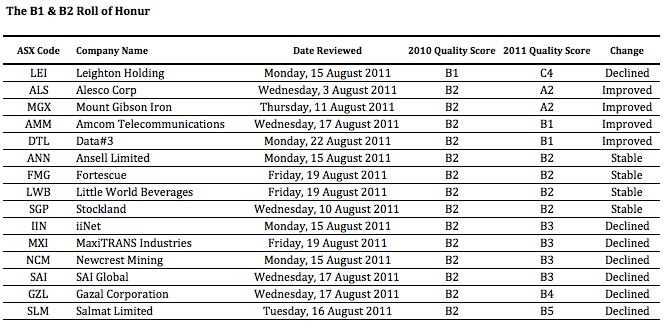 About half the companies in the B1/B2 list retained or improved their ratings from last year. Mind you, half also saw their rating decline!
The clear fall from grace is Leighton Holdings, whose problems have been well documented in the media and via company presentations.But once again, like The Reject Shop, this could be a temporary situation. If the forecast $650m profit comes through, I expect LEI's quality score will improve. What the dip will do, however, is remain a permanent reminder that Leighton is a cyclical business. Getting the quote right on a job is important, even more a massive enterprise like Leightons.
Are you surprised by any of the changes? We certainly were!
Sticking to quality is vitally important. That's what my team and I do here at Montgomery Inc, and its what our amazing next-generation A1 service is all about. Value.able Graduates – your invitation is pending.
If you are yet to join the Graduate Class, click here to order your copy of Value.able immediately. Once you have 1. read Value.able and 2. changed some part of the way you think about the stock market, my team and I will be delighted to officially welcome you as a Graduate of the Class of 2011 (and invite you to become a founding member of our soon-to-be-released next-generation A1 service).
Remember, you must do your own research and remember to seek and take personal professional advice.
We look forward to reading your insights and will provide another reporting season update soon.
Posted by Roger Montgomery and his A1 team, fund managers and creators of the next-generation A1 service for stock market investors, 24 August 2011.