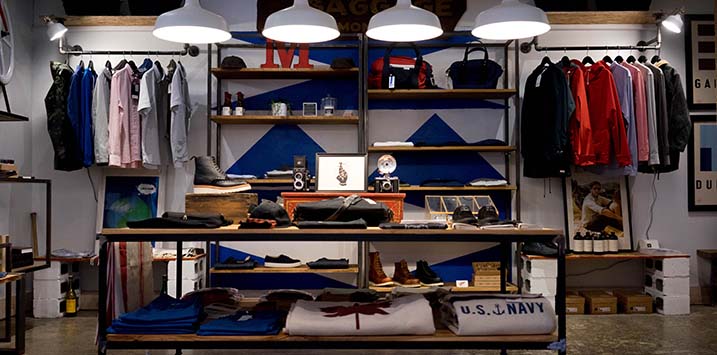 Universal Store continues to grow sales
Universal Store (ASX: UNI) is a youth-focused retailer of trend-led and casual fashion, shoes, accessories, lifestyle and 'gifting'. It only listed last November, but has managed to surprise market estimates to the upside three times since then with impressive and accelerating rates of organic growth. Clearly, it's a great story, and I like the firm's short to medium term prospects.
In a recent investor presentation, the company announced its 3Q21 sales growth numbers as well as making some comments about the 4Q21 outlook.
Total sales growth in 3Q21 was +39.6 per cent with like-for-like (LFL) sales growth of +37.3 per cent.
In store sales grew 27.5 per cent on a LFL basis in 3Q21 while online sales increased 148.2 per cent year-over-year (yoy).
This compares to total sales growth of +23.3 per cent in 1H21 and +23.5 per cent in the first 7 weeks of 3Q21, and LFL sales growth of +26.2 per cent in 1H21 and 28.2 per cent for the first 7 weeks of 3Q21.
This implies that like-for-like sales growth for the last 6 weeks of the quarter grew almost 50 per cent relative to the same time in 2020. While the last 2 weeks of the period would have benefited from cycling the initial impact of the growing COVID-19 issues in last March, it also represents roughly 25 per cent growth over the same period in 2019.
The table below from the prospectus shows the weekly sales in the physical stores last year. This shows the impact of the COVID lockdown on yoy growth relative to the comparable week in 2019.
Figure 1: Weekly In-Store Revenue During COVID-19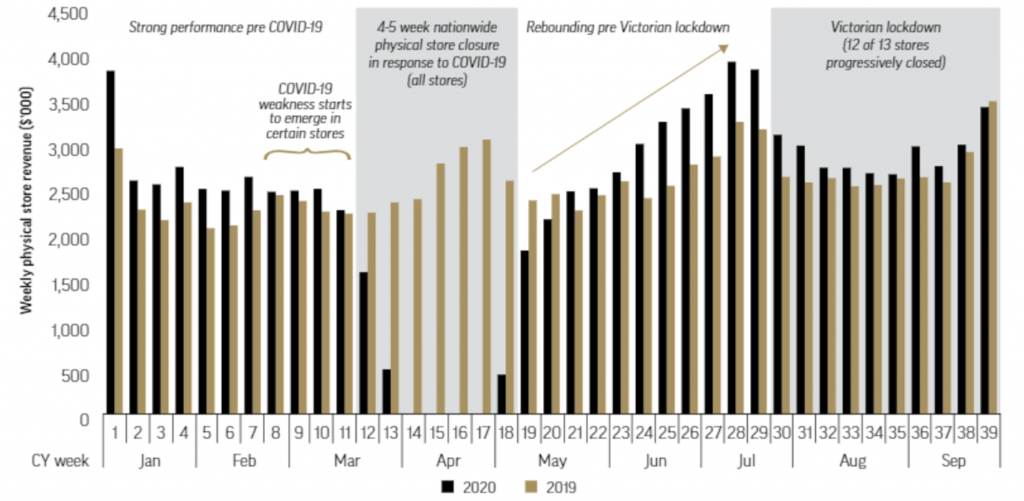 Source: Company
Looking at the implications for sales in the final quarter of FY21, there were zero sales in the first 4 week of 4Q20. Clearly year over year sales growth is set to accelerate further in fourth quarter. Sell side analyst sales forecasts for FY21 imply second half sales growth of 54 per cent. But adjusting for the store closures in April and May 2020, sales growth is only 23 per cent. This implies a very large slowdown in underlying sales growth to around 10 per cent in the fourth quarter relative to the 39.6 per cent growth generated in the third quarter.
Part of the reason for this is the more difficult comparable period to be cycled in online sales. Clearly the fall in in-stores sales in April was offset by a jump in online sales as shown below. From May 2020, weekly online revenue essentially doubled vs FY19. Prior to that it was up 10-20 per cent yoy.
Figure 2: Weekly Online Revenue During COVID-19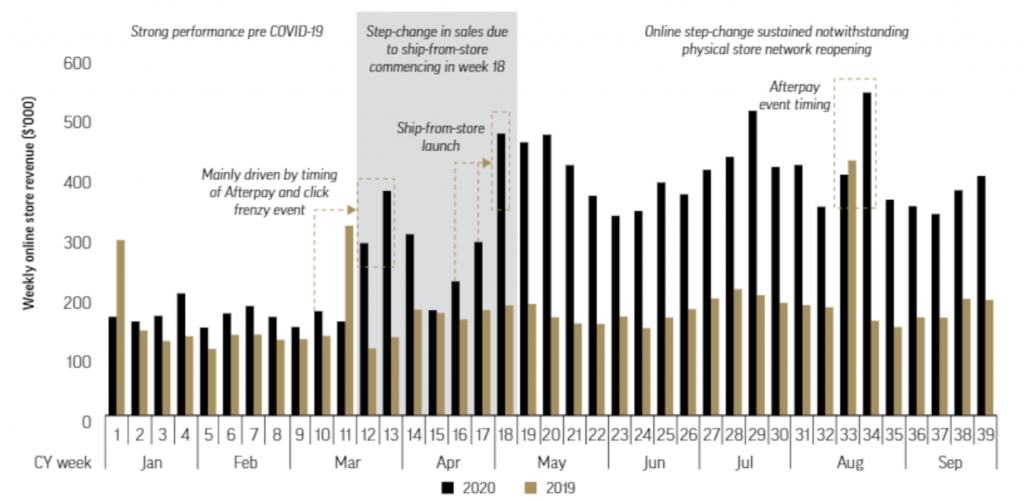 Source: Company
While online sales growth will slow considerably in the fourth quarter is very unlikely to reduce group underlying sales growth from 39.5 per cent in 3Q21 to 10 per cent in 4Q21 given online sales only contribute around 14 per cent of group sales. Therefore, there is likely further upside to market forecasts in the near term.
Additionally, the company is likely to benefit from the recovery in music festivals and other out of home youth entertainment opportunities given its exposure to clothing purchases for these occasions.
Given the company estimates an opportunity to almost double store numbers from current levels in the medium term, and the positive risk skew to near term operating performance, the short to medium term prospects for the company and its stock remain bright.
The Montgomery Private Fund own shares in Universal Store. This article was prepared 05 May with the information we have today, and our view may change. It does not constitute formal advice or professional investment advice. If you wish to trade Universal Store you should seek financial advice.