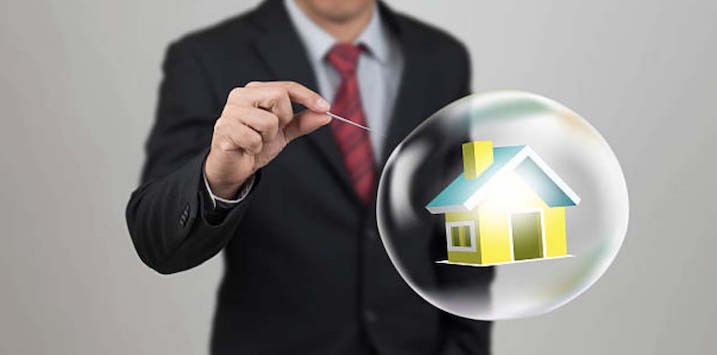 Prepare to lose enormous [property] wealth: UBS and Harry Triguboff
Earlier this week, The Australian – the newspaper I write for fortnightly – updated their reporting of Australian property mogul Harry Triguboff's view on property prices.
Separately this week, UBS reported the results of a survey of almost 1000 Australian mortgage holders who borrowed in the twelve months to August 2017.  They observed; "Our 2017 survey found factually accurate mortgage applications fell to just 67 per cent. There are now ~$500 billion in 'Liar Loans' on the banks' books." A third of borrowers admitted to understating their living expenses.
UBS found ANZ had 45 per cent inaccurate applications – the highest of all the banks – while NAB had 38 per cent. Both were substantially higher than in 2015 and 2016 suggesting standards are not getting better, and if anything, the banks are slackening their due diligence in order to drive growth.
As you know we have long been concerned about property prices in Australia.
You can read some of our most recent warnings following any of the below links:
We could be wrong about the property bubble (but we don't think we are)
The property boom may finally be about to bust
Cash crunch is coming for property investors
Unless Treasury's latest data showing a 17 per cent lift in intended business capex, or the forthcoming infrastructure, spending boom leads to significant employment and/or wage growth – highly indebted property investors and speculators could be much worse off.
According to The Australian on Monday 12 September 2017,
"The slowdown in the apartment market is worsening and will have a severe impact on the economy if it is not arrested", according to the country's biggest apartment builder, billionaire Harry Triguboff.
"The number of new apartments sold had dropped and prices had fallen about 10 per cent over the past six months, the founder of Meriton Group told The Australian."
"China's continued restrictions on capital flowing out of the country, the local banking crackdown limiting finance for investors and sluggish domestic wages growth had combined with government policies causing a perfect storm for apartment construction."
Back in May, we warned here, that Chinese interest in Australian property had plunged.
The Australian also reported this week; "At the same time, Reserve Bank governor Philip Lowe last week said he was watching the Brisbane property market carefully, particularly given the pressure on prices from the large rise in the supply of new apartments in that city."
Back in March we warned you about Brisbane property prices in particular.  In our blog post entitled Brisbane apartments are ground zero we specifically highlighted the issues for Australia's property investors emanating from Brisbane.
With serious implications for the economy, BIS Oxford Economics now expects ­national building starts for high- density (above four-storey) apartment buildings will have halved by 2019 from last year's peak and could drop further in 2020.
Managing director Robert Mellor told The Australian; "The RBA and Treasury are being a bit optimistic on the dent to GDP growth. We will not see economic growth at 3 per cent".
Mr Triguboff added; "Australians could lose an enormous amount of wealth."