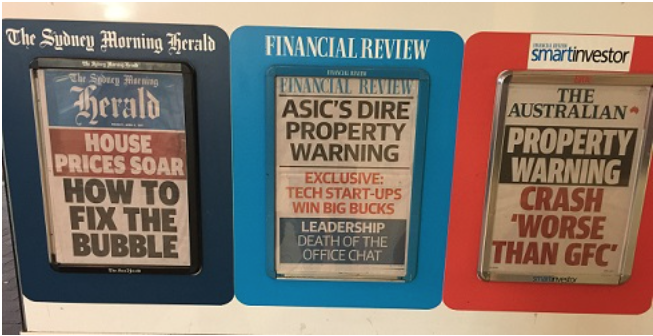 We could be wrong about the property bubble (but we don't think we are)
There's an unfortunate trait amongst the broader population of investors that a rising price reaffirms their investment thesis. Take, for example, ever-rising house prices.
We continue to amass a body of statistical and anecdotal evidence that the combination, of absurdly low yields (that cannot justify an investment in property on any grounds other than blatant speculation for capital gain dependent on the greater fool theory) and equally absurdly high debt levels (at an arguably structural low point in interest rates), is unsustainable.  (We remind negative gearers again that an unattractive gross yield of 3% is not made more attractive by borrowing).
And yet prices and debt keep rising!  So WE must be wrong.
Work conducted by Bordo and Jeanne (2002) and the Bank of International Settlements (2005) confirmed that when housing booms are accompanied by sharp rises in debt, the risk of a crisis is significantly elevated.
Over two decades, Australia's household debt has increased more rapidly than household income. In 1990 household debt to income was 56%; by 2002 it had reached 125%. By April of 2014, it reached 177%. And according to the OECD it now sits at 206%.
The inexorable rise in credit card and mortgage debt means that Australians have simply taken on more debt, typically to chase more expensive houses, and have less money to pay for it all.
Yet prices keep rising!  So WE must be wrong.
Rising prices reassure the bulls they are right, reinforcing their irrational behaviour, extending the bubble and ensuring any subsequent bust is more toxic.
Look at every bubble and you will always see sharply rising prices. Look at the prices again, after a bust, and those sharply rising prices of the past are still there.  Those who believed that rising prices reinforced their thesis were wrong. As an aside when the RBA says the issue with housing affordability is 'supply' they ignore the data produced by Prosper.Org and others that show, for example, there are 80,000 vacant apartments already in Victoria alone.  Negative rental growth also suggests supply is not an issue.  According to CoreLogic's asking rental price series, Australian rental annual growth turned negative in 2016 while the ABS' established rent series shows rents have slowed to the lowest pace since the early 1990s recession, which itself was the worst economic downturn since WW11. What is an issue is speculative fervour and speculative fervour only
Who else is warning investors against borrowing to buy a property?
Back in 2015 my friend and AFR Columnist and Fund Manager Chris Joye commented on the latest RBA rate cut noting; "The RBA is blowing the mother of all housing bubbles to deflate an overvalued exchange rate" and "it is replacing one asset pricing conundrum with another, arguably more dangerous, one."
In 2015 Treasury Secretary, John Fraser, had no compunction describing Sydney and Melbourne property as "unequivocally" in a bubble.
In February this year, the International Monetary Fund has urged Australia's regulators to double down on their efforts to ensure the nation's banks are resilient enough to "withstand a significant housing market correction" while raising concerns that negative gearing is pushing property prices to extremes.
Also in February chair of the Australian Prudential Regulation Authority Wayne Byres said the banks should also be "under no illusions" that any breach of the 10% "speed limit" on investor loan growth would result in further regulatory intervention that may hit profits adding, "If that is encouraging them to direct their competitive instincts elsewhere, then that's probably a good thing for the system as a whole."
In March this year, the OECD has warned of a "rout" in Australian house prices, leading to a new economic downturn, saying both prices and household debt have reached "unprecedented highs" adding: "a continued rise of the market, fuelled by both investor and owner-occupier demand, may end in a significant downward correction that spreads to the rest of the economy."
Later in the same month the RBA highlighted threats in the property market and an acceleration of domestic household debt even as it lent credence to the global reflation story. "Data continued to suggest that there had been a build-up of risks associated with the housing market," it said in its minutes, adding "Growth in household debt had been faster than that in household income."
And, most recently, ASIC Chairman Greg Medcraft referred to his 2015 property "bubble" warnings: "I've been saying for a while I thought it was a bubble, other people are catching up now." Mr Medcraft also said ASIC was working with the Australian Prudential Regulation Authority to mitigate the risks a hot property market throws up. "We had a meeting and we focused on the housing market … And there we have worked together on the responsible lending," he said.
The Team at LF Economics wrote on APril 6 this year: "Unfortunately, as one can analyse the housing market using ten different models, twenty different variables and thirty different parameter specifications, the results will be various and contradictory. Recent journal papers examining whether our housing market represents a bubble demonstrates this: "the national market is a bubble", "not a bubble", "Sydney is, but not the rest", "some cities for some periods were a bubble but are currently not" and on it goes. For as long as prices and debt continues growing, housing is undervalued from a mainstream neoclassical perspective. From a heterodox Minskyian or Post-Keynesian view which treats private debt and banking seriously, however, the housing market is in the midst of a gargantuan asset bubble.
Read on for the latest warning…
What are the experts referring to in their warnings?
According to Carmen Reinhart and Kenneth Rogoff, who studied eight centuries of financial crises in their New York Times bestseller, 'This time is different', there are four leading indicators of a crisis. The first is a rapid inflation of asset prices, particularly residential housing. The second is excessive debt accumulation, either by the government, banks, businesses or consumers. The accumulation of debt almost always poses greater systemic risks than it seems during the boom, and the injection of cash makes the growth that results look more sustainable than it really is.
The third is outsized borrowing from abroad and reflected in a sequence of gaping current account and trade balance deficits.
And the fourth is the occurrence of slowing economic output.
So, according to Reinhardt and Rogoff, studied eight centuries of financial crises, and the above four factors are a strong signal of an impending financial and or banking problem. Of course, nobody is talking about the possibility of a crisis in Australia right now, but three of the above four factors are in place. And if you believe the oversupply of apartments will be followed by a decline in residential construction activity, then deteriorating levels of economic activity are almost certain.
That would make four from four.
Perhaps that's why this week we heard from David Murray, former CBA Chief Executive, former Future Fund chairman and the chairman of the government's Financial System Inquiry.  Murray sounded another alarm on the housing boom, warning that a crisis on the scale of the 1890s property collapse could not be ignored. Murray observed: "What people should do is look at the 1890s, which was caused by a housing land boom", adding: "to say it won't happen and simply ignore it is wrong."
With the IMF, the RBA, ASIC, APRA and David Murray all suggesting property is in a bubble and at risk of crash, ignore them at your own risk.