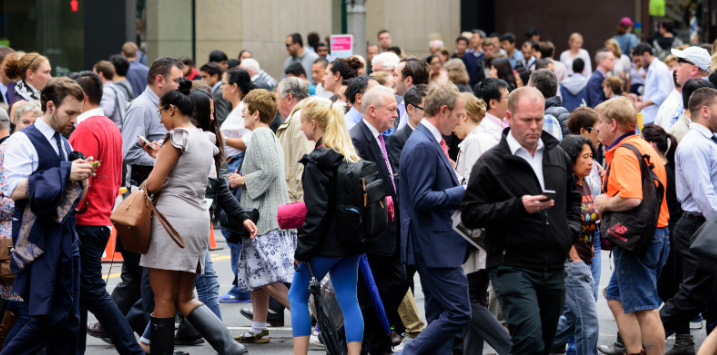 Population growth in Australia: Opportunities and challenges ahead
Australia, known for its stunning landscapes, unique wildlife, and thriving cities, is experiencing a population boom of historic proportions. As of March 31, 2023, our great southern land is home to 26,473,055 individuals. This remarkable figure represents an astonishing increase of 563,205 people in just one year, marking a growth rate of 2.17 per cent. If this pace continues for another quarter, Australia is poised to set a record for its highest annual population growth, and net overseas migration (NOM) is the driving force.
The resurgence of migration: A post-pandemic phenomenon
The global COVID-19 pandemic, with its closed borders and stringent quarantine measures, profoundly impacted migration trends. Particularly during 2020-2021, Australia experienced negative NOM as the nation prioritised safety. Fast forward two years, and Australia's borders are again open to the world. The result? A migration surge of unparalleled proportions.
In the 12 months leading up to March 2023, Australia recorded a staggering +454,361 in NOM surpassing previous records set in 2009. Before the pandemic, NOM typically ranged between +150,000 to +200,000 per year. Since 2006, however, this figure has consistently been higher, averaging between +200,000 and +250,000 annually. The current figure nearly doubles the pre-COVID average, underscoring the enormity of the current migration wave.
The key driver behind this surge is a combination of a higher number of individuals entering Australia for permanent or long-term migration and a significantly reduced number of departures from the country. In the year ending March 2023, over 680,000 people migrated to Australia for extended stays, a figure not markedly different from the 620,000 recorded for the same period in 2020, just before the pandemic.
What sets this period apart is the dramatic decrease in departures. During the year ending March 2023, only 226,000 individuals left Australia, compared to the 379,000 departures recorded three years prior. Departures usually ranged from 250,000 to 300,000 per year. The record-breaking NOM hints that many who left during the pandemic, particularly international students, are returning, contributing to this extraordinary influx.
Migration's impact on Australia's future
Migration has long been integral to Australia's national identity and economic prosperity. What is certain is that with just 0.3 per cent of the world's population, being home to 2.8 per cent of the world's immigrants showcases the nation's openness to diverse cultures and communities.
Moreover, migration has been a critical driver of economic growth. The surge in skilled migrants in the late 1990s and early 2000s coincided with Australia's remarkable economic success, marked by continuous economic growth. Some suggest however that migration masks a decline in living standards, with per capita gross domestic product (GDP) in Australia, lower in 2022 at U.S.$64,491 than 2012's U.S.$68,047.
More immediately, housing has become a critical issue and it's one that cannot be solved for many years especially if high rates of migration continue. Furthermore, water demands have increased and yet little has been done to increase supply. In 2019 Australia received an average annual rainfall of 277 millimetres. That was down from 552mm in 2016 and 707mm in 2011. Back in 2019, Sydney Warragamba dam and Melbourne's Thomson reservoir fell below 50 per cent. By December 26 of that year, Warragamba's water level was 43.9 per cent of capacity, falling to the lowest level since 2004.
But in 2004 the population of greater Sydney was less than four million people. In 2019, the population was less than five million residents. According to the Australian government's 2022 population statement, the population of greater Sydney was 5.3 million on 30 June 2021, and Sydney's population is projected to be 5.5 million in 2024-25 and 6.1 million in 2032–33. In the absence of serious national-scale water infrastructure development beginning now, the next drought will be devastating for urban populations.
What we know is that Australian population growth forecasts have always underestimated the actual result.
Reforming the migration program
In addition to those issues, the current migration program faces several shortcomings. It lacks clarity in its objectives, fails to attract highly skilled migrants efficiently, and poses risks of systemic exploitation, potentially leading to a permanently temporary underclass.
Today, more than 1.8 million temporary migrants live in Australia, with legal access to the labour market. And while many would like to call Australia home, they often face complex pathways to permanent residency, undermining democratic resilience and social cohesion.
Balancing Australia's traditional emphasis on permanent migration with ethical temporary migration is crucial. Additionally, migration planning has to consider the impact of large and uncapped temporary migration on infrastructure and services, necessitating a long-term horizon for stable and predictable population growth. I am being diplomatic here. The pressure on Australia's metropolitan infrastructure is already immense, and record migration without a commensurate investment in expanding the necessary basic infrastructure is a recipe for a future crisis.
While the record growth in Australia's population grabs the headlines, the future of Australia's migration program requires a comprehensive re-evaluation and redesign. Only that can ensure migration continues to contribute positively to the nation's prosperity and social cohesion.
Australia's population surge is more than just a statistical phenomenon; it's a testament to the nation's resilience, openness, and enduring appeal. But without massive amounts of money and skilled planning, we are setting ourselves up for a population-inspired crisis.