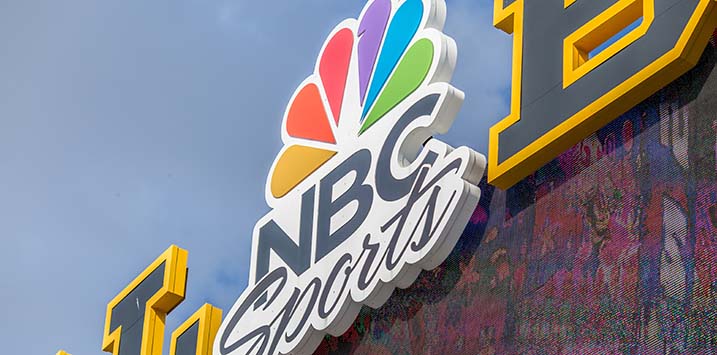 Pointsbet holdings share price jumps 87 per cent on company-making deal
In December 2019, my colleague Gary Rollo, wrote "Is PointsBet Holdings worth a bet?" and the answer to this question was well and truly put to bed last Friday. In conjunction with reporting its results for the year to June 2020, PointsBet Holdings (ASX:PBH) announced an exclusive five-year company-making deal with NBC Universal Media, which offers the largest sports audience of any media company in the US. PBH will be NBC's official sports betting partner. The share price responded by jumping 87 per cent from $7.50 to $14.00.
PointsBet will access NBC's 184 million viewers including 60 million active users over digital platforms, across multiple sports as well as US$393 million in marketing spend over the five-year media partnership.
NBC will, after the subscription of 4.9 per cent of the Company's issued capital (8.64 million shares, post the upcoming 1/6.5 rights issue at $6.50 with attaching 1/2 option at $13) and the exercise of 66.88 million options (exercisable by September 2025 at $13.00), end up with 28.6 per cent of the PointsBet Holding's share register, on a fully diluted basis (264 million shares).
The total purchase value of NBC's shares and options will be partially offset against the committed marketing spend and therefore significantly reduce the cash commitment over the five-year term.
PointsBet's brand will be integrated in NBC Sports national television networks, which is delivered to virtually all US television households via its 200+ NBC-affiliated local television stations in key markets (including 11 owned and operated stations).  This will both dramatically accelerate PointsBet's US penetration whilst significantly reducing the cost of customer acquisition.
NBC Sports comprises media rights agreements, partnering with the International Olympic Committee, the US Olympic and Paralympic Committee, the NFL (National Football League), NHL (National Hockey League), NASCAR (National Association of Stock Car Auto Racing), INDYCAR (Motor Speedway), The R&A (Golf), PGA of America (Golf), Churchill Downs (Horseracing), Premier League (Soccer), Tour de France (Cycling) and The French Open (Tennis).
Under the media partnership, PointsBet will become the Official Sports Betting Parnter of NBC Sports and this will include:
Exclusive game day integration across NBC Sports regional Networks;
Exclusive partner of NBC Sports Predictor app (NBC Sports' free-to-play games platform, currently with 1.1 million downloads);
First look rights to sports betting partnership opportunities across new NBC Sports properties, platforms and products; and
Premium placement and agreed pricing structure across NBC Sports television and digital assets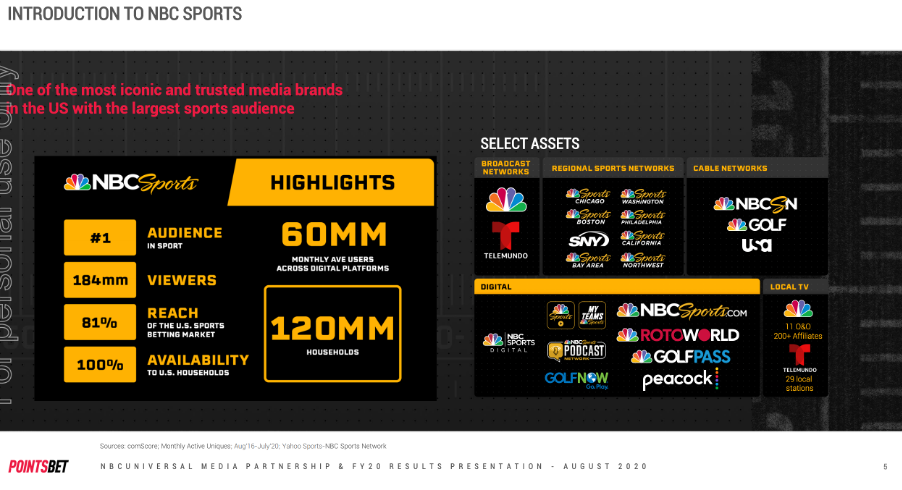 For the year to June 2020, PointsBet's turnover grew 103 per cent to $1.15 billion, the Net Win grew 191 per cent to $82 million and active Clients grew 39 per cent to 111,400.  In the seven weeks since balance date, active Clients jumped a further 21 per cent to 134,800.
Importantly the Net Win Ratio of 7.1 per cent ($82 million/ $1.15 billion), is split between Australia ($75 million/$830 million = 9.0 per cent) and the US ($7 million/ $321 million = 2.2 per cent).
The company began the financial year with market access in five US States and finished the financial year with 12 US States. Deals with La Liga North America (Soccer) and the NBA (National Basketball Association) have been consummated.
Estimates of the total US iGaming revenue and Sports wagering revenue market ranges between US$12 billion and US$20 billion by 2025; and to summarise, "There remains a once in a lifetime opportunity in the United States and PointsBet has already taken significant steps towards capitalising on this opportunity."
Montgomery Funds own shares in PointsBet Holdings.  This article was prepared 02 September with the information we have today, and our view may change. It does not constitute formal advice or professional investment advice. If you wish to trade PointsBet Holdings you should seek financial advice.
One company we like is PointsBet holdings, and in conjunction with reporting its results for the year to June 2020, PointsBet announced an exclusive five-year deal with NBC Universal Media. The share price responded by jumping 87%.
Click To Tweet