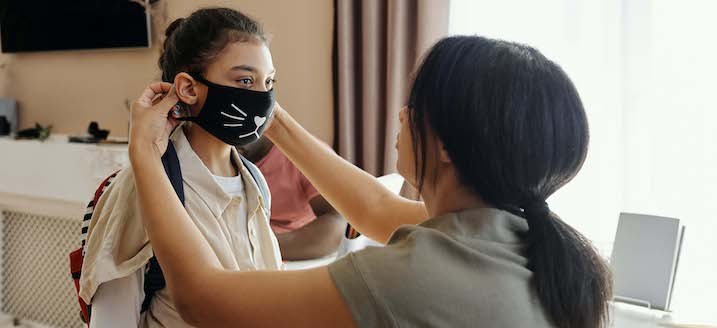 Redbubble – A COVID-19 winner with global ambitions
With more than six months of COVID-19 disruptions behind us, there have been some clear winners emerging as a result of changes in spending patterns and the shift to online. One such business has been Redbubble – a growing online marketplace providing print-on-demand products based on user-submitted artwork.
Redbubble is an e-commerce business which provides a marketplace for independent artists to sell their designs on over 60 product offerings including stickers, T-shirts, wall-art, home décor etc to customers. The business has a global supply chain with third party manufacturers fulfilling orders which is then shipped around the world.
Redbubble has been listed since 2016 and since that time the company has experienced some short-term hiccups to its growth story – with issues ranging as widely as changes to the Google search algorithm to lower sticker purchases – which has led to a volatile share price experience for investors and questions around its longer-term potential.
Like many e-commerce businesses, COVID-19 has drastically changed the operating landscape and prospects for the business. Redbubble's success is partly driven by the sustainability of its flywheel effect, whereby a growing community of artists fuel demand for better and more unique content. During a period of lockdown where independent artists are likely to find it more challenging to commercialise products, Redbubble has likely provided an outlet for artists to monetise their work. This has coincided with the e-commerce spike, helping to drive a significant uplift in sales.
Redbubble flywheel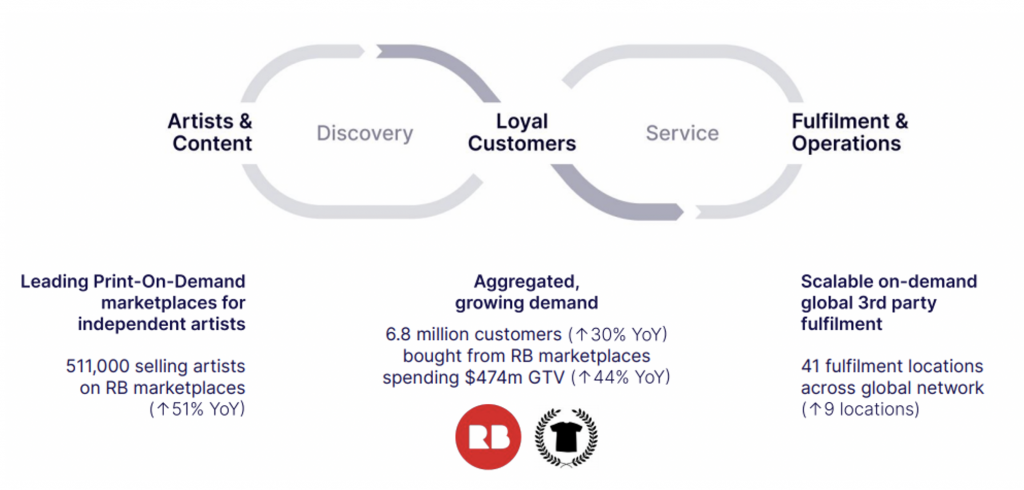 Source: Redbubble 
The opportunity set for Redbubble is compelling. The business already has a global presence with its main markets being North America and Europe. Should the company build a recognisable brand, the potential to be a global e-commerce marketplace for aspiring artists presents significant upside. Recent interest in both social and mainstream media point to growing brand awareness, which helps perpetuate the flywheel effects.
Redbubble sales by geography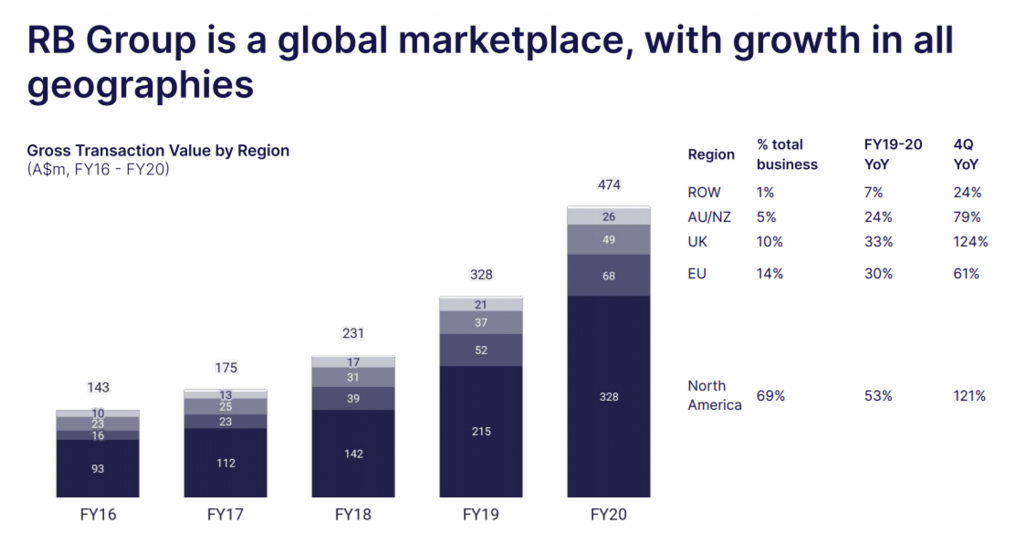 Source: Redbubble 
It's important to note Redbubble's recent success has required continuous investment – not just in the website itself, but also the supply chain infrastructure with fulfillers and shippers – including product quality control. This has helped the business meet the surge in demand, while benefiting financially from the operating leverage that comes with higher sales.
For example, at RBL's previous sales run-rate of approximately $250-300 million, the company was largely break-even on an operating EBITDA basis, largely driven by a spike in sales during December quarter trading.
However, with the recent surge in Redbubble's sales, the company has been able to accelerate its journey into profitability as gross margins remain largely intact (approximately 38 per cent) and paid acquisition on an incremental basis remains stable (or declines). This was demonstrated in its FY20 result where Redbubble's implied Q4 Operating EBITDA of $8.6 million did not include around $20 million of "unearned revenue" (i.e. sales booked and received payment but yet to be shipped) – which would have added an additional ~$7-8 million on 40 per cent gross margins.
Example of Redbubble product margin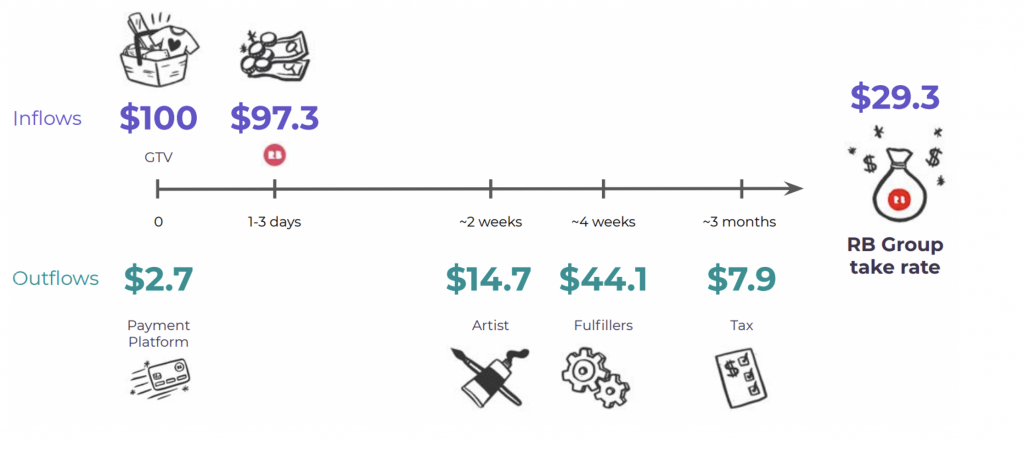 Source: Redbubble 
While RBL has clearly been a "stay-at-home" trade, we believe the business has the opportunity to emerge a longer-term structural winner from COVID-19 should it capitalise in the recent spike in user and customer interest as a result of recent lockdown measures.
The Montgomery Funds own shares in Redbubble. This article was prepared 02 September with the information we have today, and our view may change. It does not constitute formal advice or professional investment advice. If you wish to trade Redbubble you should seek financial advice.
Redbubble's success is partly driven by the sustainability of its flywheel effect. Will the business emerge as a long-term structural winner from COVID-19?
Click To Tweet
This post was contributed by a representative of Montgomery Investment Management Pty Limited (AFSL No. 354564). The principal purpose of this post is to provide factual information and not provide financial product advice. Additionally, the information provided is not intended to provide any recommendation or opinion about any financial product. Any commentary and statements of opinion however may contain general advice only that is prepared without taking into account your personal objectives, financial circumstances or needs. Because of this, before acting on any of the information provided, you should always consider its appropriateness in light of your personal objectives, financial circumstances and needs and should consider seeking independent advice from a financial advisor if necessary before making any decisions. This post specifically excludes personal advice.
INVEST WITH MONTGOMERY