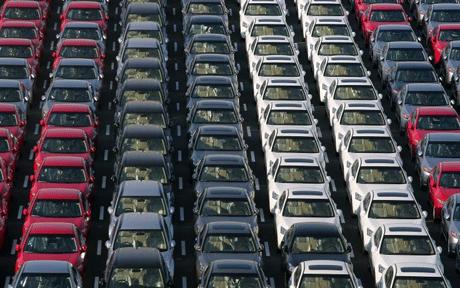 New Car Anyone?
By Russell Muldoon & Roger Montgomery
We like to keep an eye on monthly new car sales statistics produced by the Federal Chamber of Automotive Industries. For a number of businesses we are interested in, including Carsales and ARB Corporation, they are both beneficiaries of a high level of new vehicle turnover.
The table below reveals the statistics for October 2012.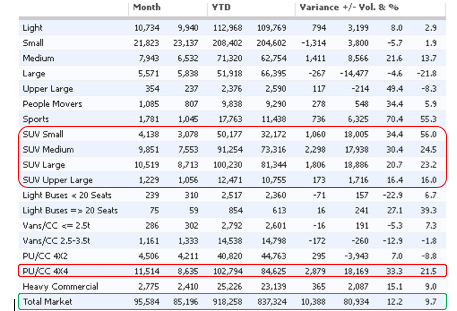 Source: http://www.fcai.com.au/sales
Notwithstanding the rather unsavoury practice of double counting (about 16,000 cars) through the registration of 'demo' models (also known as 'tactical registrations'), this information is important for Carsales because they dominate both the dealer and private markets for cars worth greater than $20,000. Vehicles that are generally new or slightly used vehicles. We have highlighted the Total Market sales section in green, which reveals a market on track to sell roughly 1.1m in new cars this year. Remarkable for a country with a population of just 22,803,811 and contrary to most other economic indicators (with the exception of restaurant sales) that continue to trend negatively.
For ARB the section highlighted red, the SUV and 4×4 market is the most important because they make a rather profitable business from selling accessories when a new car buyer gets excited about heading offroad and wants to retrofit their new Hilux with all the latest after market accessories.
Risks:
A week or two ago, Ford Australia received a call that it didin't want to hear. The rental car company Hertz apparently made a call to Ford to say that…wait for it… they would not be ordering any Fords to their hire car fleet.
Previously Hertz's fleet was 50% Ford. In the future it could eventually be zero. This is another nail in the coffin for Ford manufacturing in Australia and combined with the collapse of parts manufacturer Autodom and the inability of Elders to find a buyer for auto interiors business Futuris, it all suggests that a structural shift is well underway and it's going to hurt Australian jobs. It goes without saying that it is another indictment against successive governments who have imposed onerous conditions on Australian businesses when they scarcely had the scale to compete with deeper pocketed global peers.
The perceived risks for Carsales and ARB however are mitigated by the fact that few relatively Fords are retrofitted with ARB parts and in any case any lack of supply of locally manufactured Fords will be replaced by other brands if not foreign manufactured examples.
Both Carsales and ARB Corporation therefore appear to be enjoying continuing tailwinds as well as bright prospects and should be investigated.
The Montgomery [Private] Fund currently holds shares in Carsales.