Looking at: the US Federal Funds Target Rate
The US Federal Reserve target rate is one of the most influential interest rates in the US economy, and is applicable to the most credit-worthy institutions when they borrow and lend overnight funds to each other.
The target rate (illustrated by the red line in the below graph) has trended down over the past three decades, to a level of nil to 0.25 per cent (from late-2008). The two most recent interruptions to this downtrend – from 1994 and from 2004 – coincided with the jump in average hourly earnings (black line).
With US unemployment at January 2014 declining to 6.6 per cent, average hourly earnings have actually commenced their uptrend for the first time in a decade.  Does this indicate the US Federal funds target rate could be up to 2 to 3 per cent over the medium-term?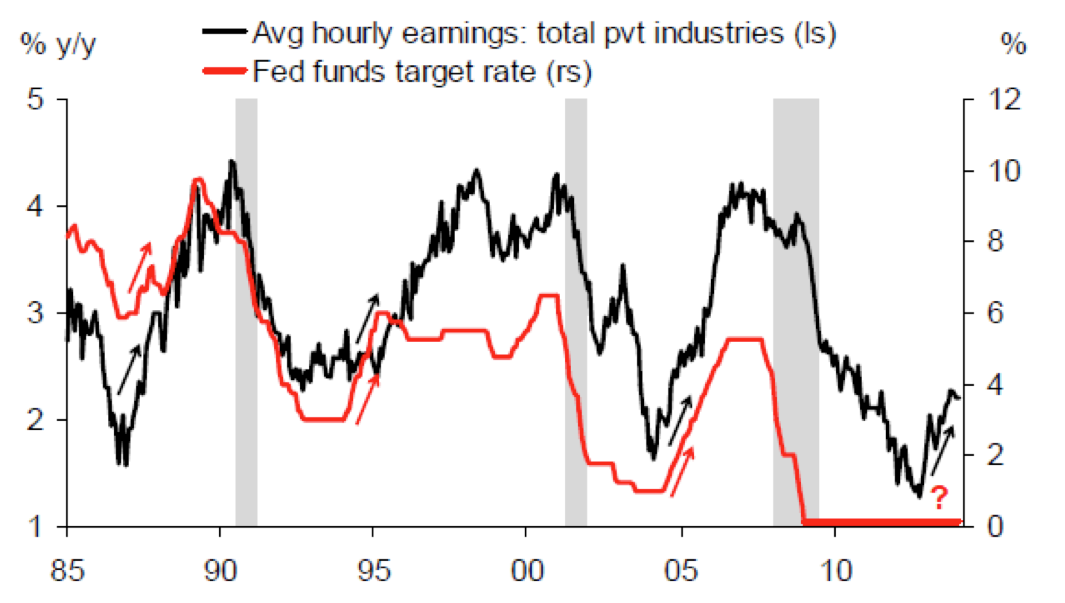 London Business School economists, Elroy Dimson, Paul Marsh and Mike Staunton, have found the best proxy for underlying inflationary pressure is prevailing wage growth – as roughly two-thirds of corporate costs are from the labour market.
While various factors – including western world demographics, internet sales, industrial automation and global trade – have conspired to bring down wage growth (see graph below), readers may want to keep a close eye on whether the growth in US average hourly earnings continues over the next few years.
Growth in the wage component of the employment cost index is close to a 30-year low: