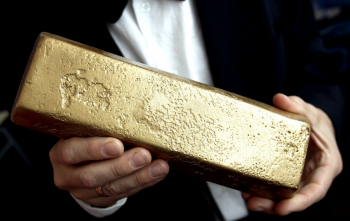 Is gold more attractive in a zero interest rate world?
Many investors find a place in their portfolios for gold. It has the attraction of being tangible and difficult for governments to print.
A criticism sometimes levelled at gold is that it doesn't do anything in terms of earning yield. It just sits there: a non-productive asset. In view of this, it is difficult to determine a value for gold, and correspondingly difficult to consider it a true investment. It is probably better thought of as a store of wealth – a place to park some of your capital, especially if you are reluctant to trust the government backing that gives most currencies their value.
In a world where yields are very low, the presses are humming, and the US dollar has been subdued, it is interesting to think about whether gold might enjoy greater support from the market. As shown in the chart below, the answer appears to be "not really". The US$ gold price has been in gentle decline since 2011.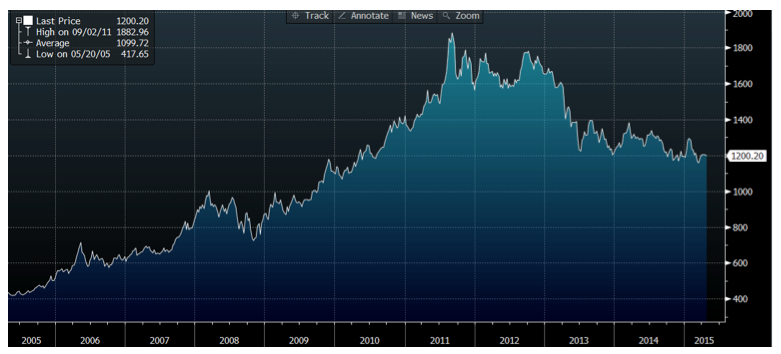 Source: Bloomberg
Some smart people have maintained that we should see higher gold prices in times of low real interest rates, and in US$ this should be even more apparent, so this outcome may be a little surprising. However, it is probably fair to say that the problem of forecasting gold prices is almost hopelessly intractable.
With equities, you can make a decent fist of estimating a company's value, and then reasonably expect that over time the price might move closer to that value. As gold produces no cash flow, there seems to be no practical way to estimate its value, and therefore no way to know if the current price is higher or lower than that value.
Smart people will continue to set out well-reasoned arguments for why the gold price will rise or fall in years ahead. I will leave them to it and stick with assets that I can understand.
Tim Kelley is Montgomery's Head of Research and the Portfolio Manager of The Montgomery Fund. To learn more about our funds please click here.