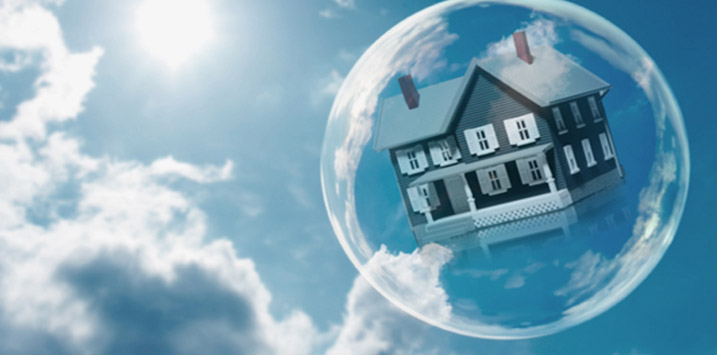 I am calling a short sell on Australian residential apartments
If you wait for the swallow to sing, spring will already be over.  In other words, waiting for the data to prove a trend has changed may be more expensive than you'd like. And while there is plenty of mounting data to suggest that property prices are heading for a big fall, there are also less obvious signals.
One possible signal for a property market peak was the 'For Sale' shingle being placed on the century-long-held Soul Pattinson building in Sydney's Pitt Street Mall by one of Australia's most successful and respected investors and patriarch of listed investment firm Washington H Soul Pattinson (ASX:SOL), Rob Millner.  Another signal may just be property market patriarch John Symonds listing his magnificent waterfront mansion on Sydney Harbour for sale.
More recently, we have been struck by the stunning growth in the number of practicing real estate agents.  With Australia's population growing by 1.6% per annum, we don't think the number of real estate agents required to service the population needs to grow at a rate in excess of this.  And yet, in 2016, Victoria, NSW and Queensland have seen real estate agent numbers grow by almost 8.7% according to the NSW Office of Fair Trading, Consumer Affairs Victoria and Queensland Office of Fair Trading.
Another observation is the preponderance of property developers making the rich lists and in particular the mushrooming number of property developers under 40 – who were still at school during the last recession.
If you invest for long enough you will see business owners in a variety of sectors come and go like a rising and receding tide.
A final sign is the increasing prevalence of deniers – those that suggest there is no problem in the property market.  These individuals represent Exhibit A for an emerging problem.  One 39-year old apartment developer admitted there could be oversupply in the apartment market but denied the issue would affect his business because, "…if you're doing projects in the 30-60 apartment range I think your going to be OK…that 200-plus market is going to be harder."
As one much more experienced investor wryly observed; "It's only when the tide goes out do you see who was swimming naked."  And another; "don't mistake a rising market for genius".
There is little doubt in our mind that the number of property developers on the rich lists will be far fewer in the years to come as many projects fall into the hands of receivers and our friends at Pickles take care of the wave of repossessed European cars.
Outside of signals what is the data telling us:
Here are some facts worth keeping in mind;
According to a UBS survey, more than a quarter of 1,228 recent Australian home buyers who had taken out a mortgage over the past two years, admitted they misrepresented some information on their loan application. 28pc of mortgage customers were not completely factual in their application; one-in-20 said their application was only "partially factual", and 41pc of 2016 mortgage broker applicants admitted their broker suggested misrepresentation.
There are more cranes employed in the construction of residential developments in Sydney, Melbourne and Brisbane than a large group of major North American cities including New York, Boston, Chicago, San Francisco, Los Angeles, Toronto and up to Calgary.
According to Morgan Stanley apartment oversupply would be around 100,000 units which could spark a sudden downturn and put around 200,000 jobs at risk.
Another investment bank, UBS, argues completions of (free-standing) houses already peaked last year, while in contrast the multi's super-cycle is still only about half done, with the number of units completed in 2018 likely to end up well over double the pre-boom trend."
We have written extensively about bubble-like conditions in Australia's property market, particularly apartments and have repeatedly warned investors to eschew leveraging to buy apartments. According to the ABS, there were more than 150,700 "other" residential dwellings under construction in the first quarter of 2016, which was 10.9% than the previous quarter, a third higher than previous corresponding period and over 130% than five years earlier.
Australian residential real estate, despite being on the cusp of oversupply, is some of the most expensive in the world on a House-price-to-income ratio basis.
Record prices and oversupply cannot coexist for very long.  It didn't in Iron Ore and it won't in commodity-like homogeneous apartments.
At the same time that house prices are rising stratospherically, debt is being accumulated at an alarming rate.
There is always, and without exception, one common theme to the vast number of crises the world has experienced; excessive debt accumulation, irrespective of whether it is by the government, banks, businesses or consumers.  And the accumulation of debt almost always poses greater systemic risks than it seems during the boom, making banks seem far more stable and profitable that they really are, while the injection of cash makes the growth that results look more sustainable than it really is.
Quite simply, Australians have taken on more debt, typically to chase more expensive houses, and have less money to pay for it.
Putting your head in the sand and ignoring the signs simply perpetuates the behaviour that leads to the problem.  If you are patient, you will do very well in investing over the long run.  You may have to wait two or three years for property prices to start declining more broadly and it might be many years, even eight years from today, before the bottom is reached, but the discounting by developers (a very important sign of oversupply affecting prices) has already begun. Developers are luring buyers with offers of $15,000 Harvey Norman vouchers and holidays to Asia.  Others offer up to a million frequent flyer points if you buy an apartment and ten-year rental guarantees are also now luring buyers.
The discounting represents a gentle start to lowering prices that will become more aggressive as the oversupply builds…