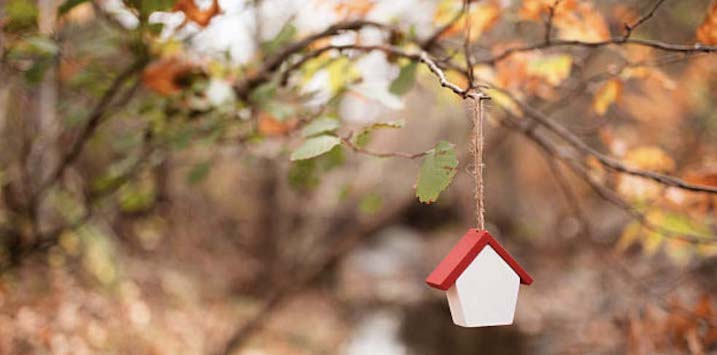 Housing trends. First nationwide reversal in prices
As long-time readers well know by now, we consider residential property in Australia to be very expensive and the price trends are something that we follow closely primarily for the impact that it has on other industries.
Including but limited to:
The Australia bank sector that has about 60-70 per cent of their lending exposure towards domestic property.
The retailing sector where we believe that the wealth effect from rising property prices has been a significant driver of consumer spending.
The construction sector which is also very important for the overall economy given that it employs around 9 per cent of the workforce.
We therefore note with interest that the Australian Bureau of Statistics (ABS) on Tuesday 12 December released its quarterly data of price developments and the numbers shows that for the first time since 2011 average dwelling prices across Australia are declining. Although the decline is limited at 0.2 per cent it is still a negative number.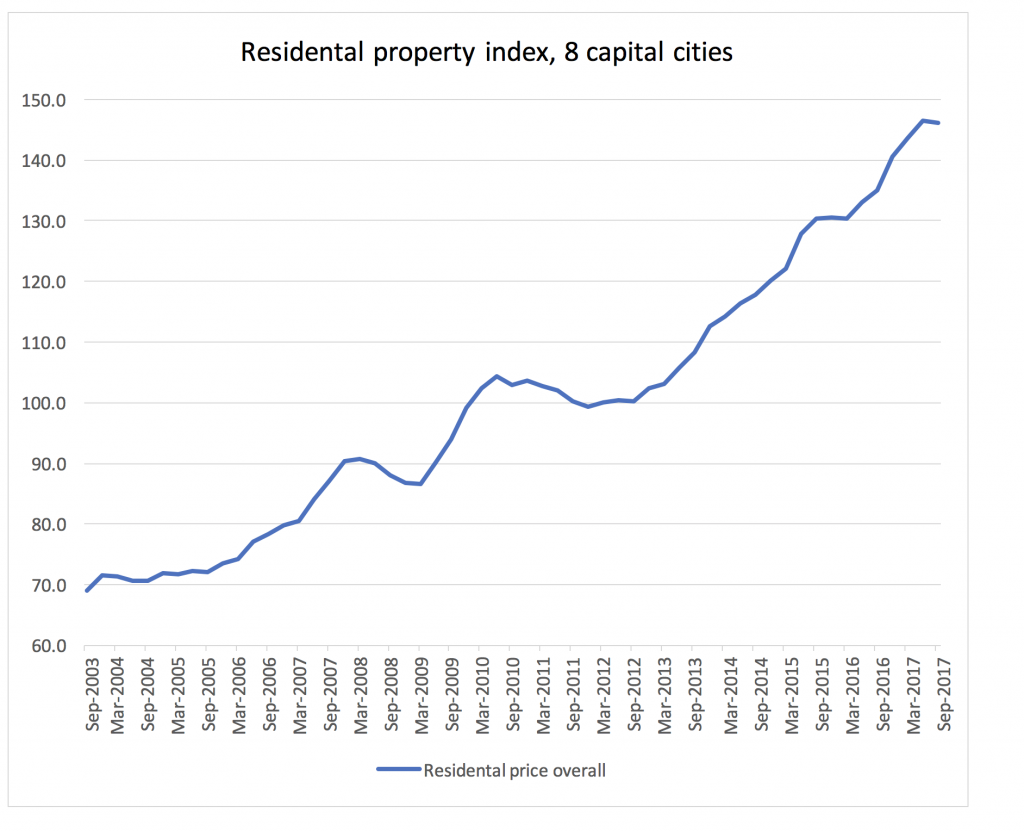 If we dig a bit deeper into the numbers, we can see that it is Sydney that has been the main driver of the reversal where we have seen quite a steep turn and prices retracted by 1.4 per cent. NSW is the nation's largest property market accounting for ~40 per cent of the total value of the domestic property market so it is clearly the main driver for the overall market.  Melbourne continues to be in positive territory growing by 1.1 per cent but this is quite a slowdown from the recent growth rates of 3-5 per cent per quarter. We should though note that VIC is a much smaller market than NSW comprising of 28 per cent of the total Australian market by value. Perth and Darwin continues to see quite steep falls in prices while Adelaide and Brisbane (but please read comment below) are basically going sideways.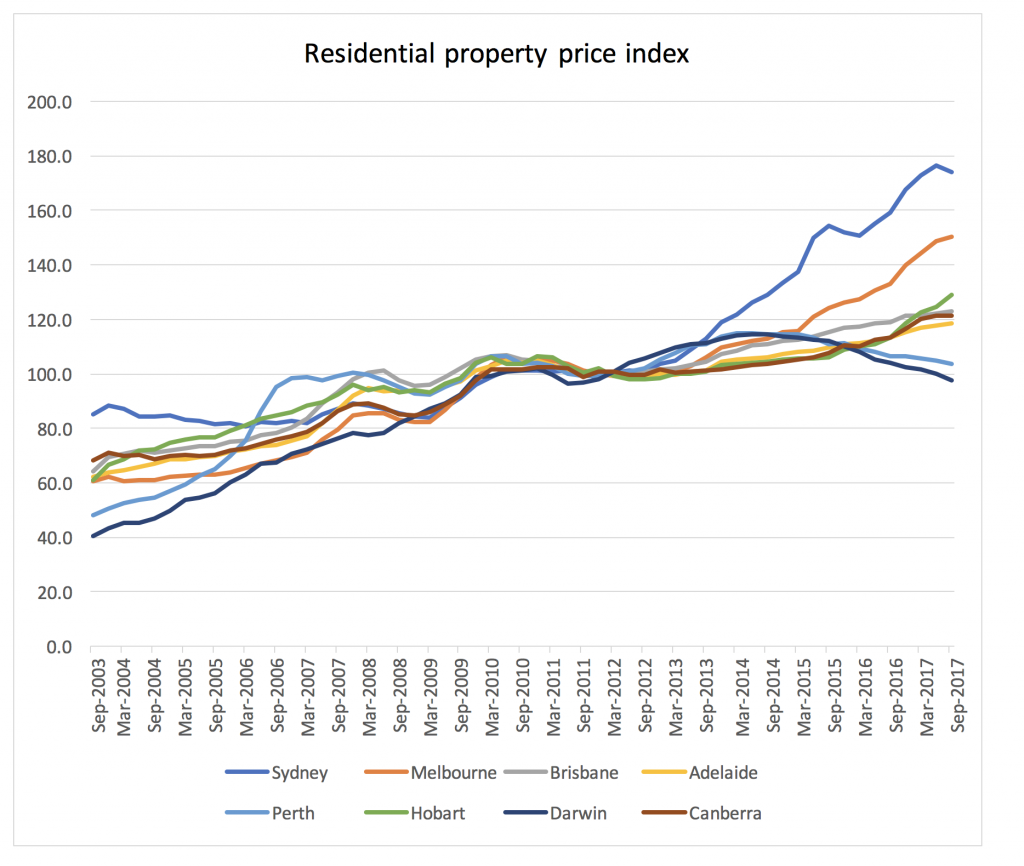 The trend in auction clearances is also clear where we for the first week since late 2015 saw clearance rate drops below 60 per cent nationwide according to data from Corelogic with specific weakness from Sydney where clearance rates dropped towards 50 per cent: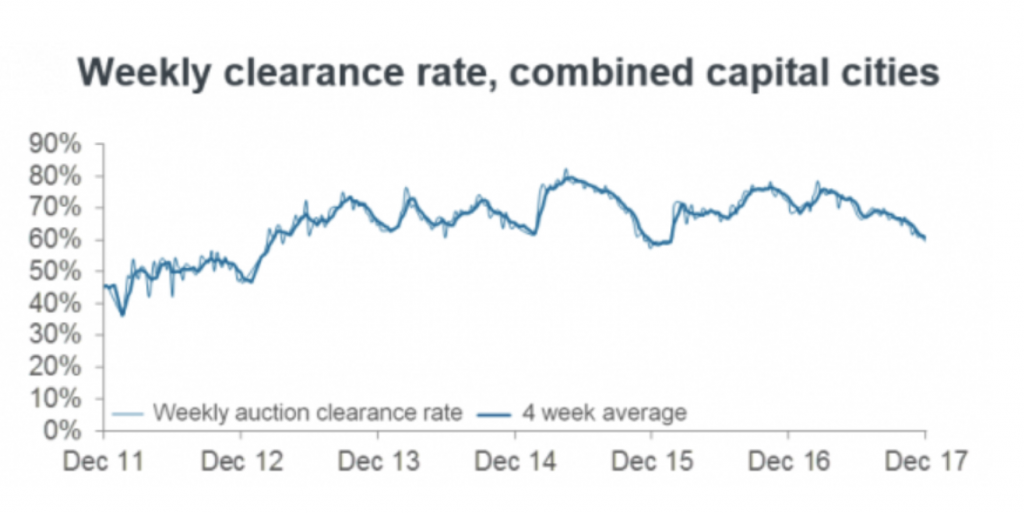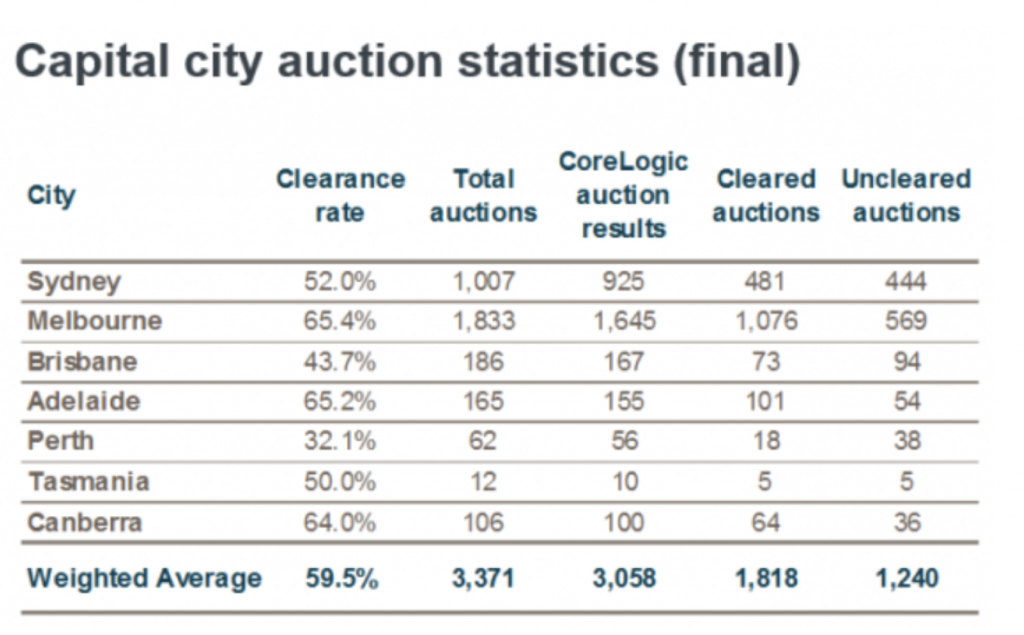 What this tells us that the expectations of sellers and buyers are not in line with sellers still expecting high prices while buyers have taken a more cautionary approach. Given the tightening on lending that has been implemented by APRA and the banks, we expect this disconnect to continue for quite some time and expect the current trends to continue with continued weakness.
We also note an article in The Australian on 13 December highlighting a report by property consultants Urbis that showed that the average price recorded for apartment transactions in Brisbane in the September quarter was down $81.000 or 13.6 per cent compared to the quarter before. This seems like a very steep decline over a period of 3 months but we should remember that this can be influenced by the type of developments offered in the particular quarter so there can very well be some mix effect in there but it is still a significant drop. It will be interesting to see what happens in the coming quarters given that the number of new apartments expected in to be completed in Brisbane in 2018 is significantly more than in 2017…
Predicting where it will go from here is hard but in an environment where:
Household debt levels are at an all-time high,
International interest rates are on the way up which will either lead to RBA increasing interest rates or the Australian dollar falling leading to increased funding costs for Australian banks,
No real wage growth combined with rising cost of living and
A political discussion that is potentially starting to turn against the high levels of immigration
We struggle to see any catalysts to reverse the trend (apart from the RBA cutting rates which would be very bad for the Australian dollar) and continue to stay clear as much as possible from companies that can be negatively impacted by falls in values of domestic properties.