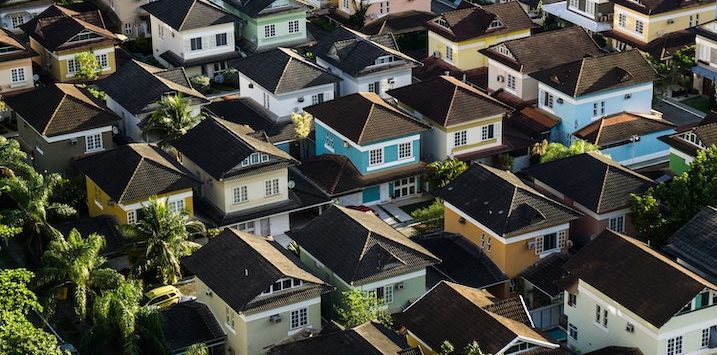 House prices fall as access to credit gets tighter
Investors wondering where property prices might go next need only watch one indicator: access to housing credit. Because, as access to credit tightens, house prices fall. With credit getting harder to access since the end of 2021, it's small wonder August saw the largest monthly decline in house prices in nearly 40 years.
Examples of tightening housing credit include the minimum deposit a bank might require for a mortgage, an increase in the minimum interest rate 'buffer' banks are required to apply when assessing serviceability for new home loan applications, and of course a rise in interest rates, which increases the cost and therefore access to credit.
Before the RBA's decision to terminate yield curve control on two-year bonds, the rate on a four-year fixed-rate mortgage for owner-occupiers offered by the NAB was 1.98 per cent. Today, that same loan is 6.59 per cent. While the rate remains low, the price is 232 per cent higher. For every million dollars borrowed, a purchaser who was once annually paying $19,800 interest, is now paying $65,900.
The consequence of tightening access to credit is diminishing demand for loans.
The latest data from the Australian Bureau of Statistics (ABS) reveal an 8.5 per cent plunge in the value of new loan commitments for housing in July to $28.4bn. This follows a 4.4 per cent decline in June.
Figure 1. Housing Loan Commitments excluding refinancing ('New Loans')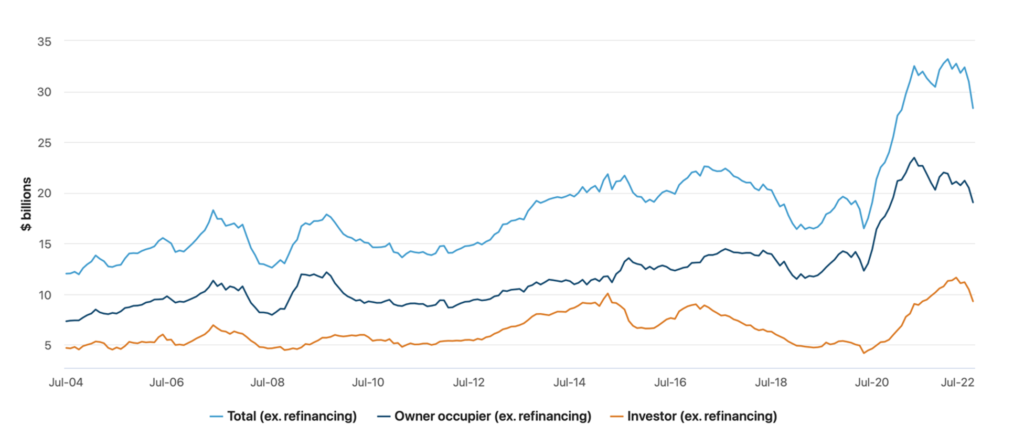 Source: Australian Bureau of Statistics
Breaking down the aggregate numbers reveal the value of new owner-occupier loan commitments fell seven per cent, while the value of investor loans written collapsed by 11.2 per cent. July produced the weakest investor lending data in 12 months, and first-home buyer borrowing fell 9.5 per cent, the weakest level in two years.
Katherine Keenan, ABS head of Finance and Wealth, reassuringly asserted , while "lending has fallen from historically high levels recently, the value of loan commitments remained significantly higher than pre-pandemic levels. Owner occupier loans in July 2022 were 40 per cent higher than February 2020, while investor loans were 78 per cent higher."
You might remember February 2020 was the month COVID-19 struck fear into every human on earth.
While current loan commitment values still represent higher borrowing activity than prior to the pandemic, it doesn't change the picture for those who purchased property during the boom. Prices are now falling.
On top of the massive increase in building, material and trade costs it should come as no surprise housing prices are falling.
Building activity will eventually follow albeit with a substantial lag thanks to a material volume of projects under construction and approved-but-not-yet-commenced.
Once this ends, however, perhaps in late 2023, assuming interest rates remain relatively high thanks to inflation, and the economy is still spluttering, the construction boom will choke.
Coinciding with the slump in lending is a 13.1 per cent plunge in Australian new home sales and further declines in house prices.
Indeed, August Australian house prices recorded their largest monthly decline in nearly 40 years.
According to Corelogic, aggregate major city prices fell 1.6 per cent, which was the worst single month decline since 1983. Meanwhile, Sydney prices fell 2.3 per cent, Melbourne slid 1.2 per cent and Brisbane fell 1.8 percent.
Some economists believe the slumping house prices will curb the RBA's appetite for rate rises. If, however, taming inflation remains the RBA's primary goal, and our own Phil Lowe takes a leaf out of Jerome Powell's "There Might be Some Pain" book, investors shouldn't expect property prices to pull up any time soon.