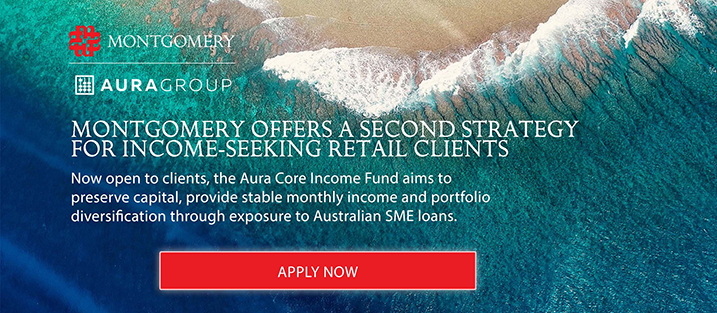 A fund for investors seeking monthly income
To provide a wider range of high quality investment choices, and stable monthly income, Montgomery Investment Management partnered with Aura Group and Brett Craig in May 2022. We are now delighted to announce the launch of our second income strategy, the Aura Core Income Fund.
The Aura Core Income Fund provides investors, with $25,000 or more, access to income-generating strategies that were until recently available only to high net worth individuals, their families and family offices. 
The Aura Core Income Fund is an open-ended, Australian-registered managed investment scheme that aims to preserve capital, provide stable monthly income and diversification through exposure to a pool of Australian private debt assets including asset backed SME loans.
The Aura Core Income Fund aims to achieve a target return of the Reserve Bank of Australia (RBA) Cash Rate plus 3.5%–5.5% per annum net of fees and costs through the economic cycle. Currently, the RBA Cash Rate is 2.35%, giving the Fund a current target return of 5.85%–7.85%[1].
The Fund offers investors exposure to the private credit asset class and aims to perform through the economic cycle to deliver stable monthly income from a diversified portfolio of credit exposures across industries and geographies. The Fund may offer protection against inflation as returns are earned from the interest generally charged at a floating rate above the RBA cash rate. The credit asset class has little correlation to public markets and complements investments in equities, property and cash.
Traditional bank lenders now typically focus their lending to large business customers, seeking to profit from scale. Consequently, SMEs have been searching for alternative sources of credit. The combination of low cash yields and an absence of lending to SMEs by banks, provides investors with a unique opportunity to provide funding.
If you would like to find out more, please visit the Montgomery website to download the Product Disclosure Statement: 
If you have any immediate questions, please call the Sydney office 02 8046 5000 and speak to David Buckland or Toby Roberts.
1 The Target Return is not guaranteed. The Fund's total return may rise, or fall based on, amongst other things, performance in the underlying loan assets and on movements in the RBA Cash Rate.
The Aura Core Income Fund (ARSN 658 462 652)(Fund) is issued by One Managed Investment Funds Limited (ACN 117 400 987 | AFSL 297042) (OMIFL) as responsible entity for the Fund. Aura Credit Holdings Pty Ltd (ACN 656 261 200) (ACH) is the investment manager of the Fund and operates as a Corporate Authorised Representative (CAR 1297296) of Aura Capital Pty Ltd (ACN 143 700 887 | AFSL 366230).   Montgomery Investment Management Pty Ltd (ACN 139 161 701| AFSL 354564) (Montgomery) is the authorised distributor of the Fund.  As authorised distributor, Montgomery is entitled to earn distribution fees paid by the investment manager and, subject to certain conditions being met, may be issued equity in the investment manager or entities associated with the investment manager. 
You should obtain and carefully consider the Product Disclosure Statement (PDS) and Target Market Determination (TMD) for the Fund before making any decision about whether to acquire, or continue to hold, an interest in the Fund. Applications for units in the Fund can only be made through a valid paper or online application form accompanying the PDS.  The PDS, TMD, continuous disclosure notices and relevant application form may be obtained from the Montgomery website: https://www.montinvest.com or from the responsible entity; www.oneinvestment.com.au/auracoreincomefund.
Any financial product advice given is of a general nature only. The information has been provided without taking into account the investment objectives, financial situation or needs of any particular investor. Therefore, before acting on the information contained in this report you should seek professional advice and consider whether the information is appropriate in light of your objectives, financial situation and needs. 
ACH, Montgomery and OMIFL do not guarantee the performance of the Fund, the repayment of any capital or any rate of return. Investing in any financial product is subject to investment risk including possible loss. Past performance is not a reliable indicator of future performance. Information in this report may be based on information provided by third parties that may not have been verified.
Where information provided by Brett Craig, Portfolio Manager of the Fund, consists of General Advice, this is provided as an Authorised Representative (AR No. 001298683) of Montgomery.