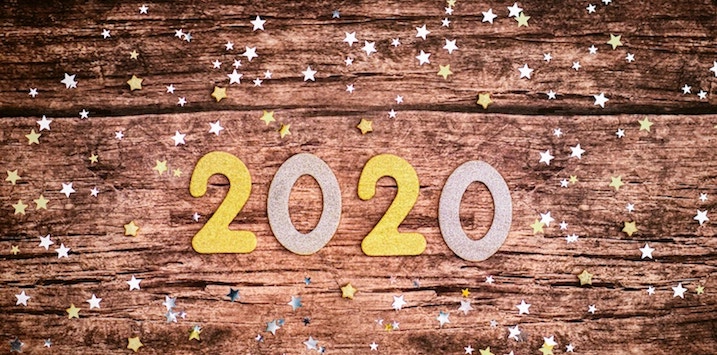 Farewell 2019, Hello 2020
After recording an excellent performance in the June 2019 half-year, both the US Nasdaq and S&P 500 led the way in the December 2019 half-year with a return of 12.1 per cent and 9.8 per cent, respectively, for a return over calendar 2019 of 35.2 per cent (US Nasdaq) and 28.9 per cent (S&P 500).  And this excludes dividends.
Other markets worth highlighting over calendar 2019 included the New Zealand NZ50 Gross (+30.4%), the French CAC 40 (+26.4%) and the German DAX 30 (+25.5%).  The laggards for the year included the Hong Kong Hang Seng (+9.1%) and the British FTSE 100 (+12.1%).
After recording a return of 17.3 per cent in the June 2019 half-year, the Australian All Ordinaries Index was relatively stable in the December 2019 half-year (+1.5%), thus delivering a return of 19.1 per cent (to 6,802 points) over calendar 2019.
It is interesting to note the Australian All Ordinaries Index hit 6,850 points in November 2007, and so many investors have received the equivalent of a dividend return over the past twelve years.  Inclusive of dividends, the Australian All Ordinaries Accumulation Index delivered a return of 24.0 per cent in calendar 2019, neatly more than double its very long-term average annual return.
A big influence on markets was the continuing decline in interest rates. After hitting 3.24 per cent in October 2018, US ten-year treasury bonds rallied to 1.45 per cent in September 2019, before finishing the year at 1.92 per cent. Ten Year Government Bonds in Japan (-0.01%), Germany (-0.19%), the Netherlands (-0.05%) and Switzerland (-0.47%) remained in negative territory.
In recent months the global pool of negative yielding debt has fallen from US$18 trillion to US$11 trillion. That said, a recent study by Bain has identified two dozen European Banks selling at a Price to Book of around 0.6X or below, indicating they have failed to materially de-risk over the past decade.  Deutsche Bank (0.39X), Commerzbank (0.45X), Barclays PLC (0.48X), Royal Bank of Scotland Group PLC (0.57X), Standard Chartered PLC (0.60X) and Societe Generale (0.61X), for example, have combined total assets of US$7 trillion.
In Australia, ten-year government bond yields rallied from 2.32 per cent to 1.37 per cent, and together with the cash rate being cut from 1.5 per cent to 0.75 per cent households have been strongly incentivised to go up the "risk curve" by switching from being savers to borrowers.
The easy monetary policy pursued by the Reserve Bank of Australia (RBA) has assisted the boom in house prices (and "zombie companies") and has been harmful to "prudent savers." The slump in the return on short-term deposits and bonds – the low risk component of most portfolios – has meant many older Australians are being forced to either reduce their spending or to consider eating into their capital.
On the commodities front, the price of oil (+35% to US$61/bbl.), iron-ore (+28% to US$91.50/tonne) and gold (+19% to US$1,523/oz) all did well over the year.
Meanwhile, the Australian Dollar was relatively steady for calendar 2019.
| | | | | | | |
| --- | --- | --- | --- | --- | --- | --- |
| | 31-Dec | 30-Jun | 31-Dec | 6 months to | 6 months to | 12 months to |
| | 2018 | 2019 | 2019 | 30-Jun-19 | 31-Dec-19 | 31-Dec-19 |
| |   |   |   | % Change | % Change | % Change |
| | | | | | | |
| Indicies | | | | | | |
| All Ordinaries | 5709.4 | 6699.2 | 6802.4 | 17.3% | 1.5% | 19.1% |
| S&P 500 | 2506.9 | 2941.8 | 3230.8 | 17.3% | 9.8% | 28.9% |
| Nasdaq | 6635.3 | 8006.2 | 8972.6 | 20.7% | 12.1% | 35.2% |
| Nikkei 225 | 20014.8 | 21275.9 | 23656.6 | 6.3% | 11.2% | 18.2% |
| FTSE 100 | 6728.1 | 7425.6 | 7542.4 | 10.4% | 1.6% | 12.1% |
| Dax 30 | 10559.0 | 12398.8 | 13249.0 | 17.4% | 6.9% | 25.5% |
| CAC 40 | 4730.7 | 5539.0 | 5978.1 | 17.1% | 7.9% | 26.4% |
| Shanghai Composite | 2493.9 | 2978.9 | 3050.1 | 19.4% | 2.4% | 22.3% |
| Hang Seng | 25845.7 | 28542.6 | 28198.8 | 10.4% | -1.2% | 9.1% |
| Sensex (India) | 36068.3 | 39394.6 | 41330.1 | 9.2% | 4.9% | 14.6% |
| NZ50 Gross | 8811.3 | 10501.1 | 11491.9 | 19.2% | 9.4% | 30.4% |
| | | | | | | |
| Bonds | | | | | | |
| US 10 Year Bonds | 2.68% | 2.01% | 1.92% | -0.67% | -0.09% | -0.76% |
| German 10 Year Bunds | 0.24% | -0.33% | -0.19% | -0.57% | 0.14% | -0.43% |
| UK 10 Year Gilts | 1.28% | 0.83% | 0.82% | -0.45% | -0.01% | -0.46% |
| Japan 10 Year Bonds | 0.00% | -0.16% | -0.01% | -0.16% | 0.15% | -0.01% |
| Australian 10 Year Bonds | 2.32% | 1.32% | 1.37% | -1.00% | 0.05% | -0.95% |
| Australian 11am Call | 1.50% | 1.25% | 0.75% | -0.25% | -0.50% | -0.75% |
| | | | | | | |
| Commodities | | | | | | |
| Gold (US$/oz) | 1281.3 | 1409.6 | 1523.1 | 10.0% | 8.1% | 18.9% |
| Oil (US$/bbl) | 45.41 | 58.47 | 61.06 | 28.8% | 4.4% | 34.5% |
| Iron-ore (US$/tonne) | 71.3 | 109.2 | 91.53 | 53.2% | -16.2% | 28.4% |
| Copper (US$/lb) | 2.63 | 2.71 | 2.80 | 3.0% | 3.3% | 6.5% |
| Wheat (US$/bushel) | 5.03 | 5.47 | 5.59 | 8.7% | 2.2% | 11.1% |
| | | | | | | |
| Currencies | | | | | | |
| $US/$A | 0.71 | 0.70 | 0.70 | -1.4% | 0.0% | -1.4% |
| $A/GBP | 1.81 | 1.82 | 1.89 | 0.6% | 3.8% | 4.4% |
| $A/EUR | 1.63 | 1.61 | 1.59 | -1.2% | -1.2% | -2.5% |
| Yen/$A | 77.55 | 75.76 | 78.34 | -2.3% | 3.4% | 1.0% |
| | | | | | | |