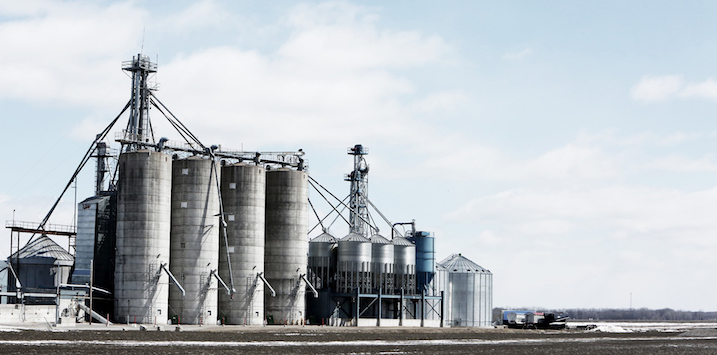 Domestic vs. international gas prices
I have previously shared my view on Australia's high energy prices and why investing in new coal producing power is a bad idea. Today, I would like to revisit what has happened in international liquefied natural gas (LNG) markets and compare it to what is happening to domestic gas prices.
Spot price of LNG in Asia
First let's start with looking at the spot price of LNG in Asia. This is the price that the Australian east coast gas producers can receive if they sell LNG to for example China (the chart is in AUD/mmBTU and the values should be multiplied by 1.055 to get to AUD/GJ which is what the domestic gas market is quoted in):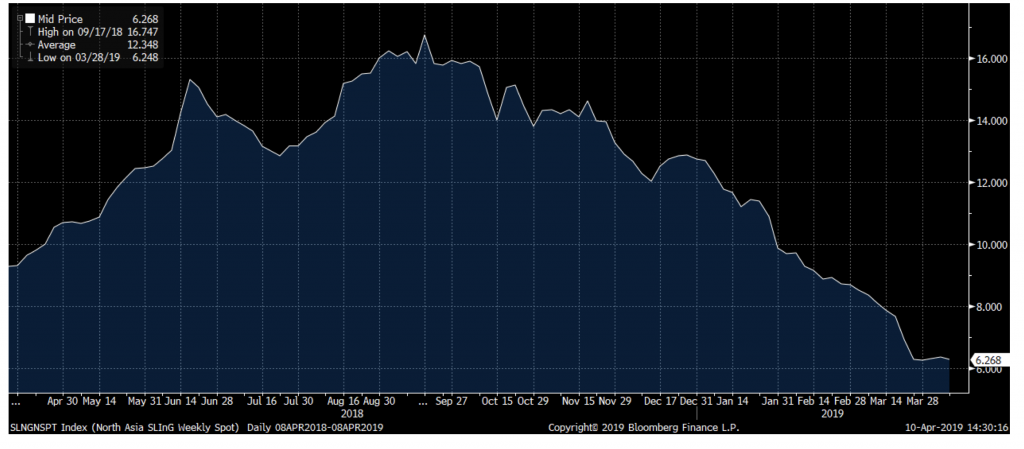 Source: Bloomberg
As we can see, there has been a steep fall in prices of around 60 per cent since the peak in September last year.
This has been driven by a supply glut as the existing large produces like Qatar and Australia have scaled up production and the US has opened several more export LNG terminals in 4Q18 and 1Q19 and are now approaching the 3rd place in export capacity just a few years after the first export terminal was opened in early 2016: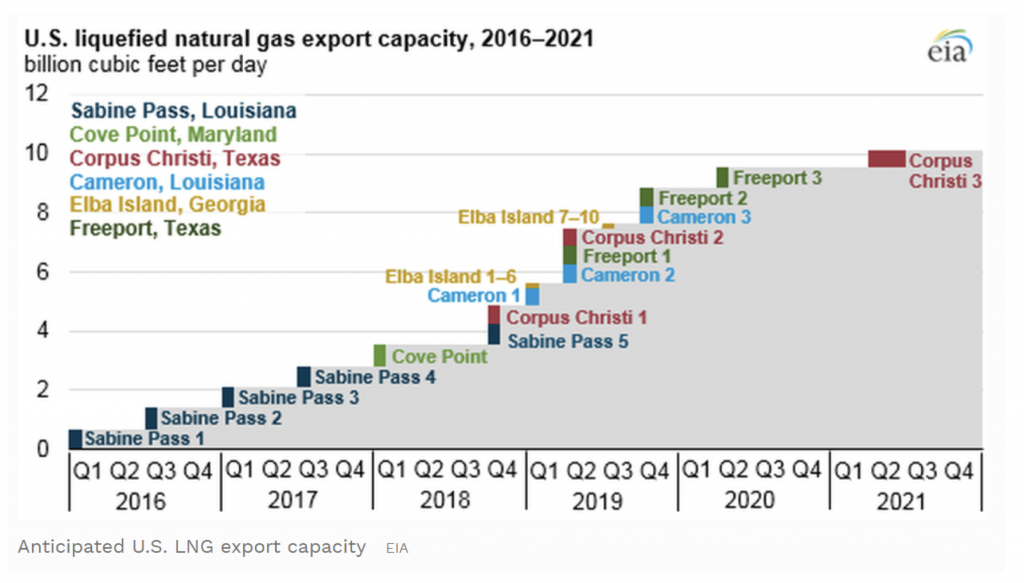 This is also reflected in the LNG netback price chart that shows the implied netback spot price on the east coast should be around AUD6/GJ (although this chart is currently 12 days old and would likely show an even lower forward curve if updated today given what has happened in the LNG spot market):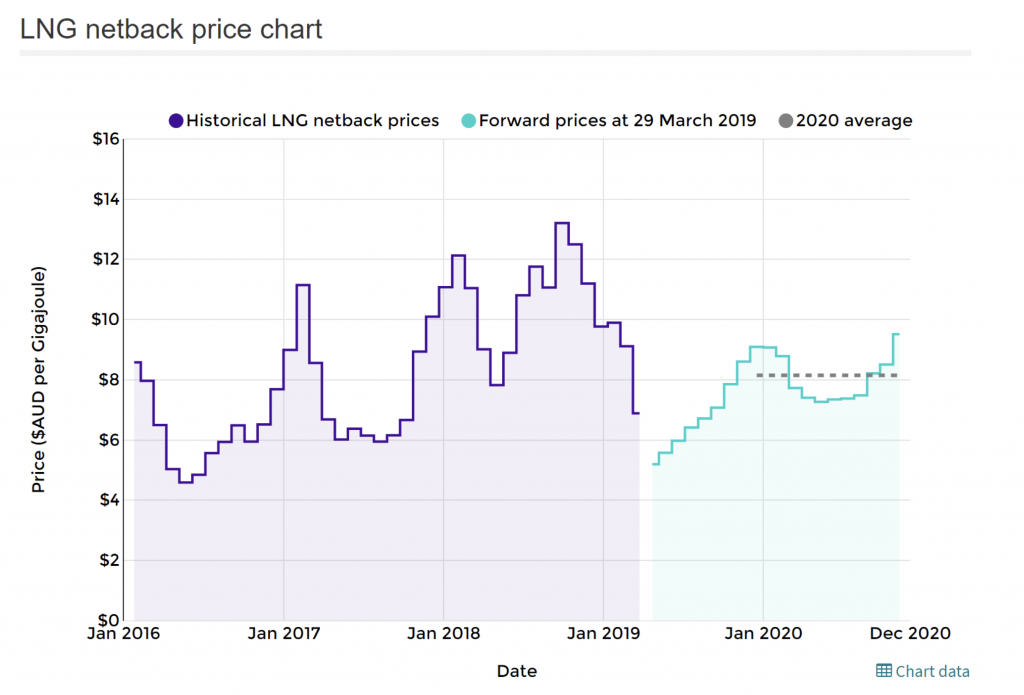 Source: ACCC
Notwithstanding all the caveats that ACCC discloses, they state on their website that "an LNG netback price represents the price that a gas supplier would expect to receive from a domestic gas buyer to be indifferent between selling the gas to the domestic buyer and exporting it."
It is therefore interesting to then look at what has happened to domestic gas prices. In the chart below, I have used the Brisbane spot prices as that should be what we can compare with the LNG netback prices from ACCC.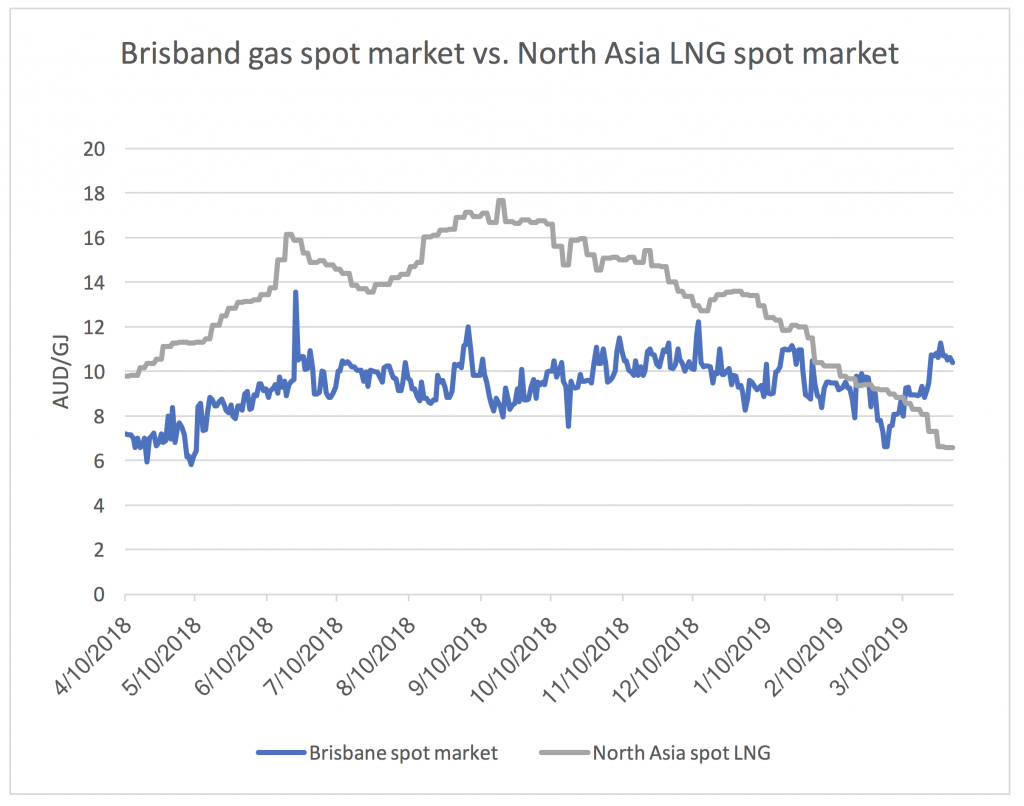 The chart is actually quite alarming as it shows that it is currently 66 per cent more expansive to buy a GJ of gas, produced in Australia, in Brisbane than it is to buy the same GJ in North Asia after it has been liquified and shipped there which would add at least a couple of dollars per GJ in cost.
The importance of gas pricing
As I have written before, the price of domestic gas is of major importance to the Australian domestic economy as it:
Is the major price setter in the electricity wholesale market. For each AUD/GJ in difference on the price of gas, we should expect a ~10/kWh difference in the wholesale cost of electricity as an open cycle gas turbine in general operates with a heat rate of around 10. The wholesale price of electricity feeds directly into both consumers spending power as electricity is something you cannot live without so you will sacrifice other spending to not be cut off and also into the economics of energy intensive manufacturing businesses reducing their willingness to operate and create jobs.
Natural gas is a major direct input for a range of industries ranging from anyone who makes anything containing plastics to anyone who makes fertilizers and explosives (Incitec Pivot and Orica) or even paint (Dulux).
It would appear to me that the producers of gas would be incentivised to try to keep the domestic price of gas high as they have significantly more market power here than in the global LNG market.
If this condition persists, a case that the Australian Domestic Gas Security Mechanism (which provides The Minister for Resources to compel LNG exporters to limit exports or find new gas source in case of domestic shortfall) should be triggered can surely be made as it is certainly not in the nations interest that domestic gas users pay significantly higher prices than buyers of the same gas in China no matter what anyone's definition of a shortfall is?
I have previously written about the reason that Australia has high energy prices and why investment in new coal producing power is a bad idea and most recently why LNG import terminals are not a great idea.