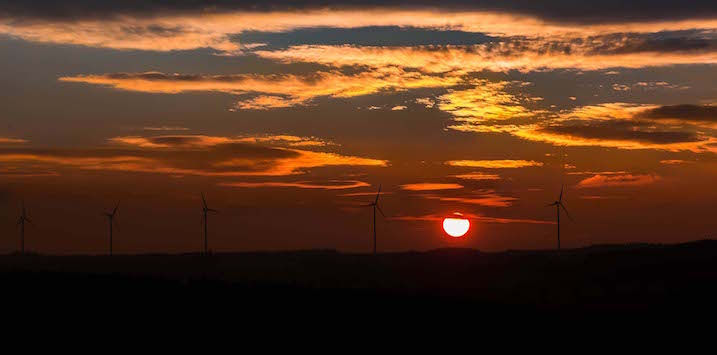 The three myths driving the national energy debate
It's hard not to shake your head in disbelief at the misinformation and spin being peddled by our politicians around an issue that is dominating domestic political debate: energy policy and prices. In this blog, I'm going to tackle three big myths that some of our leading advocates would have you believe.
(I won't be talking about the other big national debate going on right now – gay marriage – which, according to this writer, should not be an issue/debate at all as it should just be settled by a court deciding that it is not ok to discriminate against a certain portion of the population.)
Coal is the cheapest form of energy
This is not true if we include the cost of construction. Goldman Sachs shows it well in the chart below through showing the Levelized Cost of Energy (LCOE which is a measure of the lifetime cost of energy including construction and maintenance cost) for different types of energy. Solar and wind are indeed the cheapest cost of energy to construct for new energy and hence the people calling for Australia to build new coal fired power stations have, even if we disregard the long-term climate change costs, no leg to stand on. Even at current gas prices, it does not make sense to build coal fired power stations!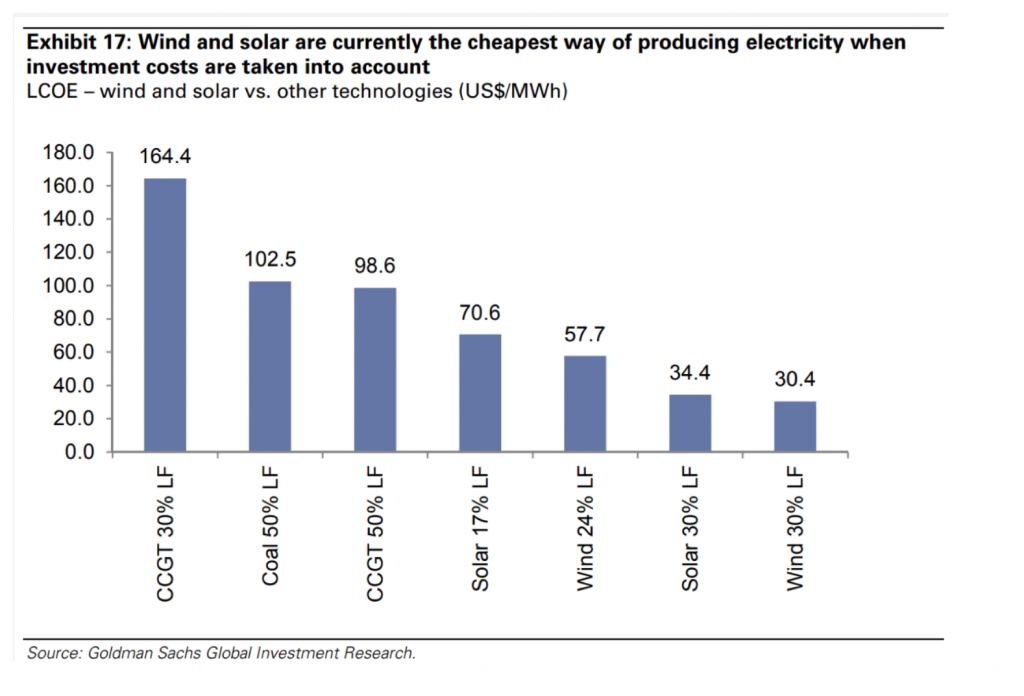 One should also be aware that even just keeping a power station operating past its scheduled life can cost significant amounts of money. Prime Minister Malcom Turnbull has during the last few days had a public spat with the CEO of AGL, which owns Liddell power station, about operating the station past its scheduled closure in 2022. Liddell opened in 1972 and is currently 46 years old and will be 50 by the scheduled closing time. Maintenance scheduling for a power station is a very complex science and to decide to extend the life relatively close to scheduled closure date can involve a significant investment, meaning that the cost of that power can very well be higher than burning gas in a gas power station. Now, I do not propose to have any detailed insight into the cost of extending the life if Liddell by another 5 years, but based on the figures I am familiar with from the Northern Power station in South Australia, it will most likely be in the 100s of millions of dollars.
Recent increases in energy prices are caused by the increase in renewable energy generation
Without going into too much detail on how the National Energy Market (NEM) works, it is neither coal nor renewable generation that sets the electricity price. Coal runs as a base load with low marginal cost and renewable generation has zero marginal costs and both types of generation is, in the short term, not really dispatchable (being able to be ramped up or down to respond to demand). Due to its easily dispatchable nature, it is gas generation that sets the electricity price, especially when demand and prices are high.
It has been obvious for a long time that the cost of renewable energy would come down significantly over time and eventually become by far the cheapest source of energy as well as by its very nature not having any greenhouse emissions. The policy for a long time has therefore been to transition the electricity generation to renewable energy and away from coal for both economic and climate change reasons. Given the unpredictable nature of the generation from solar and wind and the high cost of energy storage at the time (battery storage costs are coming down rapidly but are still not at a level where it makes commercial sense to deploy at large scale – I believe we will get there within 3-5 years depending on the technological progress driven by electric cars). Pumped storage costs are not coming down at all so the decision to invest untold billions in Snowy Hydro 2 looks very strange to me as by the time this is finished, the cost of battery storage and solar generation will likely be significantly reduced so this has the potential to become a big white elephant, the decision was taken to use natural gas (methane) as the transition fuel before a full transition could be completed.
Natural gas has certain advantages over coal:
It is much quicker to ramp generation from a gas power plant than for a coal power plant (5 minutes vs. 6-18 hours) meaning that you can match the generation much better to the actual need and not run excess generation.
It is a much cleaner burning fuel with much lower emissions of both greenhouse gasses and particles.
Australia has plenty of reserves of natural gas.
This was very sound policy but, unfortunately, the implementation of the policy was very flawed and that is why we are seeing the very high electricity prices today. So, what was wrong with the implementation?
The main problems were:
The most fundamental problem was that at the same time as natural gas was supposed to be used as the transition fuel, the Liquefied Natural Gas (LNG) export industry started up on the east coast of Australia through 3 consortiums constructing LNG export facilities on Curtis Island in Queensland.
Now, exporting things that we find in the ground is what the majority of foreign income for Australia is coming from so this is not a negative in itself but indeed a significant positive for Australia.
The problem was that the exporters were allowed to sign up export contracts on more than the gas reserves/production they had themselves. Santos in particular committed to much more export than they themselves could produce and hence they have had to buy gas in the domestic gas market to cover their export commitments (if we look over to Western Australia, they also have a big LNG export industry but they have a domestic reservation policy in place and domestic gas prices are 1/3rd of what east coast gas prices are at the moment (~$4/GJ vs. +$12/GJ)).
This led to the domestic price of gas being reset to (at least) the export price less the cost of liquefaction and transportation. The companies that has extra capacity to produce above their export commitments (Shell in particular) has held back developing new wells as they can drip-feed the domestic market with gas and keep prices high and make good money without depleting their reserves and domestic gas prices are indeed higher than the customers in Japan and Korea are paying for the same gas.
The three competing consortiums were allowed to all build their own LNG export infrastructure in the same place next to each other. This lead both to higher capital costs that needs to be recouped and no incentive to trade with each other to optimise the production of gas.
At the same time, NSW and Victoria have in effect banned development of coal seam gas which further reduces the available gas supplies to the east coast from the non-LNG exporters.
The lack of coal power caused the South Australian blackouts
Quite a few politicians keep blaming the lack of coal power in SA for the power blackouts last summer despite the clear conclusions in AEMO's report that it was basically a combination of 2 factors:
Two tornados that almost simultaneously damaged two transmission lines over 170km apart (please note that both of these lines were south of the Port Augusta power station so having the coal power station working would most likely not have helped as the majority of demand in SA comes from Adelaide).
This caused voltage dips in the network that because of bad programming in their protection systems caused 8 wind farms to turn off resulting in 456MW reduction in generation.
This lead to an overload of the interconnector to Victoria which shut down to protect itself and this caused the black-out of the SA power system.
Granted, having the coal power station on-line might have helped a little bit but the main cause of the black-out was the tornados that destroyed power lines south of Port Augusta. We should also note that Pelican Point, the gas fired power station in Adelaide, was operating at much less than half capacity due to the high price of gas making it uneconomic to run.
I will stop there but these are at least three misconceptions being spread that you should have in mind when listening to the debate.
PS, I will finish off with a TIP! If you have not shopped around for a better deal on electricity or gas within the last year or two, you are to a very high likelihood paying too much and if you have never shopped around, you can with almost 100 per cent certainty save 10-15 per cent on your bill with just a few phone calls.
If you think you are, go to https://www.energymadeeasy.gov.au and check which are the cheapest three suppliers in your area and for your usage.
Do not sign up directly but call each of them up and negotiate and play them off against each other.
Once you have established the best offer in the market, call your existing provider and tell them you have been offered a better deal and ask them to beat it. Losing a customer is very expensive for an energy company as it costs them a lot in marketing cost to replace that customer and they will be able to negotiate significantly to make sure that that does not happen.