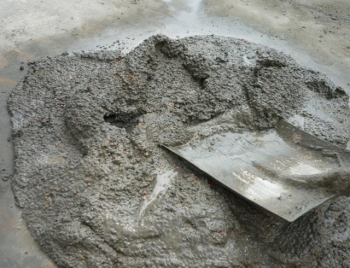 Chinese cement producers, declining capacity utilisation, and the fight for survival
China's cement demand peaked in 2014 at 2.48 billion tonnes or 1.81 tonnes per capita based on 1.37 billion people. This is 2.5 times the per capita demand in both Japan and the US (0.7 tonnes) and 1.4 times the per capita demand in the high-density cement markets of Taiwan and Korea (1.3 tonnes).
In 2015 China's total cement demand declined 5 per cent or 130 million tonnes to 2.35 billion tonnes. Property (down 9 per cent to 1.226 billion tonnes) accounted for 52 per cent of total demand, while Infrastructure (steady at 1.045 billion tonnes) accounted for 44 per cent of total demand.
A recent study by Johnson Wan of Deutsche Bank found that when cement consumption per capital peaked in each of Japan, Korea, Taiwan, US, France and Germany there was an average decline of 19 per cent in consumption per capita two years after the peak, and an average decline of 16 per cent in consumption per capita five years after the peak.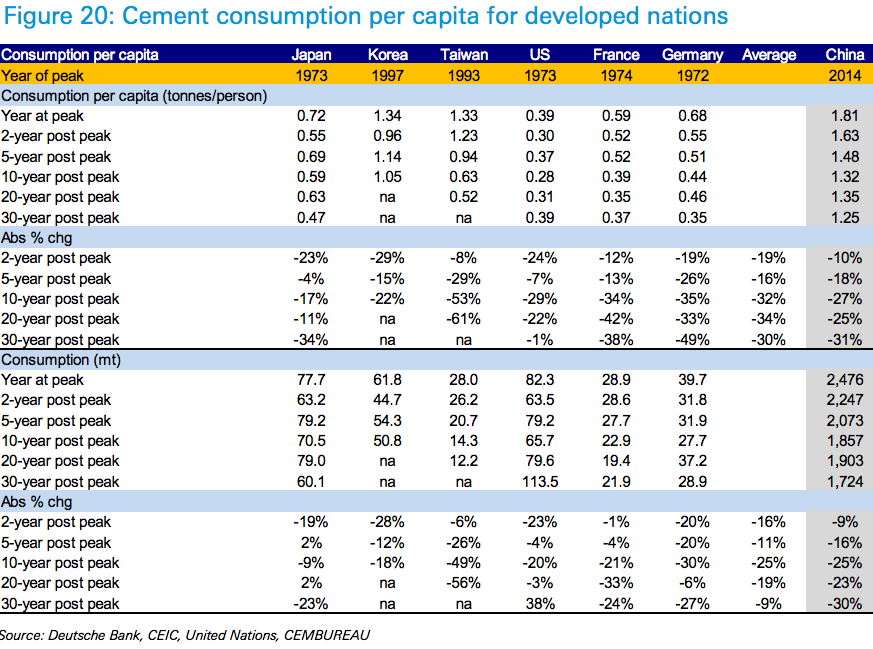 Wan is forecasting China's cement consumption to decline from a peak of 2.48 billion tonnes in 2014 to 2.25 billion tonnes (-9 per cent) in 2016 to 2.07 billion tonnes (-16 per cent) in 2019. That is consumption will decline by 400 million tonnes over the five year period under review.
On a per capita basis, this means consumption is expected to decline from 1.81 tonnes in 2014 to 1.63 tonnes (-10%) in 2016 to 1.48 tonnes (-18%) in 2019. While Infrastructure demand is expected to remain relatively steady, it is demand from the Property sector which is expected to be hit over the next few years.
According to Deutsche Bank, land sales – which local government finances are heavily reliant on – turned negative in late 2014 and in fact declined by 24 per cent in 2015.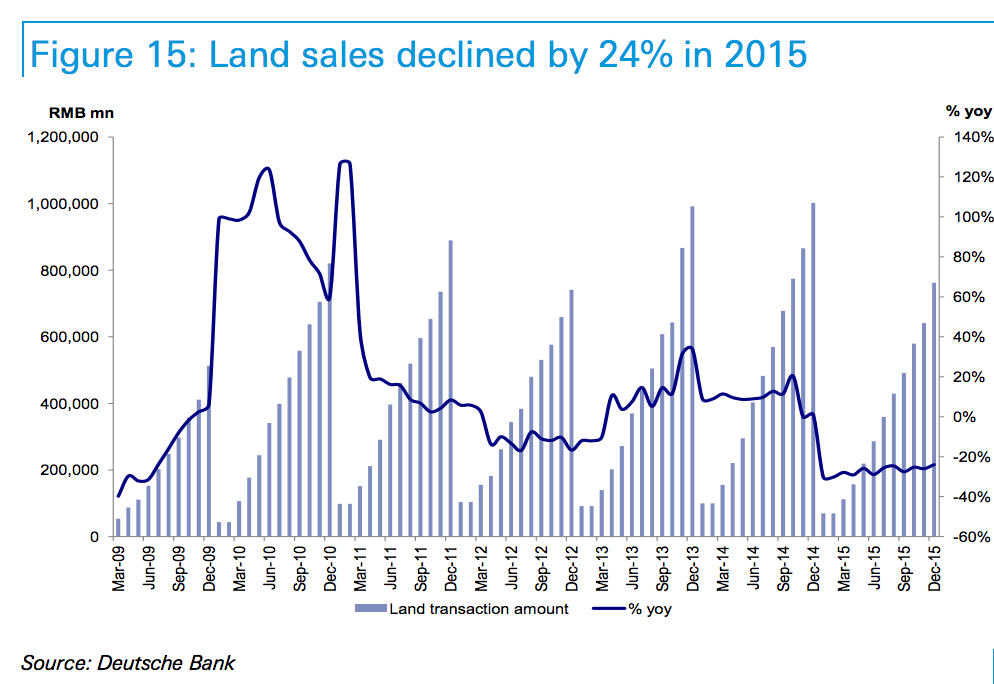 Second, and possibly more concerning is the fact that Chinese residential property inventory, at around 400 million square metres, is still 27 per cent higher than it was at the end of 2013 – the year when residential property floor area sold hit its peak.
In a survey conducted by the Southwest University of Finance and Economics, China's housing vacancy rate reached 22.4 per cent or 49 million units in 2013.
According to Wan, reduced land sales and destocking of excess residential inventory levels will likely see cement demand from the Chinese Property sector decline from 1.4 billion tonnes in 2013 to 1.0 billion tonnes by 2019.
In addition we note the Peoples Bank of China are highly concerned about the financial risks associated with the property sector in certain regions. After the recent sharp price rally, new tightening measures are expected in Shenzhen, Shanghai and Beijing.
As capacity utilisation of the Chinese cement sector declines to below 60 per cent the fight for survival will lead to lower margins, increased exports and industry consolidation.
To learn more about our funds, please click here, or contact me, David Buckland, on 02 8046 5000 or at dbuckland@montinvest.com.