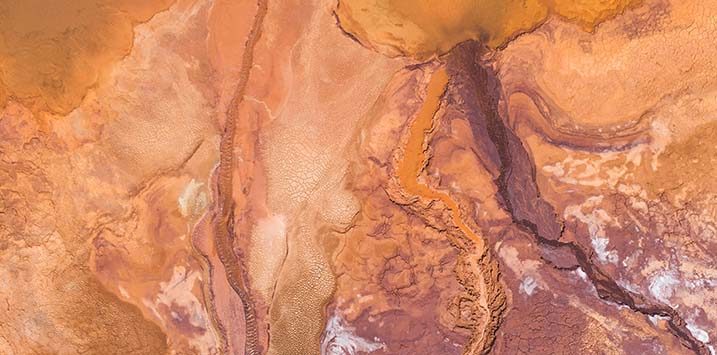 Boss energy – a ticket to global electrification
As many of us know the world has embarked upon a journey to diminish its use of fossil fuels for the production of electricity. Terminology like 'reducing greenhouse emissions' 'targeting net zero' and 'decarbonisation' have become mainstream both in our media and in our daily lives.
Given this agenda is now supported by all levels of government in the developed world the obvious question to ask is, as an Australian investor how do I get exposure to this thematic?
As a prudent manager of capital we want to take a diversified approach to answering this question. This has been reflected in our portfolio through a combination of positions, be it exposure to the battery materials, or be it copper that's critical for the growth in electrification, or in the case of today's company the mining and extraction of Uranium as a direct low carbon energy feedstock.
As we are all aware, on the February 24 this year Russia launched its special military operation into Ukraine, this coupled with the response from the west sent global energy markets into a spin.
The Energy market then took a further twist in recent weeks with explosions occurring on the Nord Stream Gas Pipelines which are the lifeblood of the flow of gas into Western Europe from Russia. With this development, sovereign nations are further reminded of the need to have energy sustainability (the move to greener energy), that's available at all times, on demand, no matter what the weather, and has supply chains for its fuel source that are secure. These factors will become critical government agendas for many years to come.
The electric vehicle/decarbonisation theme
As small cap investors, we have followed the electric vehicle/decarbonisation theme for some time. Our view has evolved to also include Energy Security into this mix, with the line of thinking nuclear power is not an option that can be left off the table. A recent post by the U.S. Department of Energy and the Office of Nuclear Energy stated that nuclear energy has the highest capacity factor (HCF) by energy source to run at full production levels as compared to other energy sources. A modern Nuclear power facility is considered to have a HCF of 92.5 per cent. This compares to geothermal production which runs at 74.3 per cent, natural gas at 56.6 per cent, with wind and solar sitting at 35 per cent and 25 per cent respectively. The move to green sustainable energy sources comes with the disadvantage that renewables are dependent on factors we just can't depend on, like the sun shining or the wind blowing. Nuclear offers electrons no matter the weather, its generation is firm, and that's a very useful factor that can be used to help back up renewable sources as and when their generation falters.
Source: Office of Nuclear Energy
Further strengthening this argument was an announcement this week by the German government to initially postpone the decommissioning of three of the nuclear reactors from August this year to April next year (at a minimum), as they work to manage their own energy security and supply issues.
From a long-term point of view, given its ability to produce energy, and when in an environment where energy security and sustainability is critical, it is hard to see Nuclear Energy not finding a long term place in the electricity production value chain.
Even with some of the historical safety headwinds it has faced we have seen the world continue to grow its use and reliance on Nuclear Energy.

With this in mind we have commenced our bottom-up research to look at ways we can gain exposure to the Nuclear energy supply chain, specifically Uranium production given the critical role it plays in this process. Our work led us to find Boss Energy Limited (ASX:BOE).
Our attraction to Boss comes from multiple fronts. Boss's Honeymoon project is a re-start, making it one of the quickest Uranium mines that will add new supply to what we see as a market that's starting to react to the global energy security dynamic we have outlined above. In addition Boss's mine is in Australia, which is a Tier 1 mining jurisdiction, and compares favourably to our other investment options.
Honeymoon which was originally managed by Uranium One Australia and acquired by Boss in December 2015. The site has already completed both feasibility studies and a re-start final investment decision study, along with a recent capital raising of $125 million AUD, to take the site from being mothballed to initial production later this year. Construction to bring the mine back to production is already underway.
Production will then ramp up over the following three years which is in line with market expectations. Once commercial production has been reached, this project is expected to produce 2.45mlb U3O8. Given the underlying reserve the Honeymoon site has an expected mine life of approximately 11 years. There is further mine life potential with a second phase development that should follow post the first phase achieving steady state production outcomes, and the supply demand balance in the Uranium feedstock market plays out as we think. The chart below from Macquarie outlines their view of this balance and their forecast for the Uranium price. Recent announcements of Nuclear reactor life extensions are likely to add to demand picture in our view.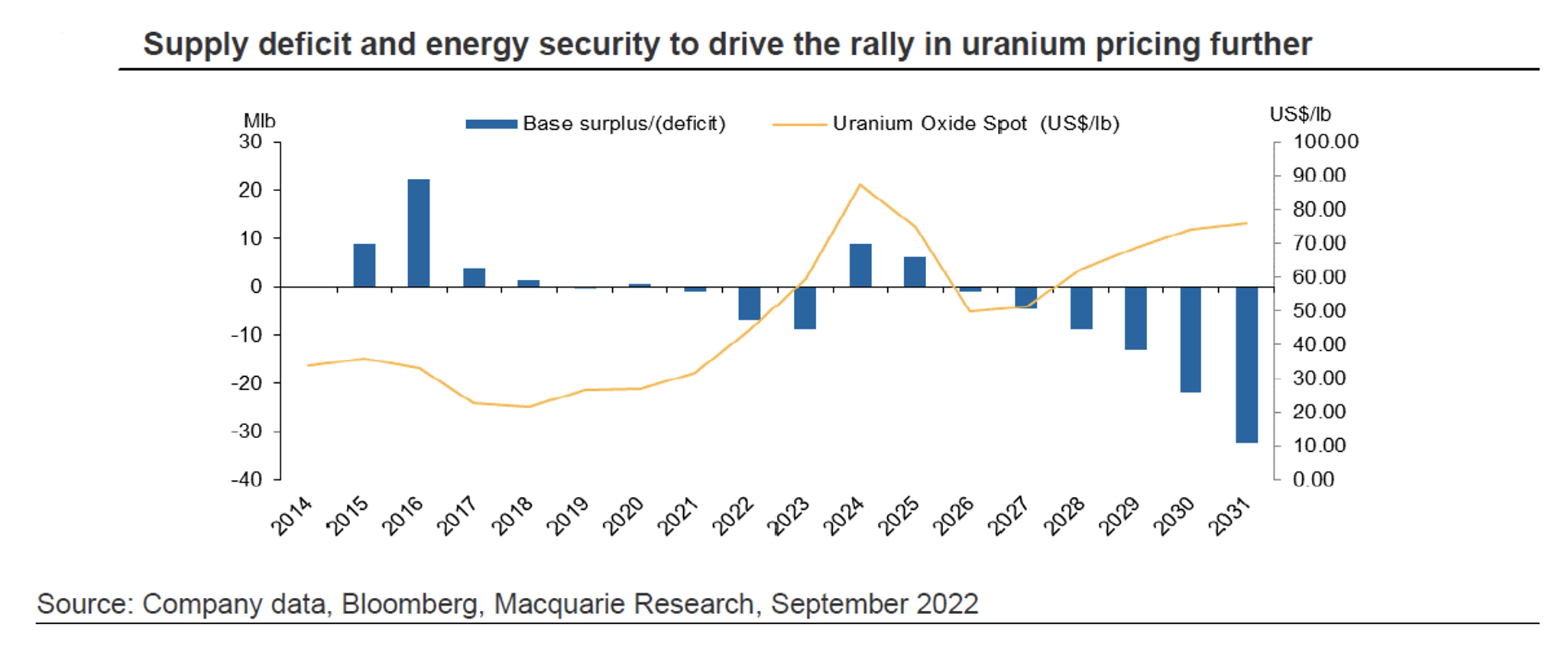 Our outlook for Energy Security fears to drive demand for Nuclear, and Boss Energy's ability to rapidly deliver supply into this market remains positive, and so we consider Boss as a part of our diversified exposure to global electrification and decarbonisation thematic.
The Montgomery Small Companies Fund owns shares in Boss Energy. This article was prepared 21 October 2022 with the information we have today, and our view may change. It does not constitute formal advice or professional investment advice. If you wish to trade Boss Energy you should seek financial advice.