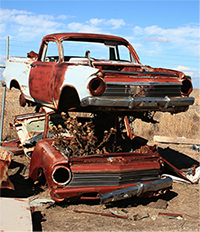 Australia: Time for Rejoicing?
Whenever I have been asked to nominate the worst industries to invest in, I have always cited car manufacturing and airlines. Car manufacturing is an exercise in labour and capital intensive fashion design, while airlines suffer from being input price takers, are beholden (pun intended) to unionised labour, irrational competition and competitors who can secure their fuel for free. And if a commodity is anything that is purchased purely on price and where brand isn't a consideration, then airlines are selling a commodity too.
The month of December delivered a double blow to Australia's mojo when Holden decided to cease manufacturing here and Qantas reported a $300 million loss. Rather than count it as any kind of personal vindication, we should be saddened by these two events being evidence of very poor forward planning over the last two or three decades by the very people we elect to run the country. Is it any wonder they can't when the majority are career politicians – having never worked at running a local fete let alone a business or a country – or career lawyers?
The particular penchant we have for destroying what little chance of competitiveness we have, irrespective of whether it is driven by inept government policy or unionised "thuggery" (to quote GUD Holding's CEO Ian Campbell), is galling.
Qantas is a case in point; it's the meat in a sandwich where the two pieces of bread are the level playing field ideology on the one side and the Qantas Sale Act on the other.
It almost seems Australia has entered itself into the Olympic 100 metres, but before the starter's gun sounds we ask the officials to tie our right leg to a stake in the ground behind the start line.
Holden was never going to fly in Oz. Only this week in the United States, GM CEO Dan Akerson said, "We are in a capital-intensive business that demands steady and significant investment." And it seems decades of investment was not enough to keep it running. It should be remembered that the US government bailed GM out of bankruptcy with a US$49.5 billion package and Dan Akerson this week rejected any suggestion that the company should compensate the government for losses when it converted the unpaid debt portion to shares.
He said Treasury officials took the same risk assumed by anyone who purchases stock.
And risk is not absent for anyone who buys stock in car manufacturers or loans them money. I couldn't help but chuckle when the Head of Holden in Australia said that in order to have a viable business, government financial support was essential. By definition, if you require financial support, you cannot be viable.
I have pointed out previously that government policy, in all areas, that conditions Australians to expect lower consumer prices and higher salaries, is unsustainable and places us on a path to serfdom. Keep going down this path and we will inevitably find ourselves tilling the soil for a foreign landlord and earning an insufficient amount to ever pay off our debts to them.
A Chinese car manufacturer can have more then ten times the number of workers on an assembly line for the same cost of just one Australian worker and that excludes superannuation, insurance and payroll taxes, the latter to thank the state governments for all the fine work they do managing their finances so effectively and producing all that terrific infrastructure that keeps us globally efficient – NOT.
Of course the common retort is that Australians shouldn't be wishing for such low paid jobs. That's reasonable, but then don't expect to make cars here or keep car-making jobs here.
That's the bottom line – when economic rationalism dominates, it is the lens through which everything is discussed; from disability support schemes to the levels of indigenous incarcerations.
Combine all of the above with a small population and you have the requirement for some serious forward planning and lateral thinking that a three year election term and the 24 hour news cycle doesn't allow.
Now that I have said my piece, how should investors be thinking about this? The obvious lesson comes from the fact that both the car and the aeroplane changed the world – arguably for the better.
Investing in technology that advances the world must surely be a good thing? Well evidently not.
Back in the 1930s, the transformative impact of the car and plane were underappreciated by many, but there was enough hope that the US harboured 2000 car companies. Today only three remain, and, if my facts are correct, two only exist thanks to government bailouts. From 1908, the work of Alan Archibald Campbell-Swinton, Karl Braun, Philo Farnsworth and Vladimir Zworykin put the world on the path to television and millions and millions have been sold but while the US and Australia had many television manufacturers none exist today in either country.
While some technology offers enormous social returns, the aggregate financial returns are far less attractive. When it comes to airlines you only need to look at the long term net returns published by the IATA to discover that wealth creation has been virtually non-existent.
In order to invest successfully in the new or transformative you not only need to pick the right companies but also the right time – and you have to be smart enough to not only get the entry timing right but also the exit timing.
This is a difficult job for any investor to succeed at consistently. So we are left with the idea that it is far better to invest in far more mundane enterprises with less audacious goals than transforming the world. We are also left with the hard reality that, amid present policy settings, the roll call of successful Australian businesses that remain Australian-owned must get necessarily shorter.