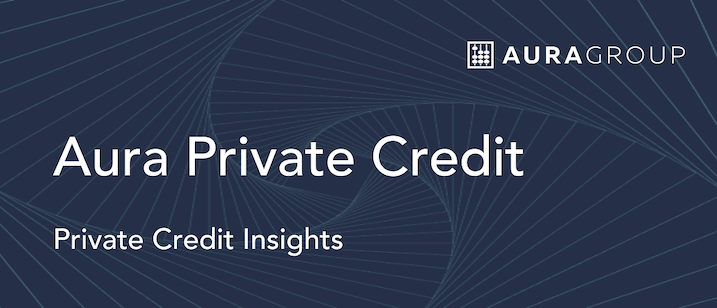 Aura Private Credit: Letter to investors 09 December 2022
This week the RBA increased the Cash Rate by a further 25 basis points to 3.1 per cent. Data from the Australian Bureau of Statistics showed quarter on quarter GDP growth of 0.6 per cent and 5.9 per cent year on year for the September quarter. The Household savings ratio continued to fall to near pre-pandemic levels.​
Economic Growth and Household Spending 1, ​2, 3​
Gross Domestic Product displayed early signs of cooling to near normal growth rates after seeing considerable growth following the conclusion of the 2021 lockdowns. September's 0.6 per cent quarterly growth rate annualised is 2.4 per cent, however, growth in the 12 months to September 2022 reads 5.9 per cent. RBA Governor Phillip Lowe commented on Tuesday (6th of December) that the RBA's central forecast is for growth of around 1½ per cent in 2023 and 2024.

While household spending was the largest contributor to quarterly growth, discretionary consumption has been increasing at a decelerating rate. However, it remains elevated, with the last four quarterly reads being 15.1 per cent (Dec 21), 4.0 per cent (Mar 22), 3.9 per cent (Jun 22) and 1.8 per cent (Sep 22). For context, the pre-pandemic average, measured from September 2014 to December 2019, is 0.53 per cent.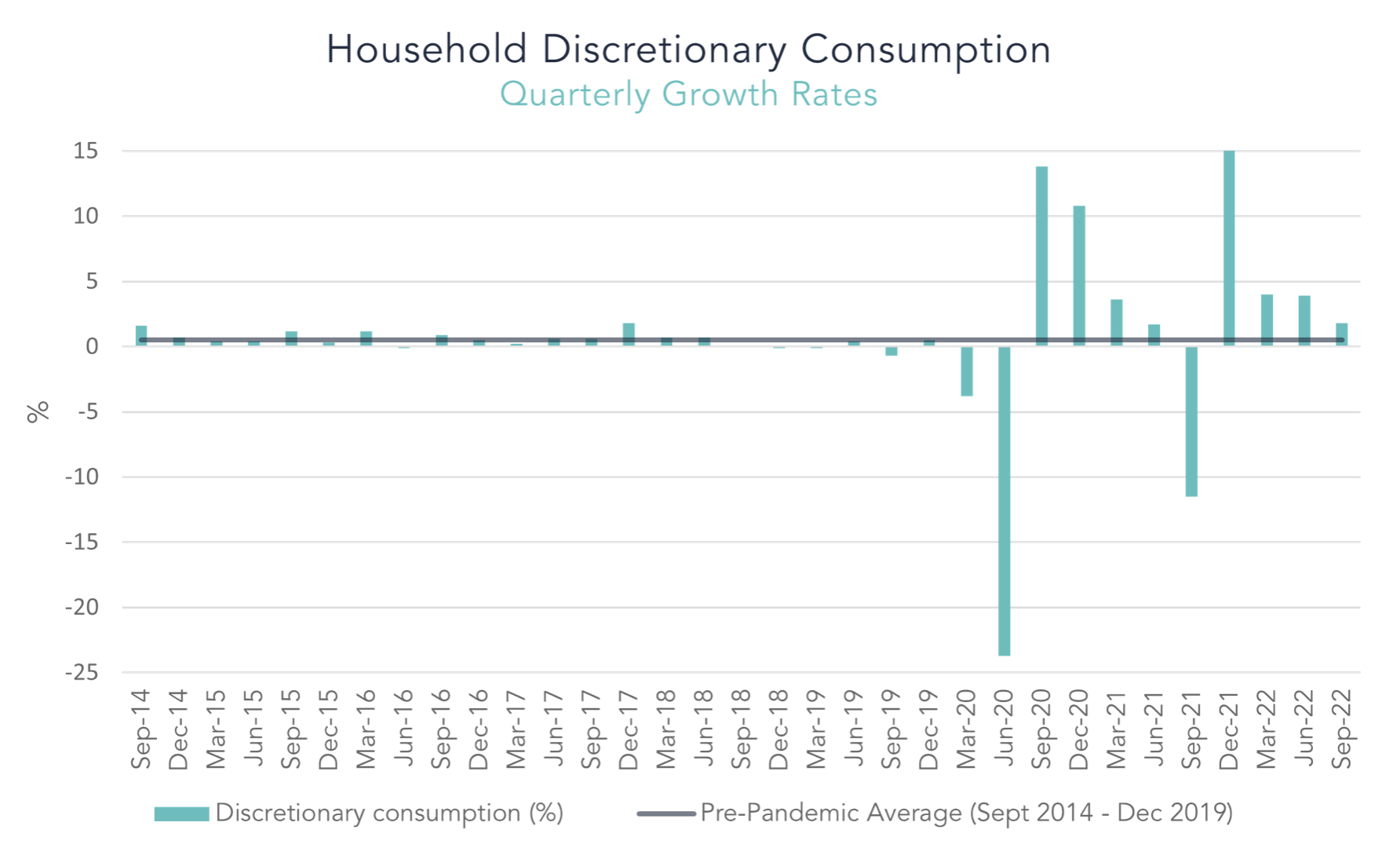 The household savings ratio continued to fall, arriving at 6.9 per cent in September 2022. This sits only slightly above the pre-pandemic average of 6.0 per cent (Sep 2014 – December 2019) and has shown early signs of a mean reversion as the fall decelerates. The reduction in savings ratio can most prominently be explained by the continued (yet slowing) increases in discretionary spending and increased mortgage servicing costs as the RBA Cash Rate climbs higher.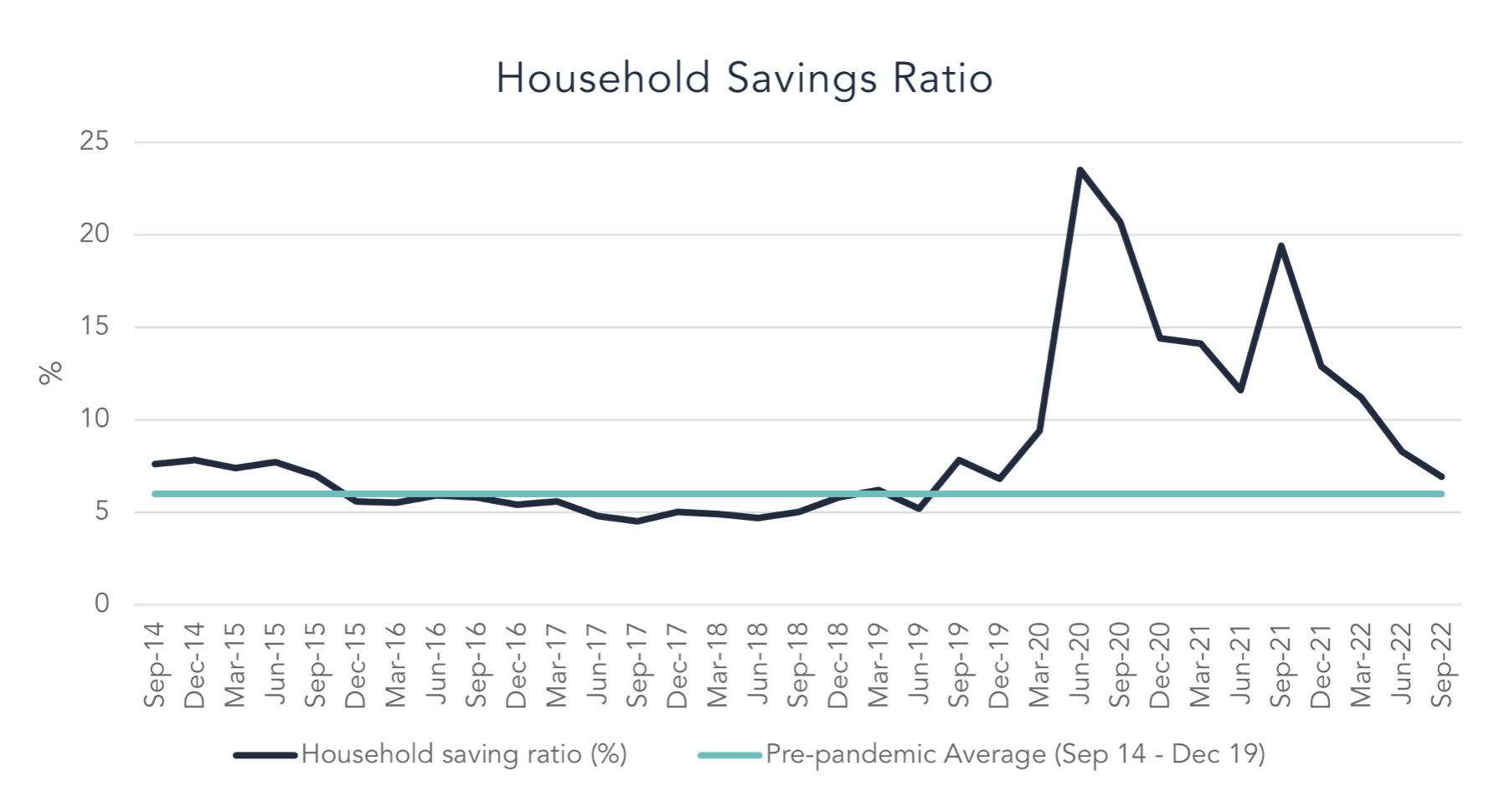 Monetary Policy Decision – December 2022 3, 4​
On 6th of December the RBA Board decided to increase the Cash Rate by a further 25 basis points, taking the official rate to 3.1 per cent. Governor Lowe commented that inflation is still too high. Despite the slight month on month decline in the read for the 12 months to October 2022 (6.9 per cent) (as opposed to the 12 months to September 2022, 7.3 per cent), the RBA expects inflation to peak at around 8 per cent over the 12 months to the December quarter before receding from next year and landing slightly above 3 per cent over 2024.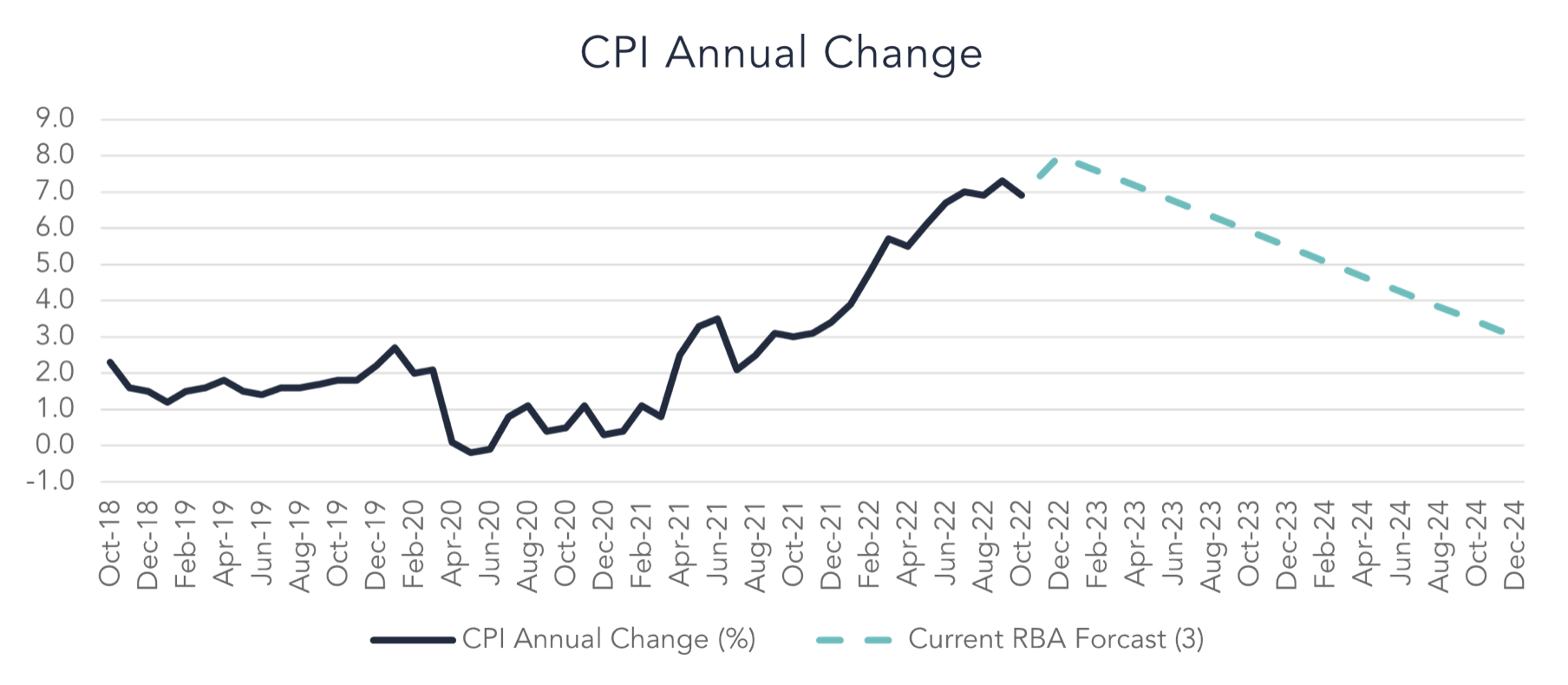 Governor Lowe's statement in the closing paragraph made it very clear that the Board expects to increase interest rates further over the period ahead, but it is not on a pre-set course. As seen below, the market, as at market close on December 7th priced in a peak Cash Rate of 3.655 per cent in October/November of next year.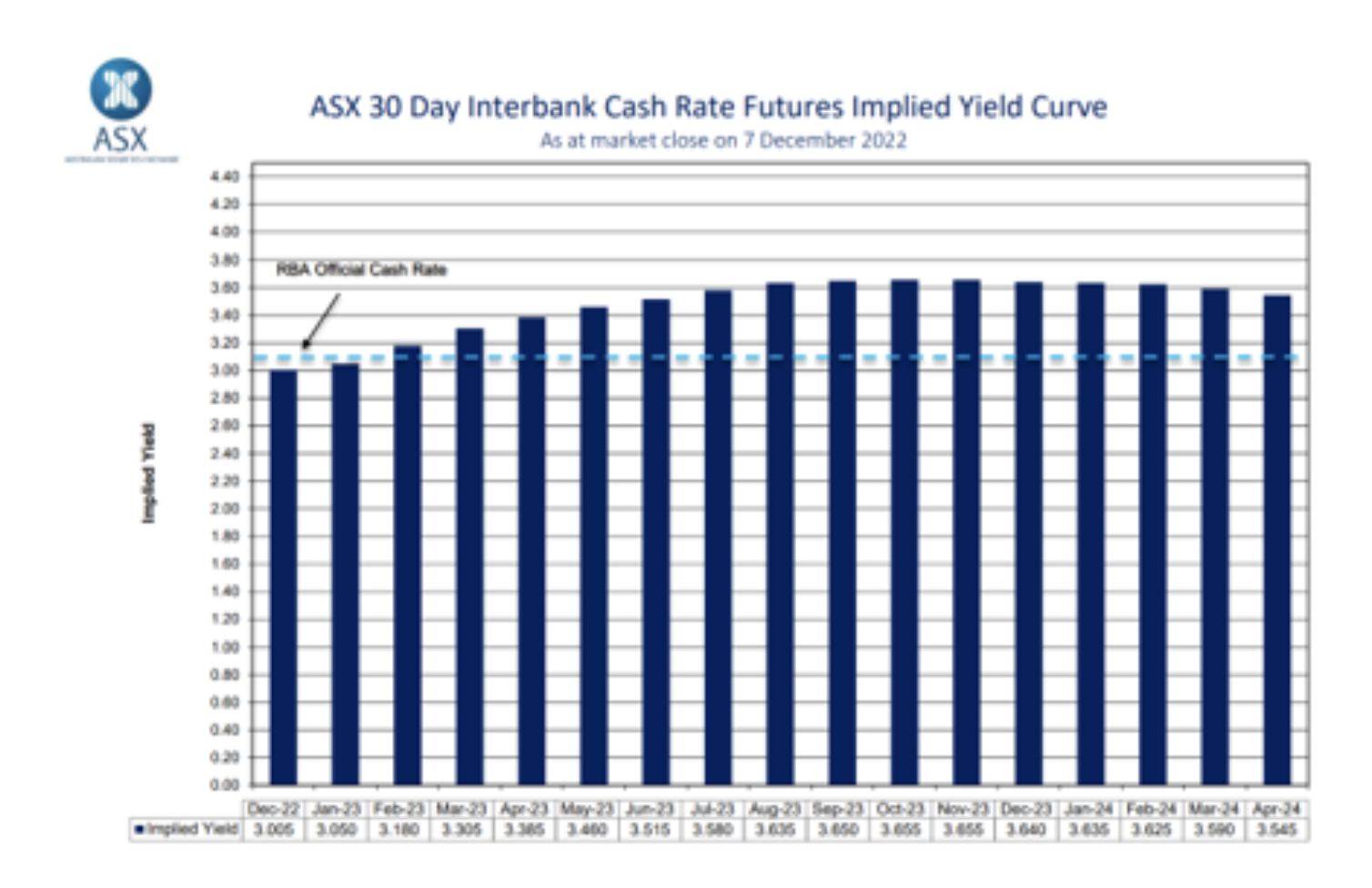 The continual increase in rates can benefit returns for credit investors, as the return on floating rate deals increase and maturing short duration fixed rate exposures are able to be repriced upon redeployment. However, we are conscious of the stress this environment places on both households and businesses. Afterall, the RBA's objective is to force a reduction in consumption via eroded disposable income after debt servicing costs. As was the case throughout the lockdowns of 2020 and 2021—as well as the market turmoil earlier in 2022—we will maintain frequent dialogue with the lenders we work with, keeping a close eye on the book as we transition to the new interest rate environment.
1Australian Bureau of Statistics – Australian National Accounts: National Income, Expenditure and Product – September 2022
2Australian Bureau of Statistics – Monthly Household Spending Indicator – October 2022
3Reserve Bank of Australia – Statement by Phillip Lowe, Governor: Monetary Policy Decision – December 2022
4Australian Bureau of Statistics – Monthly Consumer Price Index Indicator – October 2022