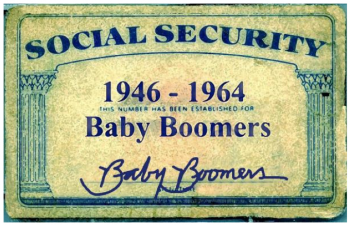 Another handout for Baby Boomers. Thanks Joe!
I have long explained that legislation around wealth accumulation and wealth protection is designed by baby boomers for baby boomers.
The baby boomers didn't want to live like their parents and they don't want to live like the generations after them will have to either.
'Mine, mine, mine' seems to be the modus operandi.
Two years ago I wrote an open letter to investors under the age of 50 that went viral. You can read it here.
In that article I said, "Superannuation will be no good for you if you are under 50 today, so invest the absolute minimum amount into super. That means, no salary sacrificing, no co-contributions, no non-concessional contributions. Ignore the calls to save tax and boost your super."
I concluded; "I believe by the time someone turning 40 today is entitled to extract their super, the tax rates will be higher, the amount they can withdraw will be lower and they may not qualify at all because the age, at which they can qualify, will move. Remaining in the workforce longer will be something that younger people will need to get used to, to fund the profligacy of the generation before."
Only a year after I wrote that open letter, our esteemed Treasurer, Mr Joe Hockey recorded this dialogue, with the ABC's Tony Jones, on the Q&A program:
Jones: So it's on the cards that we could see, in this term, a change to the year – the age – at which you can access your super?
Hockey: Well, I think it's something that we need to have a proper process to discuss with all the affected stakeholders.
Jones: But it sounds like it's in your mind.
Hockey: It is on my mind and it's on Tony Abbott's mind. We're thinking about how we're going to make sure that the quality of life for Australians into the future is sustainable
Superannuation is simply too big an amount of money for a cash-strapped government to ignore. And remember if you are not a baby boomer 'it's not your money anyway'.
So park that thought for a moment.
In April last year I also wrote a piece entitled House Prices Ain't Falling.
Here is an extract: "Longer term however – and keep in mind I am still working on an insight into why house prices won't fall – I believe it is not in any government's fiscal interest to abolish negative gearing. For reasons I will explain soon, not only do I believe the government should and will retain negative gearing, but they will be forced to consider extending the perk and introducing tax deductions for residential mortgage interest on the main residence as well as investment properties.
You see, there's a wave of financial catastrophe coming for a generation of people unless the government assists others to buy property. Stay tuned."
My basic premise is that the biggest store of wealth for most baby boomers is in their home (not in superannuation) and so if the government wants to avoid it's own fiscal disaster, the government will have to rescue Baby Boomers from falling house prices.
Any policy that can keep house prices elevated so that baby boomers can profitably sell their own home(s) and downsize will be regarded as smart fiscal management. It's not too much of a stretch to believe that is what Joe Hockey meant when he told the ABC's Tony Jones; "we're going to make sure that the quality of life for Australians into the future is sustainable."
Remember, legislation is written by baby boomers for baby boomers.
And so we arrive in March 2015 with the latest policy suggestion; let the young, who cannot afford elevated house prices, dip into their super to buy property.
Whether you give people a first home buyers grant, let them dip into super or allow them to pay their stamp duty over a few years (as the NSW state opposition recently suggested) the net effect is higher house prices (not greater affordability).
Don't be distracted by talk of affordability. Any policy that effectively gives the young more money to buy a house (in Tasmania, the Labor government recently increased the first home buyers grant to $30,000) is not about making houses more affordable. It's all about keeping prices elevated to rescue baby boomers from any fall in real estate prices that would otherwise occur if a generation of people sold their houses at once to a generation below them who cannot afford present prices*.
Ask yourself what would happen if Joe Hockey handed everyone a first share portfolio buyers grant? Would the stock market be more affordable or would prices surge? The same thing happens in property.
So what advice to give the young? Be very, very careful. There's a generational tidal wave (of wealth to be protected) and unfortunately you are not old enough to be on a 'Mal' riding its crest.
*Note: the top 20 per cent of income earners own 36 per cent of the housing stock
Roger Montgomery is the founder and Chief Investment Officer of Montgomery Investment Management. To invest with Montgomery, find out more.