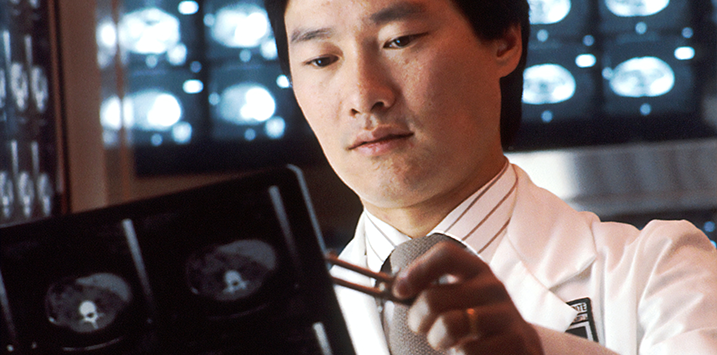 Why we've invested in Integral Diagnostics
The Montgomery Fund recently invested in Integral Diagnostics (ASX:IDX), which provides medical imaging services at 67 radiology clinics across Australia and New Zealand. Our investment in IDX gives us exposure to an expanding business in the fast-growing digital imaging industry. The IDX share price has grown four-fold over the past five years, and we're confident there's more growth to come.
Most Australians above a certain age have one thing in common, they are all in possession of one of these: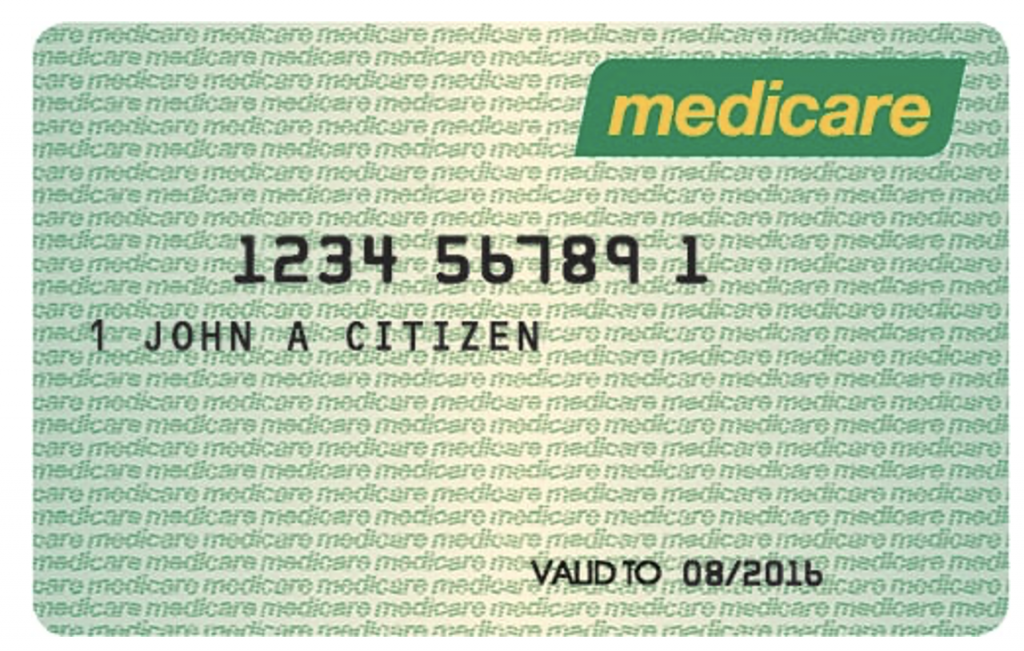 Medicare is Australia's common public insurance scheme that helps pay for visits to doctors and other medical treatments to provide universal access to healthcare for all Australians. The uptake of private health insurance in Australia is about 44 per cent meaning that Medicare pays for all the healthcare (less gap payments) for 56 per cent of Australians. We can draw a few conclusions from analysing the data on Medicare payments. Today, we will have a look at the long-term trends in a few different parts of the healthcare sector.
The chart below shows the benefits paid by Medicare for:
GP visits – pretty self-explanatory but this is the benefits paid for any visits to a General Practitioner and does not include referrals to specialists
Diagnostic Imaging – this includes all types of diagnostic imaging including traditional ultrasounds and x-rays and also more complicated forms of imaging like MRI and CT scans
Pathology – all types of sample testing that doctors order to be carried out in a laboratory
Surgical Procedures – all treatment that requires an operating theater including both more complicated overnight stays and less complicated day surgeries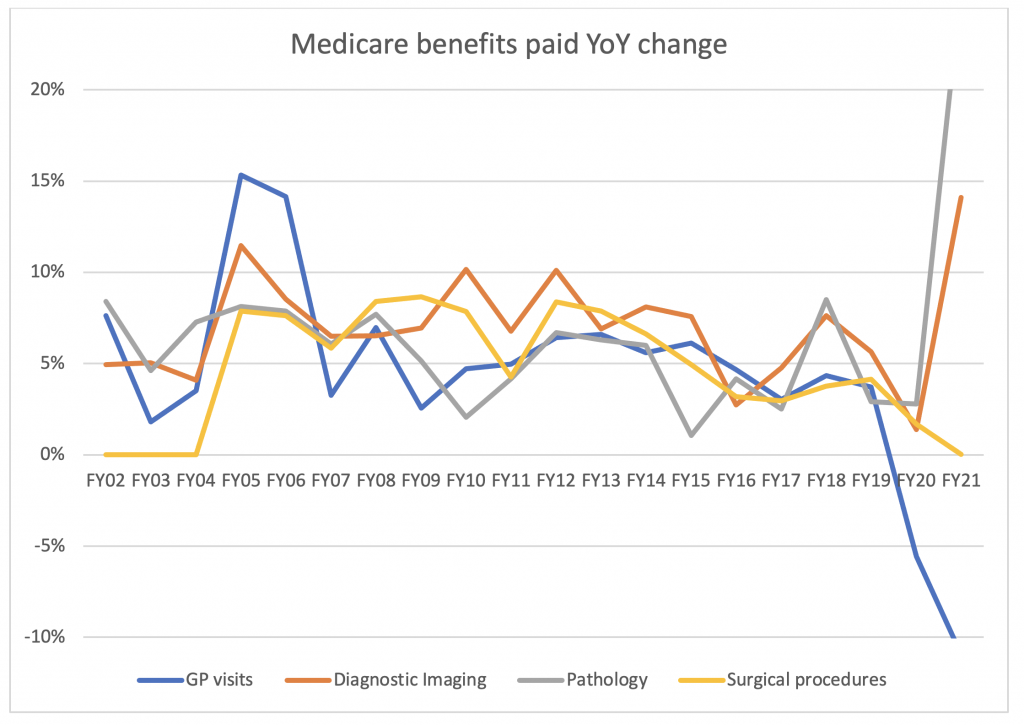 There are a number of interesting conclusions we can draw from this chart:
The first is of course the strong growth in pathology payments in FY21. This can all be contributed to COVID-19 relating testing and the pathology exposed companies are enjoying very good trading conditions. The question is how long it will last with increasing levels of vaccination rates and the introduction of Rapid Antigen Tests that does not need to be processed by a lab.
We can also see the sharp drop in GP visits during the last two years. This is also COVID-19 related as people have been put off visiting their GP due to fear of attracting COVID-19. Part of these missed visits will not have any longer-term effects but it is clear that some have resulted in early diagnosis of potential serious problem having been missed and we should expect an increase in severity of illnesses overall going forward.
Thirdly, we can see the drop in growth rates for surgical procedures where non-urgent elective surgeries have been restricted during lockdown periods due to the need to keep capacity in the hospital system free to be able to treat more serious medical emergencies including people contracting severe COVID-19.
We can also see that the long-term trends in benefits paid tends to follow each other, diagnostic imaging has had the fastest growth rate over time growing by an average of 7.0 per cent over the last 19 years which is higher than pathology at 6.4 per cent (this is though pulled up by the current very strong COVID-19 related revenues so underlying growth rates is around 4.5-5 per cent), surgical procedures at 5.5 per cent and GP visits at 4.4 per cent.
This brings me to the main point of this post which is to introduce a new company that we have recently invested in. The company is called Integral Diagnostics (ASX:IDX) and it is the fourth largest provider of diagnostic imaging services in Australia with a market share of approximately 6 per cent and a market cap of around $1 billion.
There are a number of reasons why we think that digital imaging is an interesting sector to have exposure to including:
Digital imaging has been growing the fastest of all sectors of healthcare and we think this will continue. The reason for this is that Australian doctors have traditionally been taught to follow a "low cost" way of diagnosing patients and the benefits of diagnostic imaging has not been that well understood, especially the more advanced forms like MRI and CT scans. As a result, the usage of MRIs and CT scans is significantly lower in Australia than in other developed countries as we can see in the charts below courtesy of Goldman Sachs. We see good scope for the overall usage of more advanced imaging methods to continue to increase over time and this will continue to drive growth rates for the industry overall faster than for other parts of healthcare.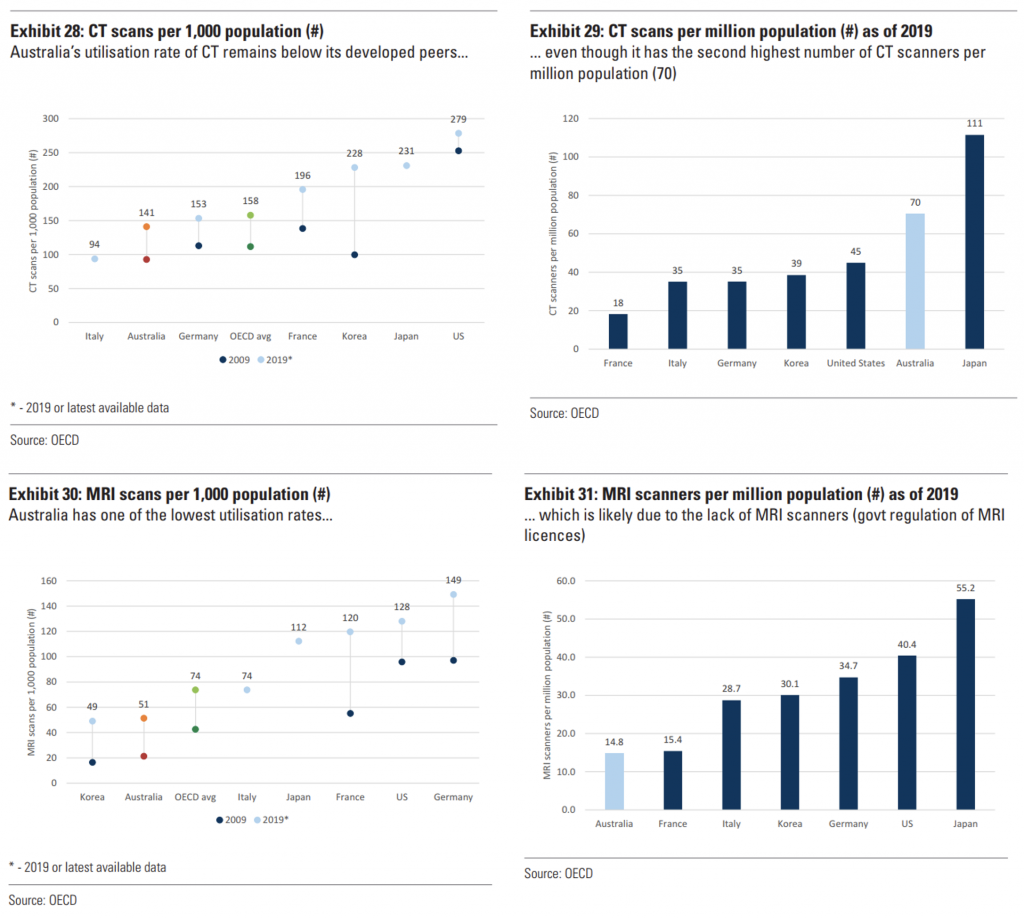 The digital imaging sector is much more fragmented than the pathology and hospital market with a lot of small independent operators. There are strong local economies of scale and high barriers to entry in a local market as once you have established a relationship with referring doctors in the area, they are likely to continue to refer patients to you out of habit. IDX has historically grown both organically by opening new centres and through acquisitions and we believe that they should be able to continue to do so.
Radiologists (the doctors interpreting the images) are highly trained professionals and they are paid a lot of money. The power balance between radiologists and their employer has historically been tilted towards radiologists with salaries of $500-800k common. The advent of artificial intelligence (AI) should over time tilt this power balance more towards the company as AI will enable quite significant increases in productivity. IDX has shown they can reduce the time a radiologist spends looking at an image by 20 per cent by having an AI tool assess the image first and highlight areas to focus on for the radiologist. Over the coming years, more AI tools will be developed and the diagnostic imaging companies should be able to drive productivity and increase margins on back of this.
These are the main reasons we are attracted to the diagnostic imaging market. Sonic (ASX:SHL) and Healius (ASX:HLS) also have diagnostic imaging businesses but their pathology businesses are far larger for them. Capitol Health (ASX:CAJ) is another pure play diagnostic imaging company but is smaller in size and market capitalisation making IDX our preferred way to get exposure.
The Montgomery Fund owns shares in Integral Diagnostics. This article was prepared 25 November 2021 with the information we have today, and our view may change. It does not constitute formal advice or professional investment advice. If you wish to trade Integral Diagnostics you should seek financial advice.