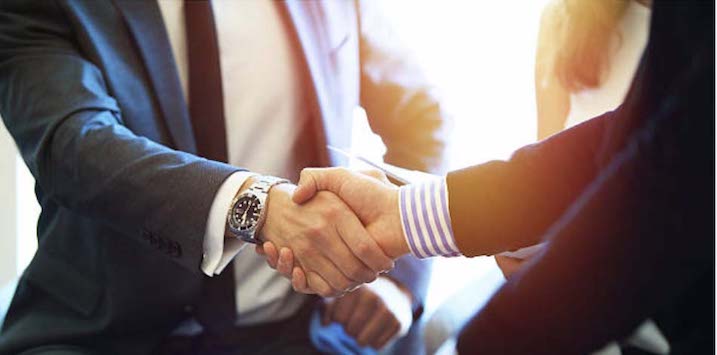 Why we'd like to own Macquarie – but not just yet
We like high quality businesses. And Macquarie Group (ASX: MGQ) is clearly one of those. So, you may wonder, why don't we hold it in our funds?
Given its size and profile, we periodically review if we should be holding Macquarie. Below is a summary of our latest review (the full review contains much more detail and looks at other aspects of the investment case).
First of all, we can comfortably say that Macquarie is one of the great success stories of the financial sector in Australia and there is no doubt that the company and its management has adapted to changes in the market place and created a very solid business over time.
Let's start with looking at what has happened to Macquarie's profits and return on equity (RoE) over time to try to establish where we are in the business cycle: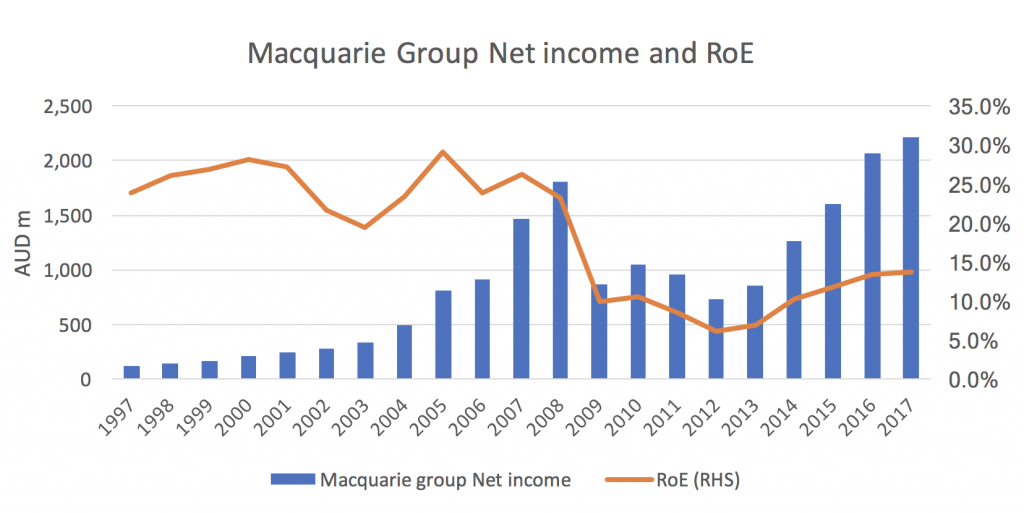 As we can see, the profitability of Macquarie has increased sharply over the last 5 years and are now at a higher level than before the GFC. We should though note that even though RoE has also improved recently to around 15 per cent which is very respectable, it is at much lower levels than what the company produced back in the pre-GFC days.
The reason for this is that Macquarie has changed the business mix quite significantly over the last 10 years. Macquarie used to be much more of a traditional investment bank generating most of its revenues from advisory and trading fees whereas, nowadays, they are much more of a fund manager with its own investments in its funds and a corporate lender. As the chart below shows, "Non-Investment Banking" (i.e. Lending/leasing income, fund management fees etc.) now provides the absolute majority of earnings while traditional "Investment Banking" income is a much smaller portion.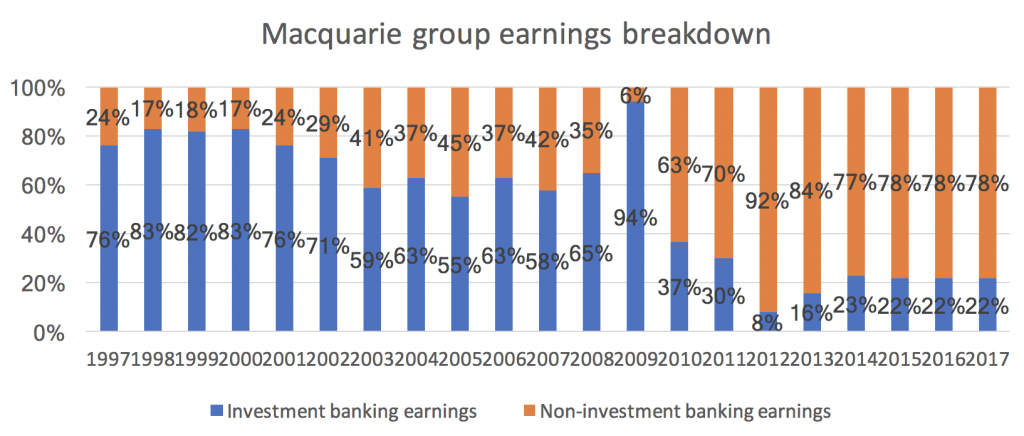 This change has led to much higher level of capital tied up in the business (advisory and commission income does not require capital while lending and investment in funds do) which explains that we have not seen RoE recover to the same extent as profits. The compensating factor is though that "Non-Investment Banking" income is much less volatile than "Investment Banking" income so the risk for Macquarie has decreased with this transition, and its earnings should be more stable than before.
How to value?
At Montgomery, we generally use a discounted cash flow (DCF) model to try to establish the intrinsic value of a business. The problems with Macquarie is that this is a business that is at the top end of the scale for how hard it is to accurately come up with a reasonably believable long-term forecast even though they have, as described above, transitioned towards a business with less inherent volatility. There are a couple of reasons for why it is particularly hard to do so for Macquarie:
Macquarie still generates a lot of its income through investments into both direct equity in businesses and in investments into the funds that they manage on behalf of investors. The disclosure on the investments is not great and to forecast the outcome of such investments would require assumptions on future market performance on top of assumptions on timing of disposals etc.
One of the most profitable parts of Macquarie is a division that they call "Corporate and Asset Finance". Inside this division sits two separate businesses. The first is a traditional leasing business primarily focused on aircrafts and motor vehicles. This is a good stable business. But the other part of the division is a "corporate lending" business which is in effect a high-yield debt investment fund that originates and trades high-yield (and hence risky) corporate dent. This part of the division can be highly volatile and hence very hard to forecast. In addition, Macquarie does not split out how much each part of this division contributes to the bottom-line so we do not even have an underlying base to start forecasting from.
The "Investment Banking" part of the business, although now of lesser importance than historically, is also a very volatile business that is very dependent on market conditions.
In summary, Macquarie is not a business that is easy to come up with an intrinsic value for – it is indeed very hard to do so!
So, what do we do instead?
As Macquarie is in effect a combination of a number of different business, we decided to first look at a sum-of-the-parts (SOTP) valuation where we first identify, for each of the different parts of Macquarie, the most appropriate comparable listed companies and then look at what multiples these peers are trading at to establish what an appropriate multiple is to apply to each part of Macquarie. This is a fairly common technique to use when there are no direct peers in the market to a company as in this way, we can come up with a "fair value" based on what other companies in the market are trading at without having to identify an exact peer.
Without giving away the details of the analysis, the result is that it looks like Macquarie is about 10-15 per cent over-valued compared to its peers.
However, we have to remember that a SOTP based on a peer group is only a relative valuation comparing it to peers. We therefore need to combine it with an analysis telling us something about the absolute level of the valuation. As we earlier established that coming up with a long-term forecast for Macquarie for the purpose of doing a DCF is very hard, we instead decided to look at where Macquarie is trading compared to its own history, which should give us an indication of if the valuation is also expensive on an absolute level (we of course have to take into consideration if the company has changed over time when doing this).
If we look at the historical price-to-earnings (P/E) and price-to-book (P/B). we can see Macquarie trades at a decent premium to its own history, especially compared to the history post GFC which is when the transition to a more capital intensive and stable company took place.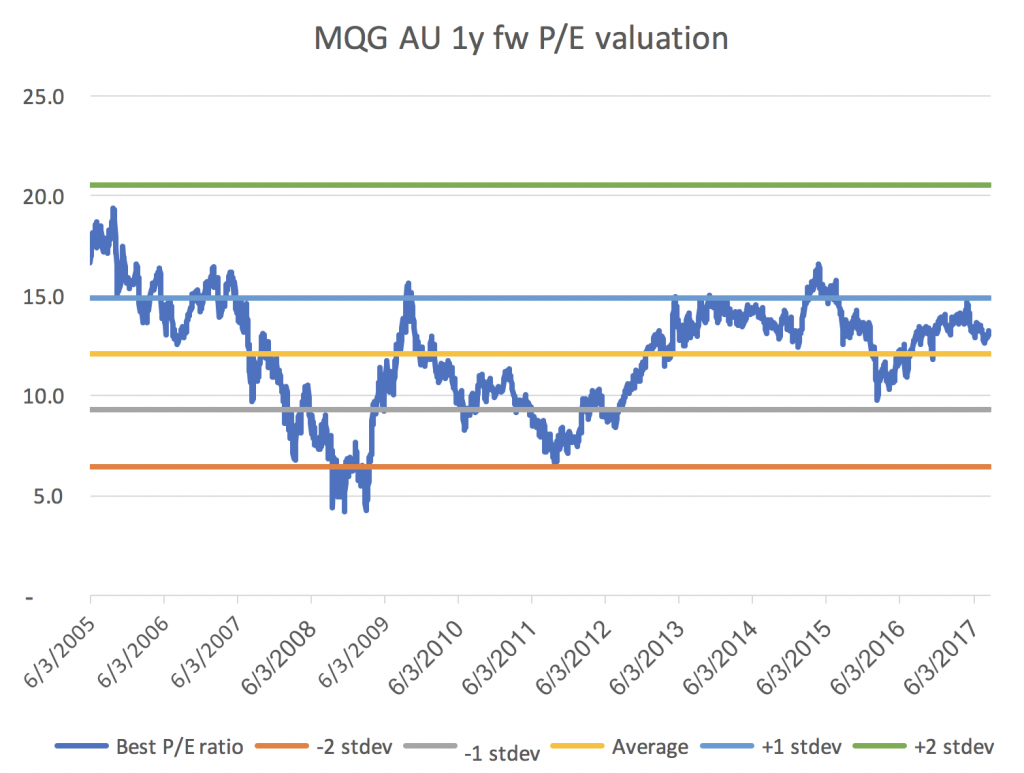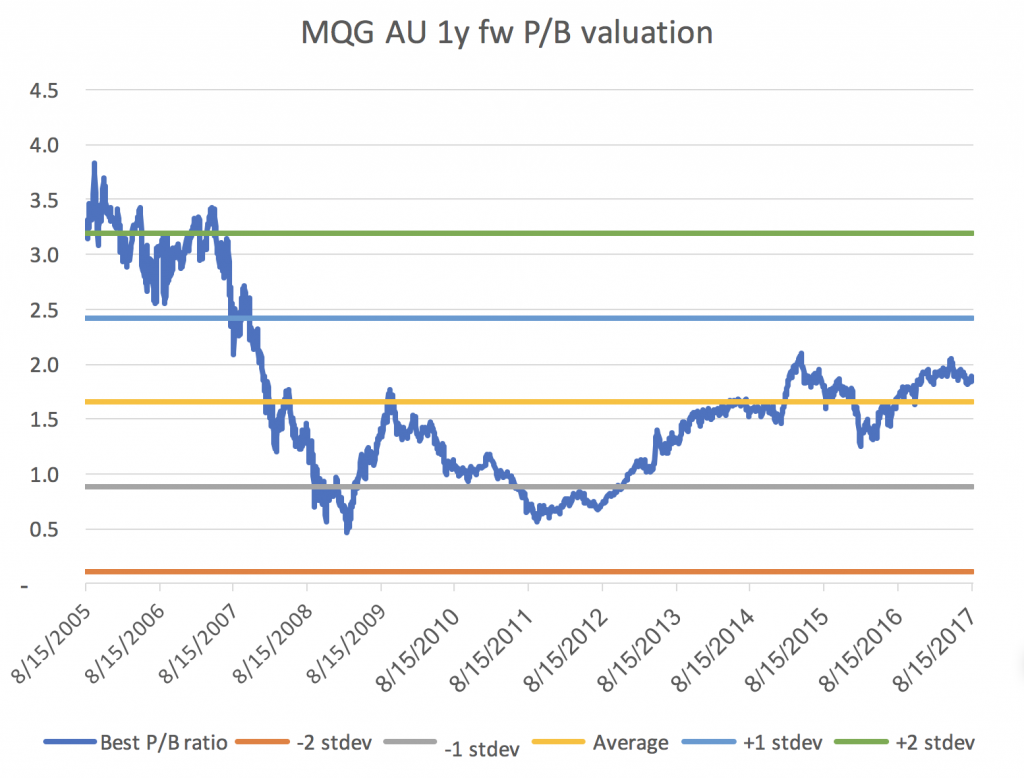 We also note that all of the divisions inside Macquarie are generating profits that are at (or very near) all time highs and that Macquarie's share price is at an all-time high: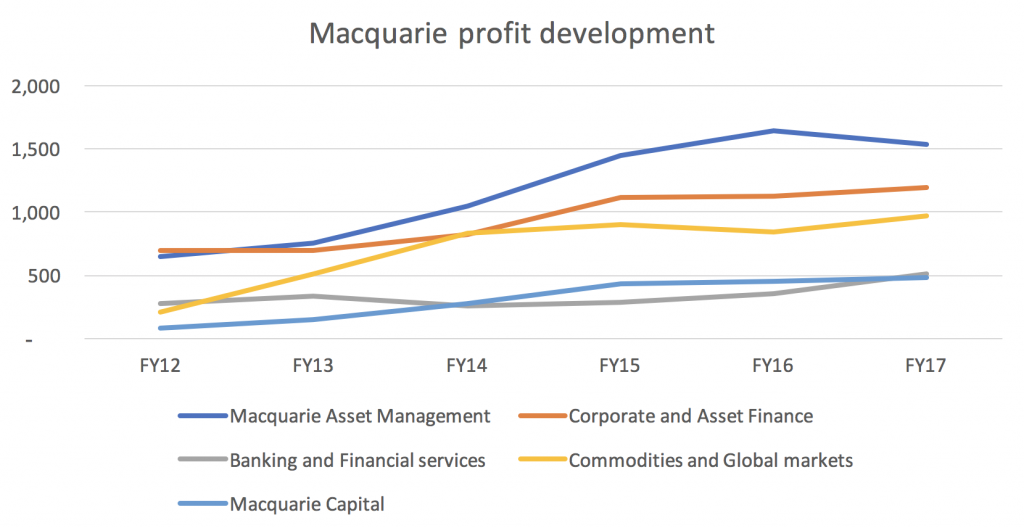 Combining the SOTP valuation – which shows that the valuation is not attractive compared to peers – and the analysis that shows that the valuation is not attractive in an historical perspective we drew the conclusion that the risk-reward of an investment into Macquarie is not attractive and hence our review did not lead us to make an investment.
Nevertheless, we note that Macquarie is a very high quality company operating in a volatile sector so we are confident that there will be a time when the valuation looks more attractive than today and we will continue to keep an eye on the company to identify if/when that happens.