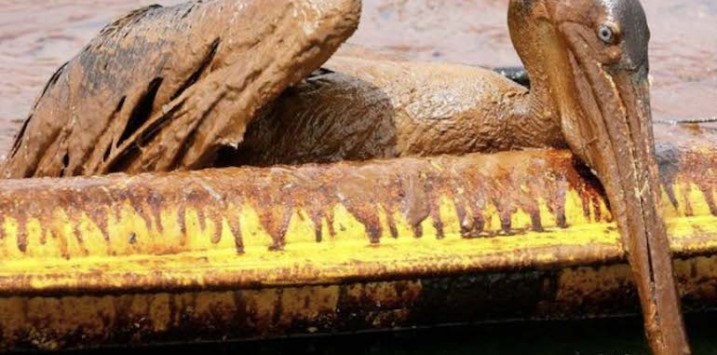 Why we need to say 'no' to Equinor's planned oil project
Norwegian company Equinor has just released a draft environmental plan for deep water oil drilling in the Great Australian Bight. A misstep in this project would have disastrous environmental, social and economic impacts for all Australians, which is why we think it should be rejected.
You'd be forgiven for thinking that all fund managers have a right-wing view of the world. It is true that I believe capitalism is the best current model available for balancing the need to efficiently allocate resources for the creation of wealth and to share that wealth equitably. But without effective government (and I see lots of issues with our model of democratically elected leadership) the second objective might be forgotten by those who lean much further to the right.
As I wrote in a blog post in December, "Very few, if anyone, I know subscribes to the 'greed is good' mantra offered by Michael Douglas' character Gordon Gekko in the movie Wall Street. The cost borne by society from promoting such self-interest would simply be too high to be anything other than morally repugnant. But even when capitalism's extremes aren't widely embraced, and even though capitalism has pulled many billions out of poverty, it fails on many levels."
One of those levels is the environment. Privatising the profits from damaging the environment while socializing the costs and consequences is one of the serious issues that will eventually need to be addressed. The solution however seems way beyond the pay grade of our current crop of political leaders.
But simply force any seriously successful entrepreneur, whose business produces an adverse environmental consequence, to live beside that consequence rather than inside the commercial benefits they enjoy, and you'll quickly expose one of the serious imbalances capitalism has produced.
When that imbalance potentially threatens the priceless beauty of Australia's coastline, it's worth sitting up and paying attention. Norwegian company Equinor have formally released their draft environmental plan for deep water oil drilling later this year in the Great Australian Bight.
A misstep in this project has consequences for all Australians.
The proposed Stromlo well is 327km offshore in the Southern Ocean, exposed to the Roaring Forties and one of the roughest seas known to seafarers. The proposed well is in 2500m of water, and Equinor would then need to drill through another 3000m (three kilometres) of seabed.
As part of their environment plan, Equinor were forced to supply oil spill modelling, which showed oil on beaches between Margaret River in the west and Port Macquarie in the east.  According to the ABC, "In November, the ABC revealed an internal draft emergency plan prepared by Equinor, which showed oil could reach as far as Port Macquarie under a "worst credible case" scenario.
A "leaked document obtained by Greenpeace contained maps of Australia's coastline which outlined the extent of a potential spill.  "However, the group said those projections were missing from the company's official draft environment plan…"
While Equinor claim the drilling "can be done safely," BP – who Equinor acquired their Australian Bight leases from – made the same claim about the Deepwater Horizon well in the Gulf of Mexico which exploded in 2010 causing the largest marine oil spill in history.
It's estimated that BP's cost for the clean-up, environmental and economic damages and penalties has reached $54 billion. So, perhaps little wonder that BP have stepped away from the Great Australian Bight.
According to ABC reports, "Equinor's 426-page report discusses a range of measures the company would take to reduce the impact of a disaster, including a piece of machinery called a "capping stack" to plug a major leak.
"However, the company conceded the capping stack would not be kept on site and would take 15 days to be transported from Singapore."
"To be clear, that means oil flowing freely into the ocean for 15 days," according to senior campaigner Nathaniel Pelle.
Keep in mind however, it took BP 149 days to permanently kill the Deepwater Horizon well in the Gulf of Mexico.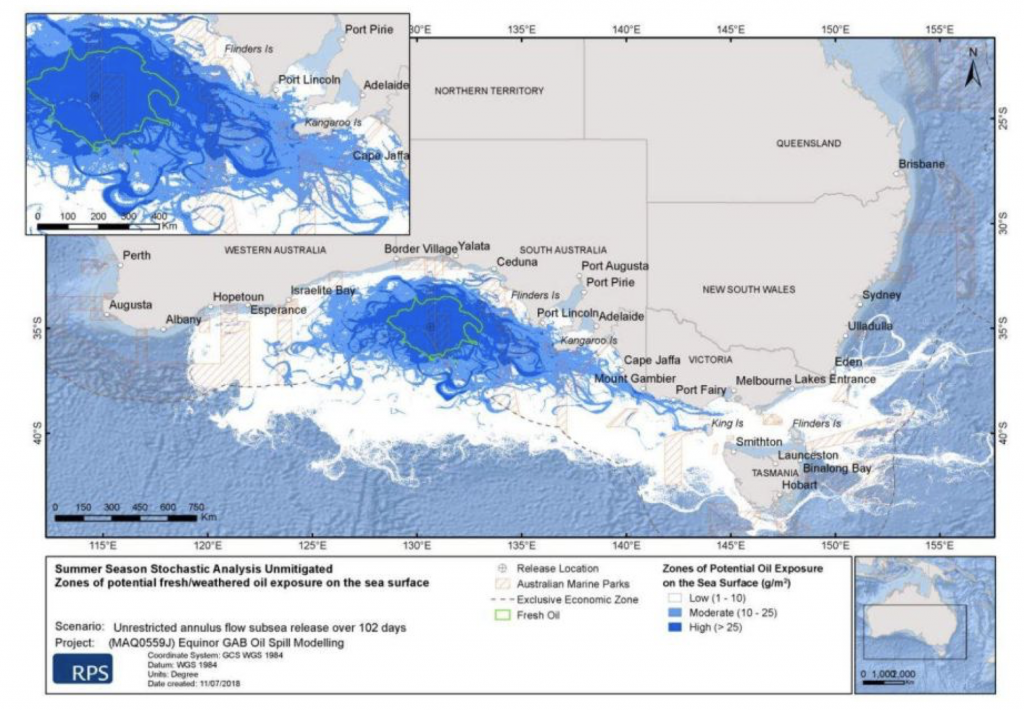 Source: ABC
According to Greenpeace, the above map of southern Australia with blue plumes around the Great Australian Bight extending into Bass Strait was left out of the company's environment plan.
Equinor's environmental plan is before industry regulator NOPSEMA (National Offshore Petroleum Safety and Environmental Management Authority) and is open to public comment, closing on March 20.
This will be the last public consultation before NOPSEMA makes their decision, and you are invited to have your say via this link.
If you believe that our system of capitalism has flaws and that we shouldn't expose the Great Australian Bight to them, it might just be worth mentioning that to NOPSEMA.
If you're unsure about how to word your submission here's some tips.
*Image source: Sean Gardner, Reuters