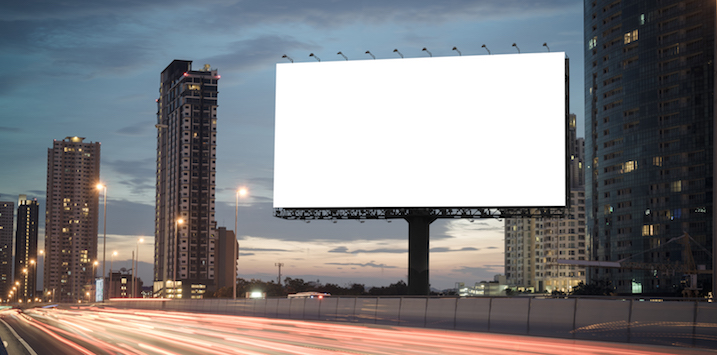 Outdoor media shines in the ad spend gloom
With so much focus these days on digital advertising, it's easy to forget that traditional forms of advertising can also be quite profitable. Take outdoor media, for example, where revenue growth has been resilient over the last year.
The Outdoor Media Association (OMA) in Australia recently released its data for Australian outdoor media advertising revenue by type of outdoor media for the December quarter of 2018.
Australian outdoor net media revenue grew 9.8 per cent for the three months to December relative to the prior year. This was a very credible result given the slowdown in advertising revenue growth for other forms of media. For calendar 2018, outdoor advertising revenue increased 10.8 per cent.
By media type, transport (essentially airports and train stations) and large format (billboards) showed the strongest growth for CY18, rising 18.1 per cent and 13.1 per cent respectively. Small format signs (street furniture/bus and tram stops, as well as bus/tram external signage) had a bounce in the December quarter (+12.9 per cent).
Transport has had a strong CY18 and 2H18 due to the weakness in the category in the year before (-1.0 per cent as compared to +6.0 per cent for outdoor advertising revenues). Large format growth has been the most consistent of the categories over the longer term, growing by 22.4 per cent, 12.2 per cent and 13.1 per cent in CY16, CY17 and CY18 respectively. It has also consistently outperformed the broader outdoor advertising market rate of growth.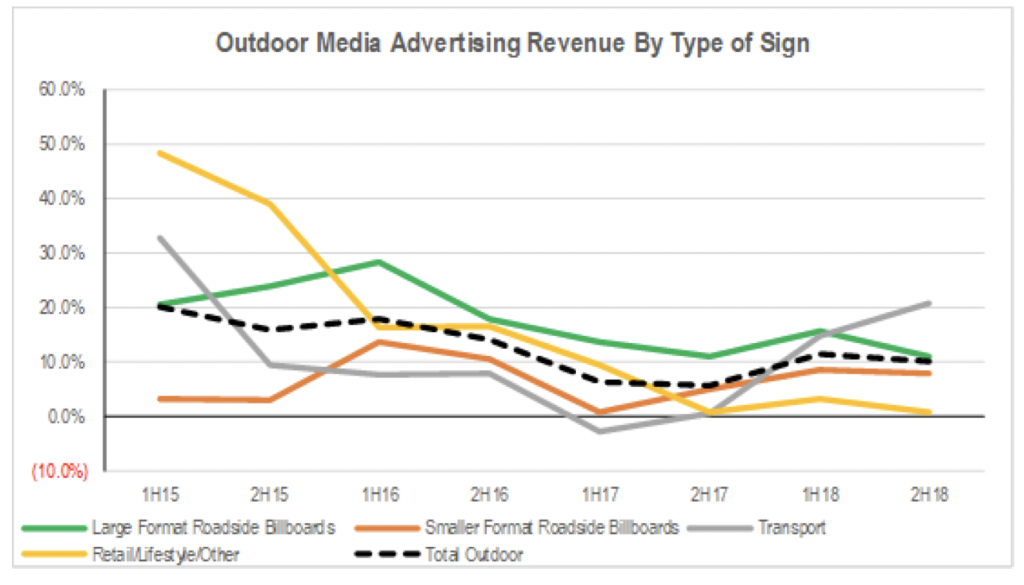 Source: OMA
The Retail/Lifestyle segment has been the weakest category of outdoor over the last 18 months. This is not surprising given anecdotal evidence of weak foot traffic in Australian malls. Ooh Media (OML AU) is by far the largest player in this segment, and in its recent results to 31 December, it showed around a 1 per cent decline in revenue for its Retail division in the 6 months to December. Large format and Transport make up just under half of Ooh's revenue, with the categories performing well in the 6 months to December with growth of around 15 per cent.
QMS Media's Australian operations is almost entirely exposed to the Large format segment. Additionally, it has consistently outperformed the growth in the large format segment (albeit with a lot of help from acquisitions). In the 6 months to December, QMS reported that its Australian outdoor assets grew their revenue by 13 per cent. This compares to 10.9 per cent for the overall large format billboard market.
If we compare the performance of the outdoor market to other forms of media over six month periods, the outperformance of outdoor media has increased in the second half of 2018.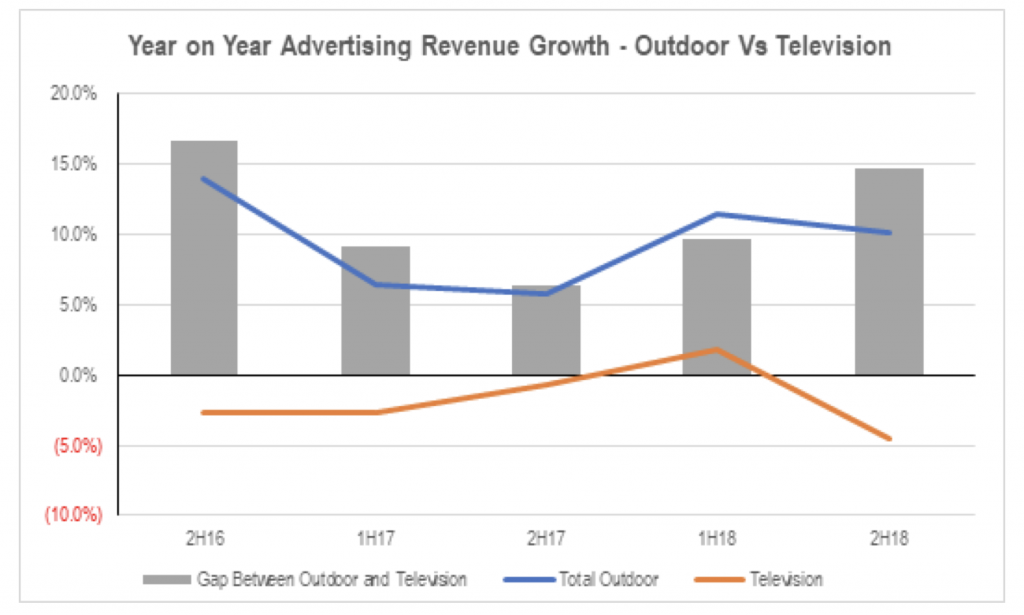 Source: OMA, ThinkTV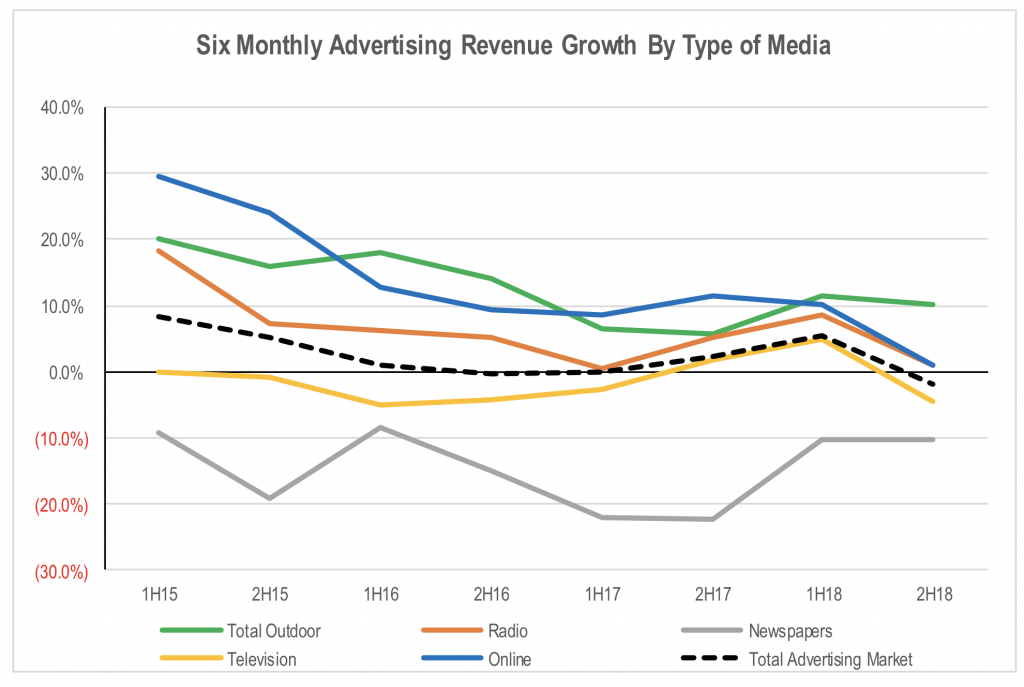 Source: OMA, SMI
Outdoor advertising revenue growth has shown itself to be a lot more resilient in the face of a more general downturn in advertising spend in the second half of 2018.
While the outlook for overall advertising revenue growth appears to be challenging in 2019, the outdoor industry is showing itself to be more resilient. Within the segment, large format/billboards continue to be the best and most consistent performer. And within the billboard segment, QMS Media has consistently outperformed the large format/billboard category. As such, QMS Media's Australia assets remain well positioned despite trading on similar EBITDA multiples to those of traditional radio and television companies in Australia.
The Montgomery Funds own shares in QMS Media. This article was prepared 6 February with the information we have today, and our view may change. It does not constitute formal advice or professional investment advice. If you wish to trade QMS Media you should seek financial advice.