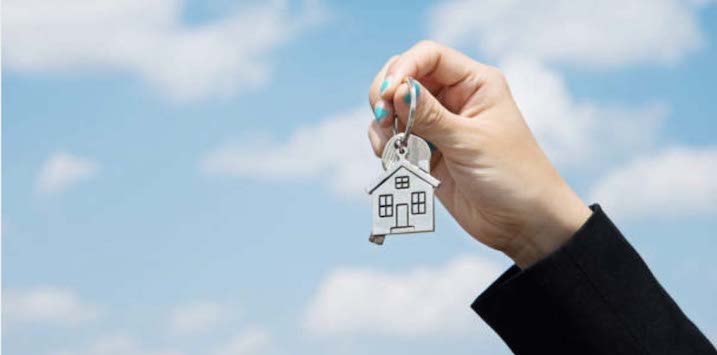 Why REA Group continues to be a core Montgomery holding
REA Group's (ASX: REA) share price has soared around 50 per cent over the last 12 months, with the market confirming our strong conviction that this is a really high-quality business.  And, pleasingly, there are several drivers that could propel the firm's earnings for many years to come.

We closely monitor the number of paid listing advertisements on the property website of REA.
We do this to assess the impact on revenues that new developments such as price increases or the adoption of programs such as 'Premiere-All' (a program REA offers which enables agents and property vendors to receive a discount in exchange for putting up all their property listings on the website as a 'Premiere' listing – the highest ranked listing the REA website currently offers).
Recently, the number of Premiere ads on REA hit an all-time high – up almost 30 per cent relative to the same time last year. This growth has also been noticed by the market and REA group's share price has achieved a circa 10 per cent rise since the beginning of spring.
The data is shown in the two tables below.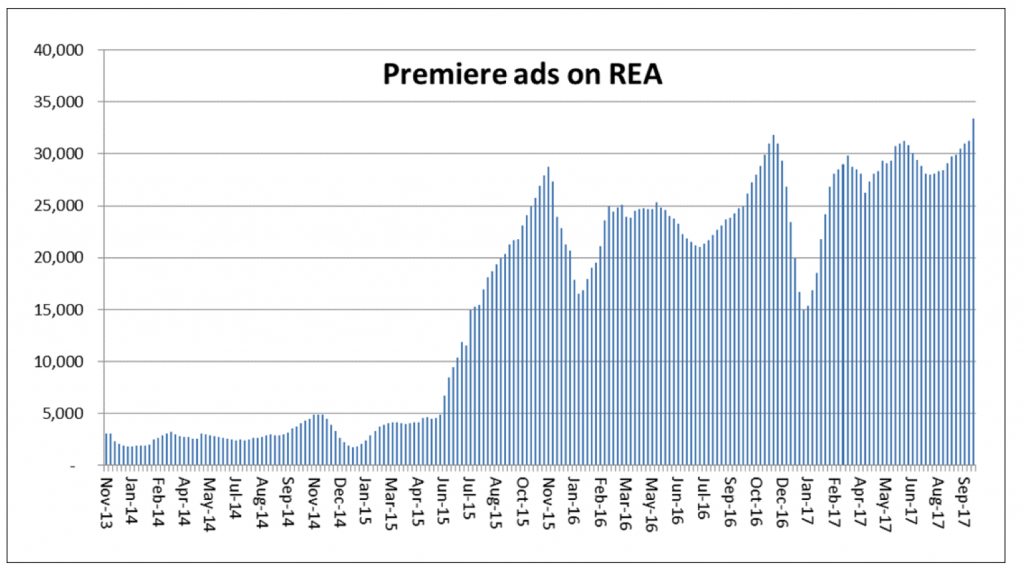 Source: Ivor Ries of Morgans Financial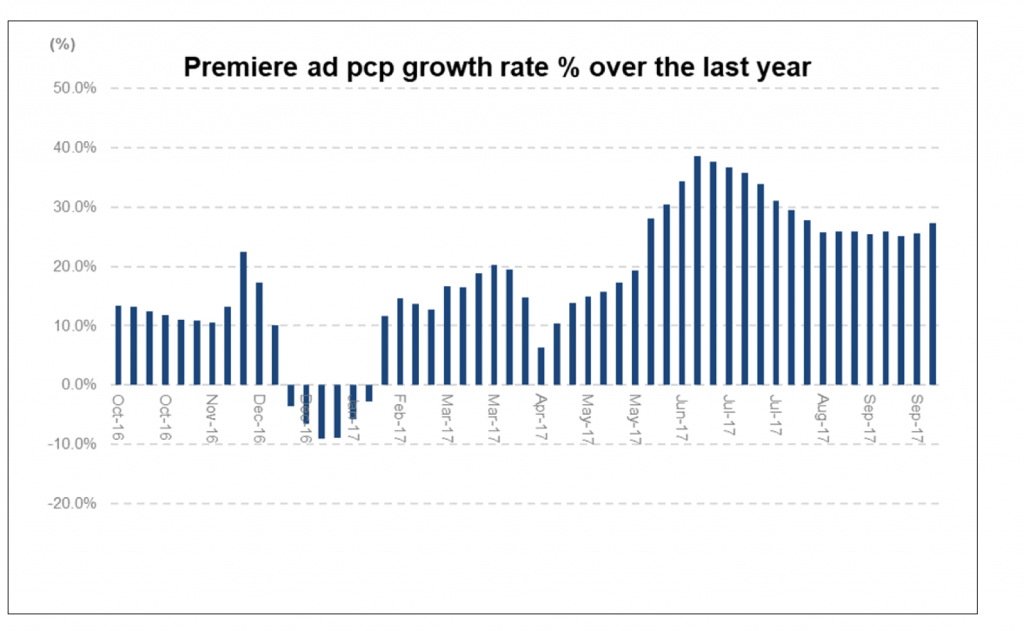 Source: Ivor Ries of Morgans Financial
Premiere ads on the REA website contribute less than half of the firm's annual revenue, but it's a much bigger contributor of earnings (well north of 50 per cent). Hence any large changes in volume have an abnormally large impact on the firm's expected profit and hence its overall valuation.
We have been holders of REA since before the 'Premiere-All' plans came into effect and have been pleasantly surprised by their take-up. However, a fair question at this point is whether this is as good as it gets for REA – after all it's fair to say that for many firms, as they get larger, growth often stagnates.
We believe that there are several drivers which could drive the firm's earnings up at a good clip for many more years:
The REA website, as Australia's top property portal, has the market power required to increase ad prices at a faster clip than many analysts are assuming. As a percentage of Australia's 'property vending' budget (which includes online listing fees, print listing fees and agent commissions etc), REA is only a taking 6-7 per cent cut which appears small relative to its value proposition of being Australia's top property portal.
There are still a substantial number of Feature, Highlight and even Standard (free) listings on the REA website. The agents submitting these listings may be encouraged in future periods to subscribe to the 'Premiere-All' plan.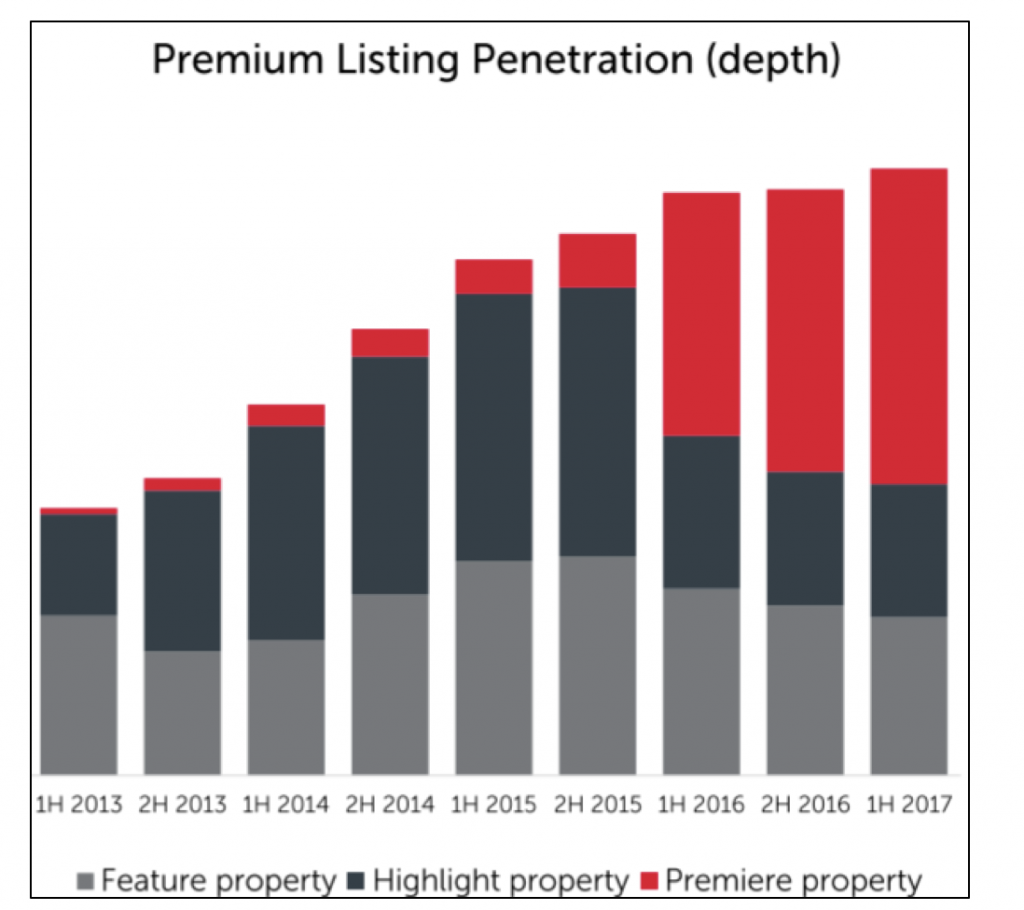 Source: REA Group half year earnings presentation
There is scope for higher tier ads to be sold to agents (ranked above that of the Premiere listing) at a higher price point.
There is a substantial number of rural properties which are not advertised on the REA website since the time it takes to sell a property in these areas is typically 180 days (rather than the 45 days currently allotted to Premiere, Highlight and Feature ads). REA could monetise this opportunity with a longer-dated ad specific to these areas.
REA collects vast amounts of data about the viewing habits and buying decisions of its audience. The value of this data when properly monetised can be substantial.
Earnings from the above revenue sources can fall almost entirely to the bottom line. Management may either let them fall or use them to increase marketing expenditure and developer capacity, and hence increase the width of the firm's moat.
To sum it up, whilst we believe that the prospects for REA Group are bright (and we remain happy holders), it's not the same bargain at $72 (today) as it was towards the end of 2016 when it fell to $47 and the Montgomery Funds significantly increased holdings in response.
Nonetheless, REA Group is in our view a high-quality company and remains a core holding in the Montgomery Funds.
The Montgomery Funds and Montgomery Global Funds own shares in REA.
This post was contributed by a representative of Montgomery Investment Management Pty Limited (AFSL No. 354564). The principal purpose of this post is to provide factual information and not provide financial product advice. Additionally, the information provided is not intended to provide any recommendation or opinion about any financial product. Any commentary and statements of opinion however may contain general advice only that is prepared without taking into account your personal objectives, financial circumstances or needs. Because of this, before acting on any of the information provided, you should always consider its appropriateness in light of your personal objectives, financial circumstances and needs and should consider seeking independent advice from a financial advisor if necessary before making any decisions. This post specifically excludes personal advice.
INVEST WITH MONTGOMERY