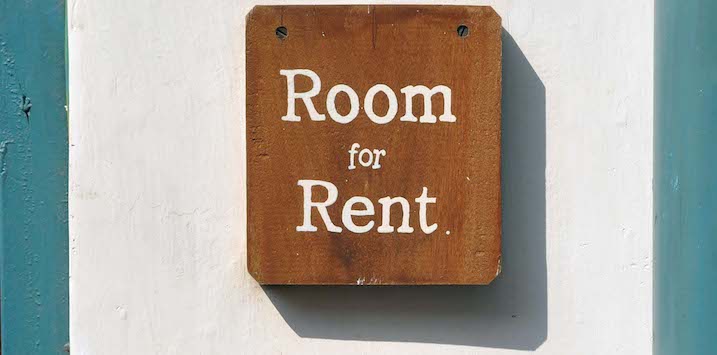 Why landlords are feeling the pinch
The COVID-19 restrictions have certainly altered the balance of power in the housing rental market – particularly in Sydney and Melbourne. New data shows that increased supply and decreased demand have shifted power to the renters, who are finding it far easier to negotiate a new lease on better terms.
The great Australian dream is your own house with a backyard. Australians are generally obsessed with property, and the retirement system is constructed heavily in favour of people owning their own home. Strongly rising property prices have resulted in a rising portion of the population renting the place they live in.
On September 17, the RBA released a report on the rental market and the impacts from COVID-19, which makes interesting reading.
We start with the chart below showing the portion of households that are privately renting (i.e. not owning and not living in subsidised social housing etc.) has risen to almost 30 per cent, which is close to a doubling over the last 20 years.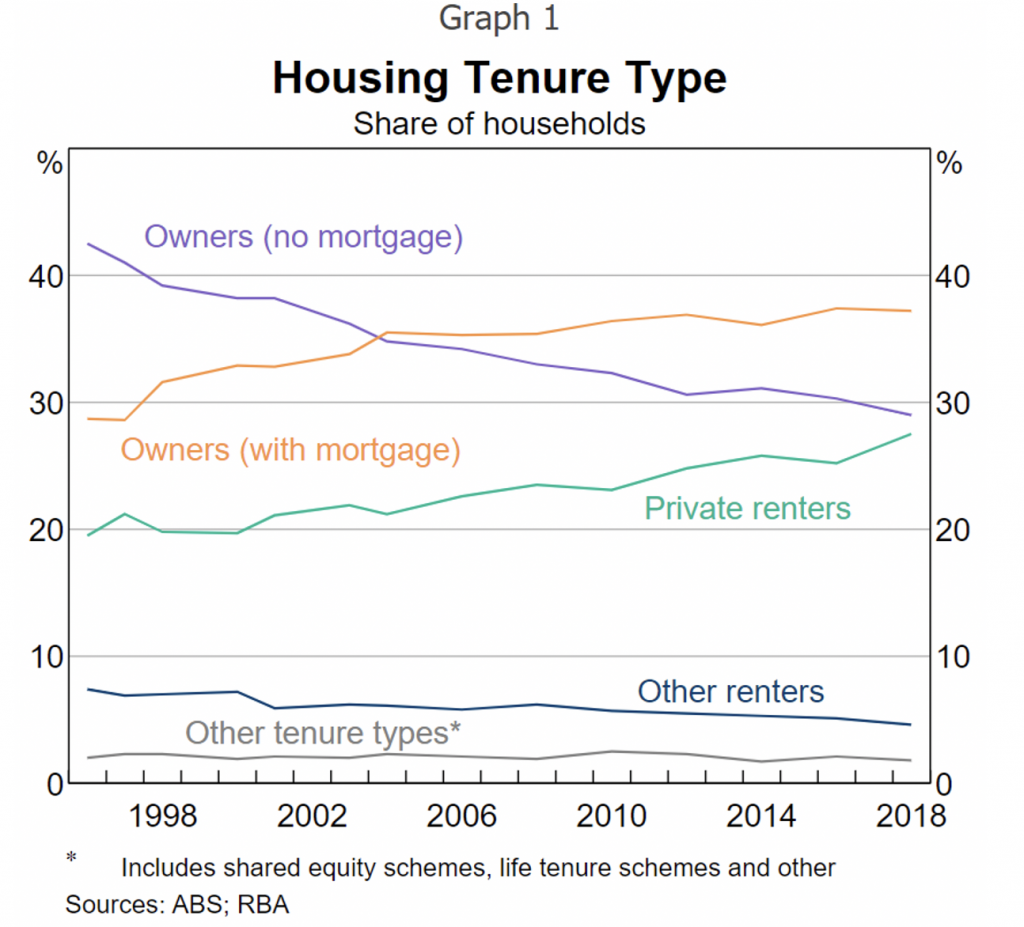 As a result of COVID, there are a few dynamics impacting the market for rental housing:
About one in five households overall have very limited financial resources and don't have enough liquid assets to pay for more than the current month's outgoings, meaning their buffer in the case of a drop in income is minimal. Households that are renting are twice as likely to have such limited financial resources, meaning that two out of five households renting have less than a one-month buffer. These low resource households are more likely to be young and also more likely to be employed in food and accommodation or arts and recreation sectors, which are particularly impacted by COVID-19. These households' ability to spend money on rent in many cases have been significantly impacted.
On top of this, the current closure of international borders has resulted in the Australian Treasury having reduced their population forecast for June 2021 by 1.5 per cent or about 400,000 fewer residents than the forecast for the same time from before COVID. This has a disproportional impact on the demand for rental properties as new arrivals to the country are very likely to initially rent before buying a property to live in.
There are also about 60,000 less properties listed on AirBnB currently than there were in January as landlords are trying to secure longer term rents in the uncertain environment, which increases the supply of properties available for rent.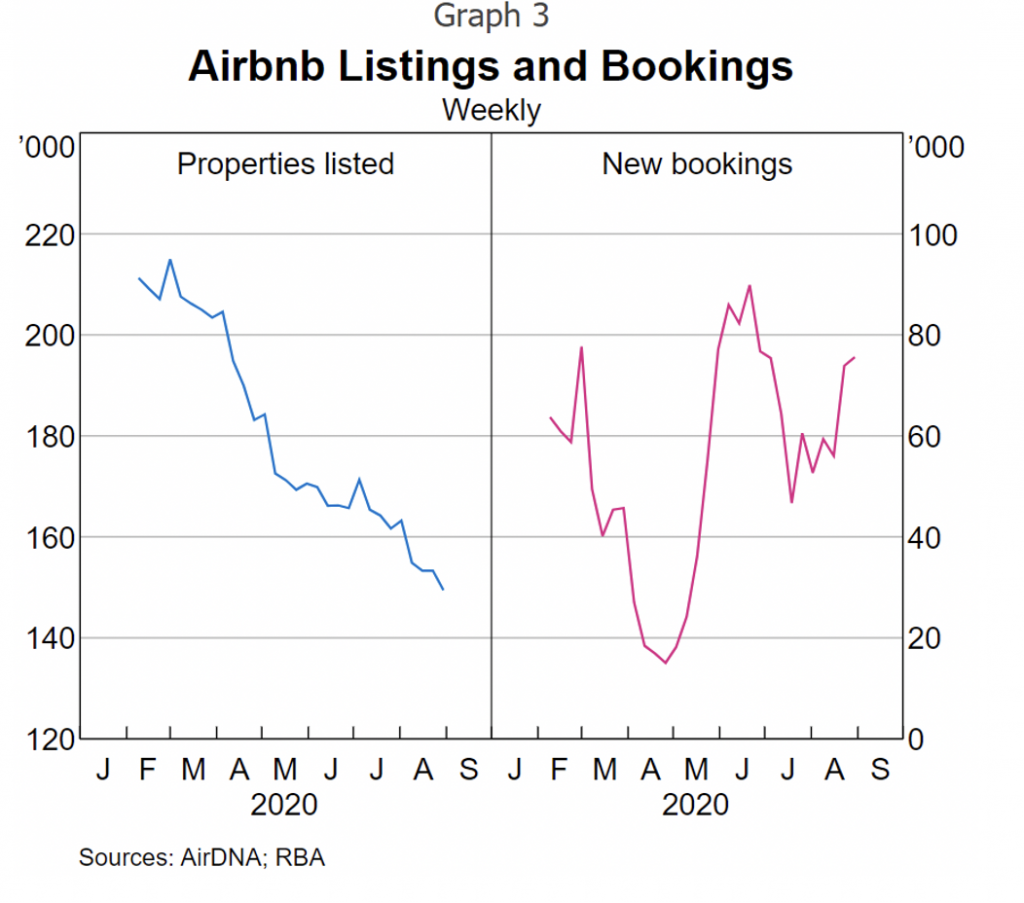 Supply of properties is also still running strong due to the construction boom that especially the capital cities have seen during the last 10 years.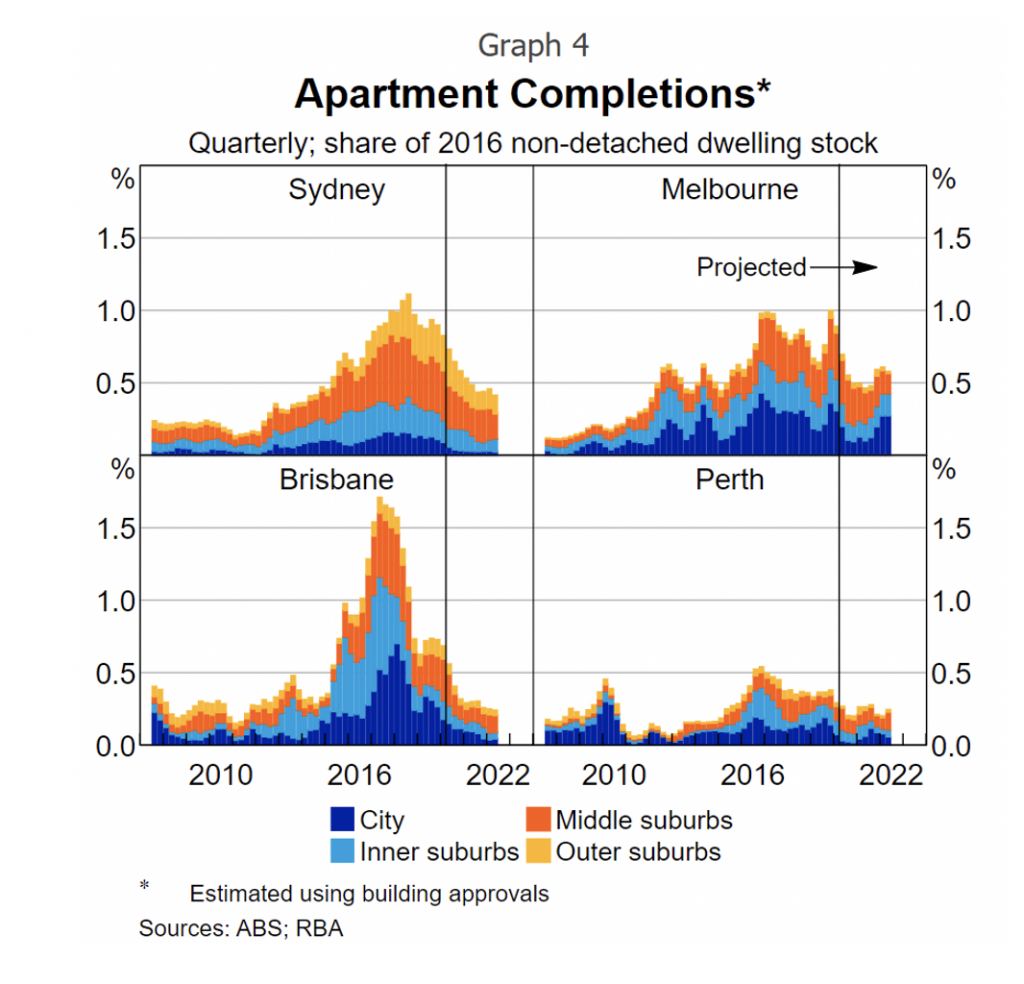 So, we currently have a situation where demand for rental properties is going down as is the ability to pay, and supply is increasing. Economists tell us that price is the clearing mechanism for a mismatch in demand and supply so let's see what is happening:
Graph 5 below shows a strong increase in the search for rental accommodation on realestate.com.au and a strong increase in the lodgement of rental bonds in Sydney indicating that people are looking to take advantage of increased supply to find something that suits their budget and other circumstances better.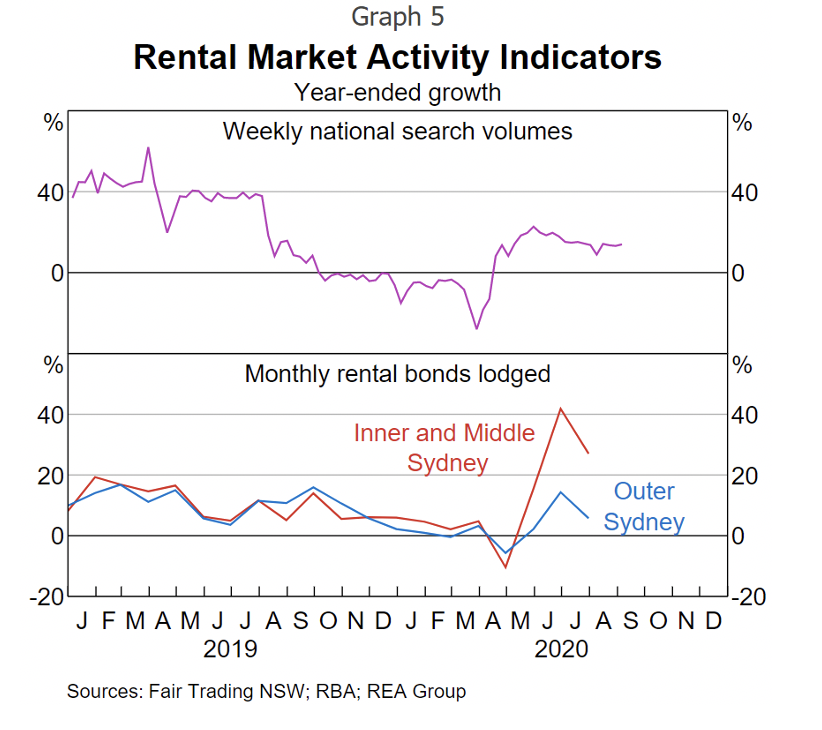 The chart below shows that close to 15 per cent of renters are receiving a rent discount or rent deferral meaning that cashflow to landlords has either declined or seized completely.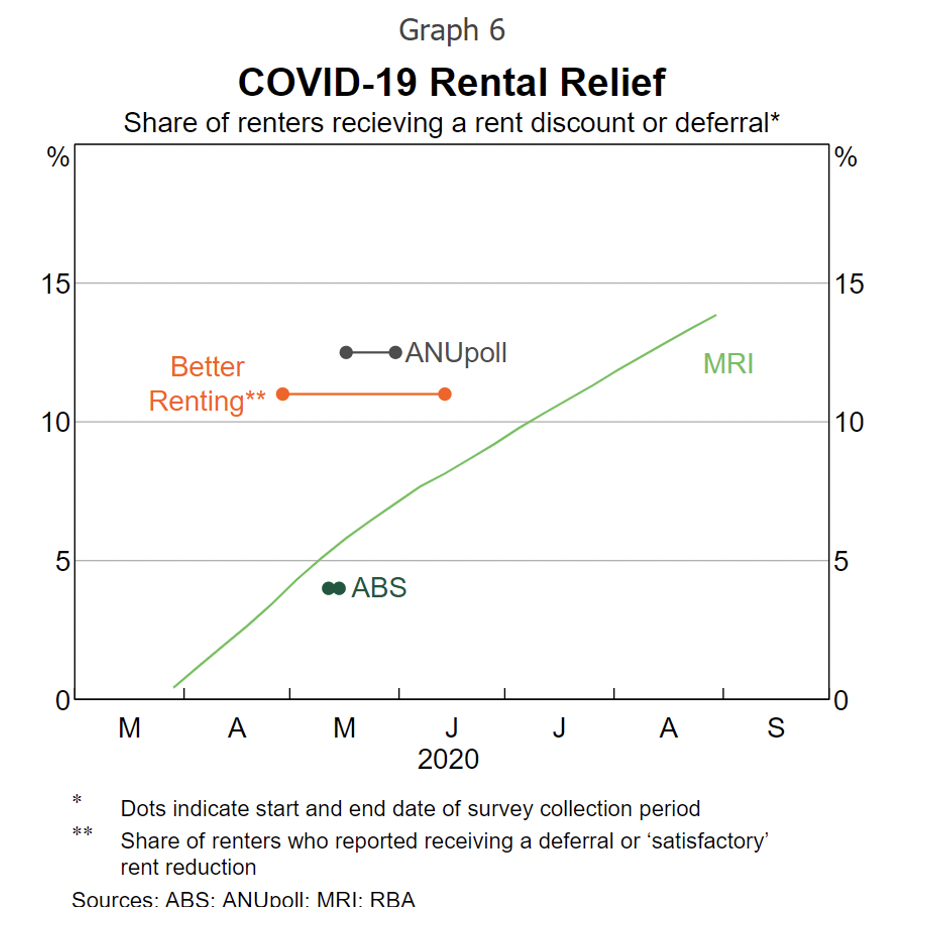 We are also seeing a strong increase in rental house availability in both Sydney and Melbourne. Rental availability means an empty dwelling resulting in no cashflow to the owner.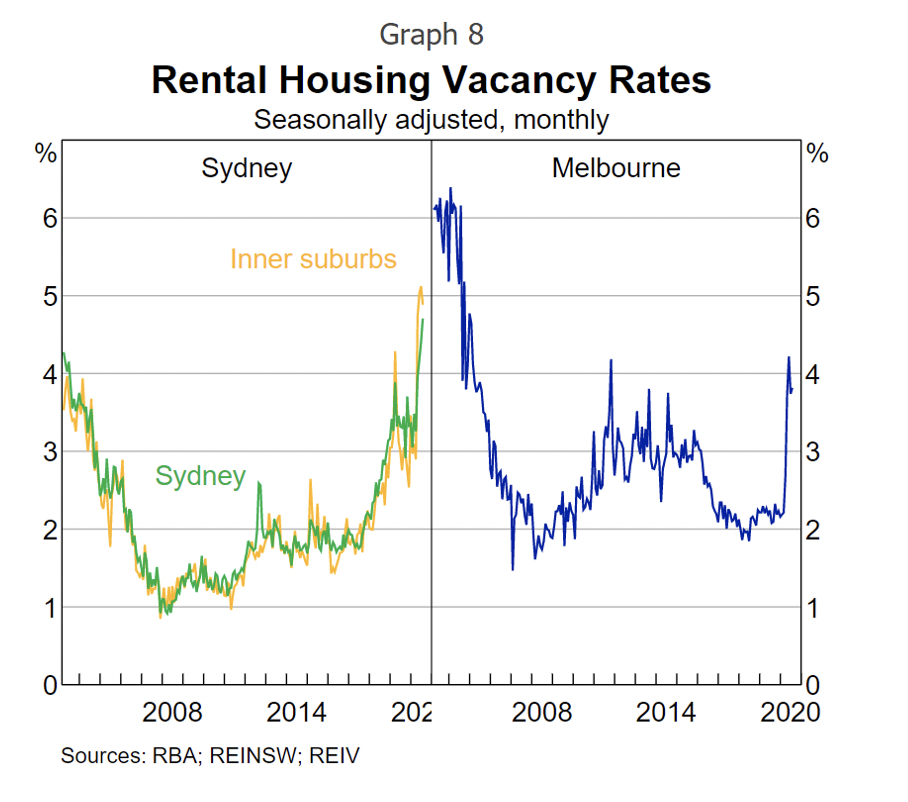 All of this suggests that landlords are suffering and should become more incentivised to secure income even if it is lower than they have achieved before, and the data shows that this is happening, especially in Sydney and Melbourne where advertised rents for apartments are down about 10 per cent YoY.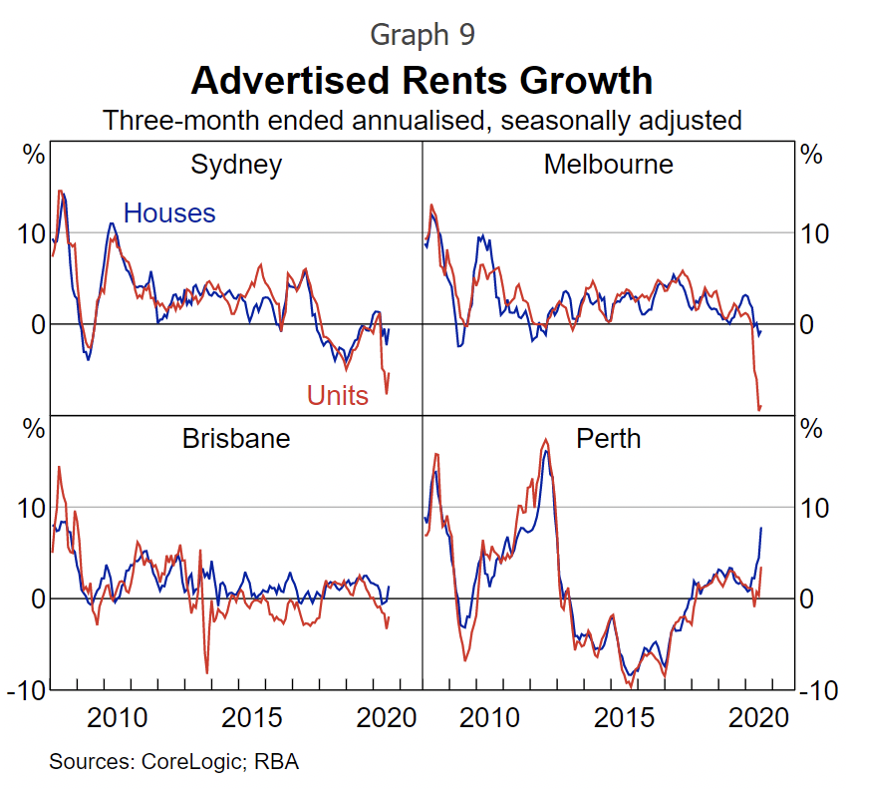 We should also remember that the various government stimulus programs like JobKeeper and the increase to JobSeeker are due to be phased out or down over the coming months, which could further hurt the renters' ability to pay.
In conclusion, it is not currently fun to be the owner of an investment property in Sydney or Melbourne but if you are in the market to rent a place or are looking to negotiate down your current rent, I would recommend that you drive a hard bargain as there will be a lot of desperate landlords out there!