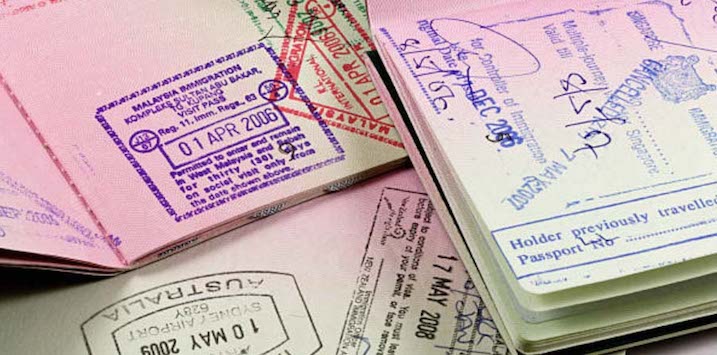 Which businesses could lose out if migrant numbers are cut?
The national debate over immigration policy has been heating up for some time. Clogged roads, crowded trains and buses, and surging house prices are just some of the issues being blamed on our increased migrant intake. So, which businesses would be impacted if the government tightens the tap?
As a relatively new immigrant to Australia – I first came here as an exchange student from Sweden in 2000 and met my (now) wife in Sydney before permanently moving here in 2012 – and also as someone who has lived and worked in five different countries, the immigration debate is something I follow with interest.
In the public debate over the last year, I have noticed a shift in tone towards a more restrictive immigration policy. We have though not yet seen any move by the leadership of the major two parties to change anything even if internal debate has intensified.
Without weighing into the debate on whether the current level is too high or too low, I'd like to suggest possible implications for various sectors if there were to be a change in the immigration policy.
Background
The Australian Population Research Institute (which brands itself independent but is generally quite critical of the current level of immigration) this week released a report titled "Immigration and public opinion in Australia: how public concerns about high migration are suppressed"[1] discussing the reasons why there has historically not been any real public debate about this. I've reproduced a chart from this report below.
Australia has since 2005/6 seen a very significant increase in the Net Overseas Migration (NOM) from a level of ~70,000 per year to about ~200,000 per year. NOM is now the major contributor to population growth as the natural increase is stable at around 125,000 per year.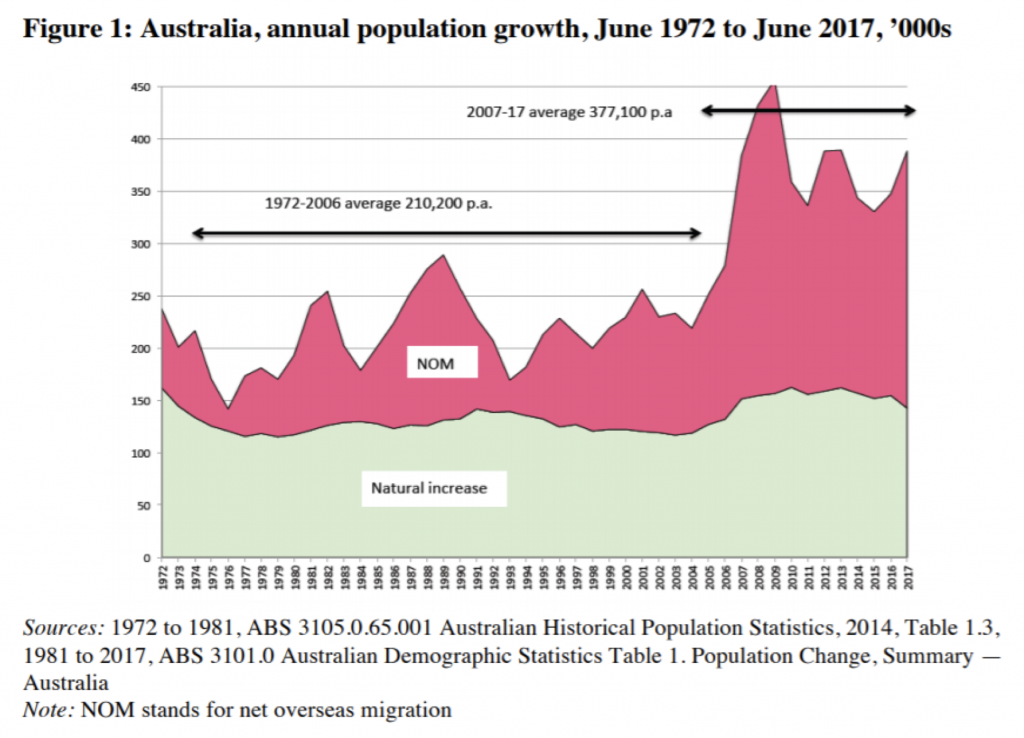 There are many reasons for this growth in NOM, but to list a few:
Business interests that benefit from immigration are lobbying for it. These business interests include:

Employers who are looking for qualified personnel but cannot always find the right skills in the Australian workforce and hence want to fill their skill gaps.
Employers looking for lower skilled workers to help keep labour costs down.
Businesses focused on residential property – a significant portion of the Australian economy relies on residential property development and household items, and importing more people helps this sector.

Policy makers in Australia seem to be solely focused on absolute GDP and not the, arguably, more useful GDP-per-capita metric, which is a more meaningful measure of standard of living. Inflating the population helps to grow the absolute GDP, but it can be detrimental to GDP per capita (i.e. we get richer as a country, but poorer as individuals).
An increasing volume from the political correct left, which means that a debate about population growth is very hard to have without opponents being labelled "racist". We should note that Australia's humanitarian immigration has been relatively stable at around 15-20,000 per year for a long time.
There are potential negatives from immigration, especially rapid immigration. Some of these include:
Failure to invest in infrastructure at a commensurate rate to population growth, lowers the perceived quality of living by the existing population. This perception is driven by;

Increased congestion on public transport and roads.
Crowded public services like schools and hospitals etc.
Disruption from infrastructure construction and rezoning of land.
Negative environmental effects from increased population density and "urban sprawl" and increased water and electricity use.
Increased house prices due to increased demand leading to increased social tension between the haves and the have-nots.
Social problems associated with the formation of homogenous enclaves.
Recently, a few opinion polls have shown that the majority of Australians are in favour of reduced immigration[2]. Internal debate within the government about the right level of immigration is also underway[3].
Again, without taking a side on whether Australia should reduce or maintain the current level of immigration, let's look at what effects a potential cut to immigration could have on the Australian economy:
As 80 per cent+ of people migrating to Australia end up in one of the capitals, a drop in immigration would be negative for companies involved in infrastructure and property construction.
A negative influence on domestic property prices (which of course is a positive for those who haven't already purchased).
Reduced domestic consumption impacting retail sector.
Franchises and sharing economy companies hitherto relying on cheaper labour.
With skilled migration likely the last cohort cut, high-tech companies would probably be spared.
A significant portion of the NOM comes from students who study in Australia and then stay once graduating. A drop in immigration could negatively impact education providers.
There are also a few sectors that could potentially benefit:
Lower congestion would be provide at least a partially offsetting benefit to the economy.
Export companies might benefit from a lower Australian dollar.
Tourism companies also benefit from lower Australian dollar.
A redirection of investments away from unproductive speculative assets (domestic housing) towards productive (growth capital for companies) would, over time, probably also benefit the economy as a whole.
Overall, it is probably fair to say that lower levels of immigration would be negative in the short term for Australia if measured through a purely economic rationalist's lens. The same lens however might suggest a benefit over the longer term or using a broader set of measures that take into account less tangible factors.
The debate is definitely worth watching, and even participating in. Importantly, investors must watch for any change in policy.
[1] The Australian Population Research Institute Report 2018 – access this here.
[2]   Report on Immigration and public opinion – access this here.
[3] The Guardian article:Turnbull says ministers, not cabinet, discussed migration numbers – access this here.