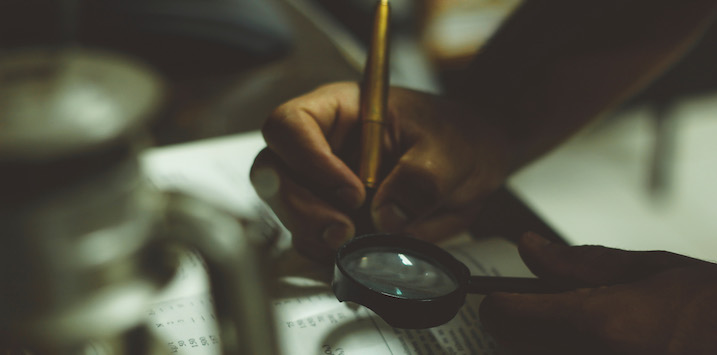 When a Firm Can't Find an Auditor
Sports Direct, a stock that Montaka has been short, announced on 14 August 2019 that Grant Thornton, the firm's auditor since listing in 2007, had expressed its intention to not seek reappointment as the company's auditor. The stock market sent the share price of Sports Direct (LSE: SPD) down 10 per cent on the day the news was announced.

Envision a scenario where a firm's auditor declines to be reappointed, and the firm subsequently struggles to find a replacement auditor. Furthermore, that same company asks the government for clarification around the powers of the secretary of state to appoint an auditor to a public company in the event that no replacements can be found. When presented with the above facts, one might guess that the situation for that company is dire at best. Ordinarily, this might cause only minimal disruption. After all, a firm can simply appoint another auditor.
However, in Sports Direct's case, other auditors are declining to take on Sports Direct as an audit client.
Scott Knight, the head of audit at BDO LLP, an auditor that snubbed Sports Direct as a client framed the issue facing auditors: "audit firms also need to protect their reputations, and increasing regulatory risks now deem some audits deeply unattractive to take on regardless of the fee." According to the Financial Reporting Council in the UK, the accounting regulator, fines for poor quality audits in 2018 were 43 million pounds, up from 15.5 million pounds in the year prior. UK investors suffered a number of high profile corporate failures that followed shoddy audits, including BHS, Carillion and Patisserie Valerie. Regulatory scrutiny has tightened, and this puts Sports Direct in a bind.
In a remarkable, and possibly unprecedented action, Sports Direct asked the Department for Business, Energy and Industrial Strategy for clarification around whether the UK government is able to appoint an auditor to a public company in the event that it fails to appoint one itself. The UK Companies Act specifies that in the event that a company is unable to appoint an auditor, the secretary of state for the department of business is able to appoint an auditor to that quoted company. To our knowledge there does not appear to be precedent as to how this process works, but regardless, the department of business in a statement to the FT has so far expressed an unwillingness to become involved: "The secretary of state's powers to intervene only apply in particular circumstances, which do not currently apply here."
One would have to think that this would be playing on the mind of Mike Ashley, given that in the event that Sports Direct is unable to secure an auditor, the firm will be taken to have contravened the London Stock Exchange listing rules, specifically LR 9.8.10 which requires the auditors to review certain provisions of the Annual Report. In the event that this plays out, Sports Direct would presumably be delisted at some point thereafter if it still fails to appoint an auditor.
This latest announcement by the company is just one of many issues to bubble to the surface in recent months. In the last month and a half Sports Direct has seen its Retail Chief, Company Secretary, and CFO all depart the company. The company also had to delay the publication of its full-year results multiple times, initially scheduling the release of these results for 18 July 2019, but finally reporting them on 26 July. When combining the reluctance of auditors to take them on as a client with these other red flags that we have observed in recent months, it paints the picture of a business with mounting signs of distress.
This is a business facing a crisis, and we continue to believe that the market is still failing to adequately reflect these pressures in the share price. In other words, we believe that there is a high likelihood the stock has further to fall, and a chance that over the years the equity of SPD LN will be wiped out completely.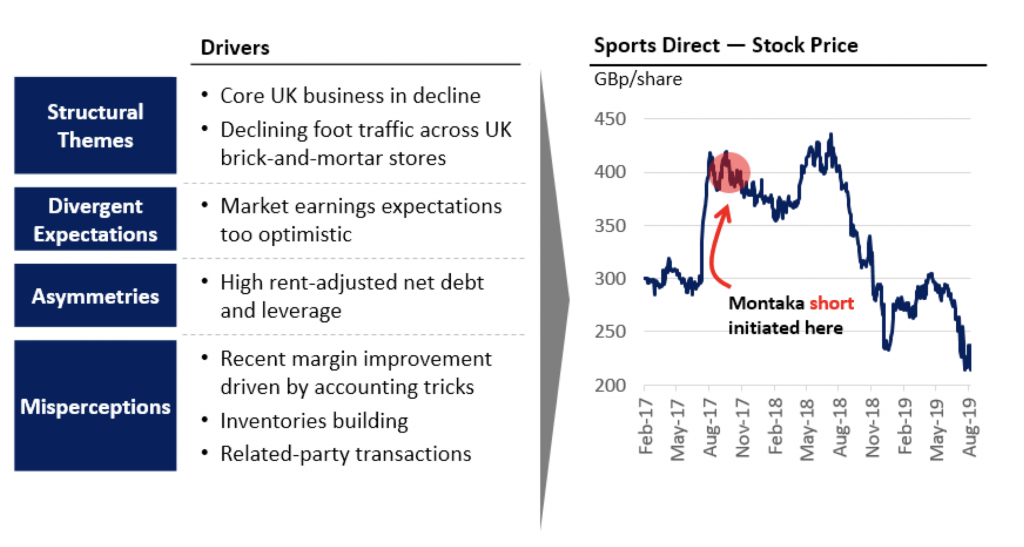 Source: Montaka Global Investments 
The Montaka Funds are short shares in Sports Direct. This article was prepared 19 August with the information we have today, and our view may change. It does not constitute formal advice or professional investment advice. If you wish to trade Sports Direct Group you should seek financial advice.
Sports Direct, a stock that Montaka has been short, recently announced the firm's auditor expressed its intention to not seek reappointment. Why are other auditors declining to take onSports Direct as a client? Click To Tweet