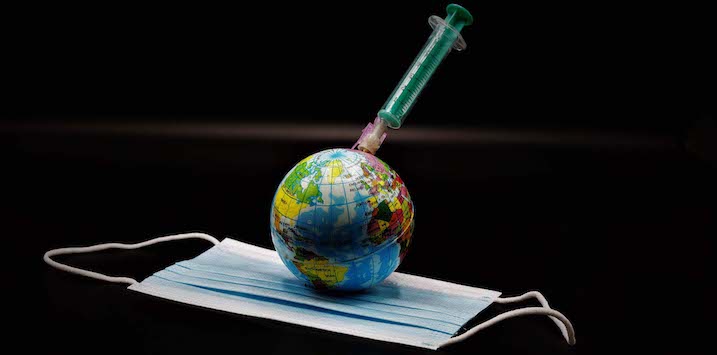 What if we get a vaccine but people refuse to be jabbed?
Global share markets are being held aloft partly by the hope of a coronavirus vaccine coming sometime soon. But new research shows many people – including around 50 per cent of Americans – could refuse to get a jab. If that happens, then is it possible that what we are now living through will be the new normal?
Let's suspend the very real possibility that a vaccine is not developed for many years, if ever.
Around the world, approximately 180 COVID-related projects are underway and more than 100 vaccines are being developed. Fifteen are reported to be in clinical trials, and according to the World Health Organisation, just four – from Moderna, AstraZeneca, SinoVac, and Pfizer, have entered critical and final phase-3 mass human trials.
US Health and Human Services Secretary, Alex Azar, was recently reported saying it is "realistic" to expect a coronavirus vaccine in the northern hemisphere's Autumn, and that it is "very credible" to expect "tens of millions of doses" to be widely distributable by the end of the year, with "hundreds of millions" available in 2021.
The United States has six vaccines in which a major investment has been made. Four of those have reported positive Phase 1 clinical trial results and two are in final Phase 3 studies.
But is it reasonable to assume that a vaccine, if developed, will be accepted by communities? Or is it wiser to assume a large number of unvaccinated individuals will continue to spread the virus amongst themselves, endangering a return to normal economic activity?
According to the latest Yahoo News/YouGov survey, only 42 per cent of Americans say they plan to be jabbed with a coronavirus vaccine when it becomes available. And the number has been trending lower. In early May, 55 per cent of individuals polled said they would take the vaccine.  By late May that number had fallen to 50 per cent and in July just 46 per cent were willing to take the vaccine.
When the respondents were divided along political lines, 55 per cent of Democrats now plan to be vaccinated, while just 37 per cent of Republican supporters plan to be vaccinated, and only 34 per cent of US independents are willing.
The thinking among anti-vaxxers is perhaps best articulated by assistant professor of biostatistics at the University of Florida, Natalie Dean, who was quoted as saying, "I'm a vaccine researcher, and even I would place myself in the 'not sure' bucket" adding, "The evidence that would convince me to get a COVID-19 vaccine, or to recommend that my loved ones get vaccinated, does not yet exist."
Anti-vaccine sentiment once had a fringe presence in America, but social media and the need for individual uniqueness has helped both the movement gain traction, and in 2019 contribute to the worst US measles outbreak since 1992. 89 per cent of measles patients in 2019 were unvaccinated or had an unknown vaccination status.
One cannot help but wonder how governments might respond if half the population refuses to be vaccinated. That possibility produces a range of scenarios I suspect the equity market has not yet contemplated.
Of course, while liberal democratic governments may use carrots to incentivise citizens to be vaccinated, less democratic nations may use sticks. In Russia for example, one imagines the anti-vaxxer movement might never move beyond embryotic.
The Russian trade minister, Denis Manturov, told the state-run TASS news agency that Russia plans to mass produce its leading vaccine in September, despite the fact its safety and efficacy remains questionable. Deputy Prime Minister, Tatyana Golikova, said this week that the Vektor State Research Centre of Virology and Biotechnology will start mass producing its vaccine in November.
Insiders claim Russian vaccine developers have trialled the vaccine on themselves and taken short cuts to make the Kremlin look good in what appears to be a race in national pride, similar to the space race.
Meanwhile, the US, UK, and Canada recently accused Russia of being behind attempted hacks of coronavirus research centres to steal COVID-related intellectual property.
Investors are buoyed by the hopes of an eventual return to normal as well as government largesse and central bank efforts to keep interest rates low. But have investors contemplated the possibility that 'this' is the new normal?
Around the world, approximately 180 COVID-related projects are underway and more than 100 vaccines are being developed. Fifteen are reported to be in clinical trials. How might governments respond if half the population refuses to be…
Click To Tweet