What do I think these A1 companies are really worth?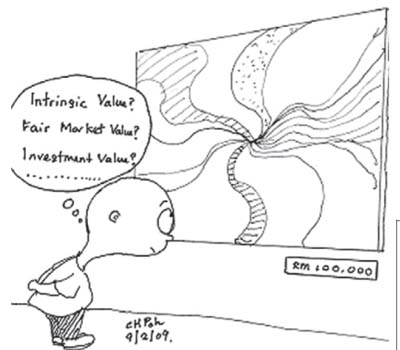 If you recently ordered my book Value.able, thank you and welcome! You have joined a small band of people for whom the inexplicable gyrations of the market will soon be navigated with confidence and far more understanding. If you have ever had an itch or the thought; "there must be a better way", Value.able is your calamine lotion.
Its hard to imagine that my declaration to Greg Hoy on the 7.30 Report that Myer was expensive as it listed at $4.10, or elsewhere that JB Hi-Fi was cheap and Telstra expensive has anything to do with the 17th century probability work of Pascal & Fermet.
The geneology of both modern finance and separately, the rejection of it, runs that far back. From Fermet to Fourier's equations for heat distribution, to Bachelier's adoption of that equation to the probability of bond prices, to Fama, Markowitz and Sharpe and separately, Graham, Walter, Miller & Modigliani, Munger and Buffett – the geneology of value investing is fascinating but largely invisible to investors today.
It seems the intrinsic values of individual stocks are also invisible to many investors. And yet they are so important.
My 24 June Post 'Which 15 companies receive my A1 status?' spurred several investors to ask what the intrinsic values for those 15 companies were. You also asked if I could put them up here on my blog so you can compare them to the valuations you come up with after reading Value.able. Apologies for the delay, but with the market down 15 per cent since its recent high, I thought now is an opportune time to share with you a bunch of estimated valuations.
I have selected a handful from the 15 'A1' companies named in my 20 June post and listed them in the table below. The list includes CSL Limited (CSL), Worley Parsons (WOR), Cochler (COH), Energy Resources (ERA), JB Hi-Fi (JBH), REA Group (REA) and Carsales.com.au (CRZ).
If you are surprised by any of them I am interested to know, so be sure to Leave a Comment. And when you receive your copy of my book (I spoke with the printer yesterday who informed me the book is on schedule and will be delivered to you very soon), you can use it to do the calculations yourself. I am looking forward to seeing your results.
The caveats are of course 1) that the list is for educational purposes only and does not represent a recommendation (seek and take personal professional advice before conducting any transactions); 2) the valuations could change adversely in the coming days or weeks (and I am not under any obligation to update them); 3) these valuations are based on analysts consensus estimates of future earnings, which of course may be optimistic (or pessimistic, and will also change).  They may also be different to my own estimates of earnings for these companies; 4) the share prices could double, halve or fall 90 per cent and I simply have no way of being able to predict that nor the news a company could announce that may cause it and 5) some country could default causing the stock market to fall substantially and I have no way of being able to predict that either.
With those warnings in mind and the insistence that you must seek advice regarding the appropriateness of any investment, here's the list of estimated valuations for a selection of companies from the 15 A1 companies I listed back on 20 June.

Posted by Roger Montgomery, 6 July 2010