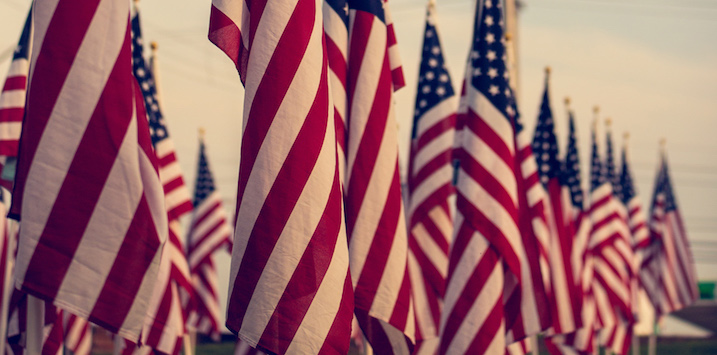 Washington Elites Meet as Bond Market Signals Recession
The Financial Stability Oversight Council held a behind closed doors meeting last week to assess global risks of the current state of corporate borrowing. The Council is made up of Treasury Secretary Steven Mnuchin, Fed Chair Jerome Powell and heads of the top US financial regulators such as the SEC and Controller of the Currency's Office. It was formed in the aftermath of the GFC to prevent a similar recession.
TheStreet reports that the meeting featured a "corporate credit and leveraged lending" presentation from Mnuchin's counsellor Craig Phillips. Leveraged lending involves making loans to companies who already have considerable debt or a poor credit rating, giving them a higher risk of default. Leading up to 2008, Wall Street banks repackaged these "junk" loans, subprime mortgages in this case, as collateralised debt obligations (CDOs) and sold them as AAA-rated bonds.
Today's leveraged lending has a different feel to it but operates in a similar sense. Following the crisis, private equity took advantage of the subdued and more regulated environment to control a much larger segment of the financial market. Over US$1 trillion is now in the hands of the biggest PE firms, naturally a riskier marketplace than banks or the public financial markets.
More recently, after expanding their business operations, nonbank PE firms such as Blackstone Group have become corporate lenders themselves. These firms sell a similar product to 2008's CDOs called a collateralised loan obligations (CLOs), repackaged junk loans branded as new AAA-rated bonds promising investors yields that are hard to turn down.
These sorts of bonds appear at later stages of the investment cycle, when reduced tolerance for risk leads to restricted capital access and high-quality risk/reward opportunities become hard to find. The distress caused by lack of capital flows ultimately leads to loan defaults. As loan losses climb, companies become more likely to default on their own outstanding bonds, inevitably prompting credit rating downgrades. If these effects are as widespread as we saw in the GFC it can put recessionary pressure on the economy.
Further signals from the bond market have experts concerned. For the first time, the share of US BBB-rated bonds has outgrown the proportion of all AAA/AA/A-rated debt. Optimistically, this could mean ratings agencies have become more realistic in their credit assessments to reduce inappropriate A-range ratings following the GFC.
However, the more cynical view is an indication that more loans are being granted to companies with a real risk of falling into junk-rating territory, only one level below BBB. At the Financial Stability Oversight Council's latest meeting, Treasury Department Researcher Ted Berg alerted the committee that non-junk debt could see $300 million to $1 trillion worth of credit rating downgrades in the next market downturn.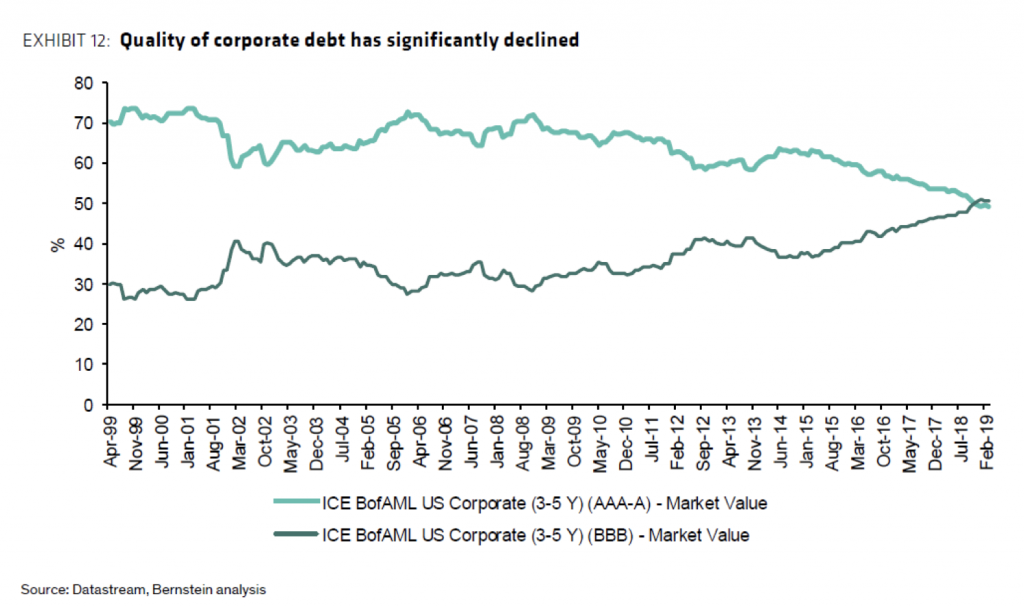 Furthermore, Deutsche Bank has reported that 20 per cent of all outstanding sovereign and corporate bonds globally, over US$11 trillion, are trading with negative interest rates. This is implemented to incentivise corporates, governments and consumers to borrow money in order to stimulate the economy. The first central bank to deploy negative interest rates was as recent as 2009, when Sweden cut their overnight deposit rate to -0.25 per cent. Other European governments and Japan have since followed suit, helping the global total balloon into what it is today. Negative interest rate measures imply that policymakers are afraid their economies are at risk of falling into a deflationary spiral as consumers hold onto their cash during tougher times, weakening the economy and reinforcing fears.
Ultimately, with the US and China deeply locked in their trade war and US treasuries showing a yield-curve inversion, historically a signal of impending recession, it appears the Financial Stability Oversight Council had a lot to discuss. Hopefully the minds leading our economy have the capacity to navigate the potentially hazardous waters approaching.