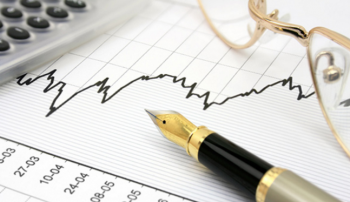 Valuation on a spectrum
Several weeks ago I posted some musings on how to estimate the cost of equity when valuing a firm via a discounted cash flow model. Of course, there was no perfect answer, but via analysis from a few different angles, we can usually come out with a reasonably good estimate.
Another key variable in this model is the expected rate of growth for the firm's earnings. Again, there is no perfect answer, but there are several observations we can make that should assist in making a rational estimate. For the sake of this analysis, we'll hold the cost of equity and all other assumptions constant.
If you were to pick up a standard textbook on the valuation of financial securities, the typical equation used for estimating future growth rates is the following:

The equation itself is correct, but estimating both the return on equity and the earnings retention ratio is very difficult – even more-so several years out.
Practitioners will normally use whatever results the firm achieved in its last annual report as estimates. Often, they'll proceed without regard for the business world's two unfortunate realities; competition and marginally declining returns (the third is taxes, but we'll stay on topic).
Because of this, let's transform the problem into something that can be considered on less of a rigid basis.
It's obvious that the higher price you pay for a stock, the higher the required growth rate is to justify the price paid.  Naturally the opposite also applies, the lower the price paid, the lower the required growth rate.
Having a high rate of growth implicit in the valuation of a stock is not necessarily a bad thing – many readers in 2015 may have raised an eyebrow at Montgomery's investment in REA Group (ASX: REA) given its eye popping 40x price-to-earnings ratio.
But for REA, such a price was easily justified by both the likelihood of REA being able to grow (through its high value offering to home vendors) and the propensity to which it could grow to (given how small a share (circa 5 per cent) of the average vendors marketing budget that REA takes up).
Whilst we've historically quoted our valuation of REA at $65 a share (this may change), the valuation is actually on more of a spectrum. Across the spectrum, the valuation changes from a low case to a high case depending on the low/high rates of growth as a function of real world events.
This is easy to see – clearly REA's valuation will be lower if its price increases on property ads are 1 per cent p.a. rather than 10 per cent p.a. The lower prices would result in lower revenue, less earnings and less money flowing back to shareholders and hence a lower valuation. A higher valuation would be justified if the 10 per cent case were achieved via similar logic.
Further, some events are more likely than others. REA has the required market power to push up prices by 10 per cent p.a. and customers (the home vendors) clearly have the propensity to pay. The exact price increase may not be 10 per cent, it may be 11 per cent but 10 per cent is certainly more likely than a 10 per cent reduction or a 1000 per cent increase.
So using this range in conjunction with an assessment of likelihood, we can get a much better idea of whether a security is trading at a cheap or an expensive price. That is, we ask ourselves what growth rate in earnings is incorporated into the market price, for how long and whether such performance is likely/unlikely given the facts. Ideally, we aim to buy companies when their prices are at the lower end of the valuation spectrum but with a high likelihood that events that justify prices towards the higher end.
An added benefit of this model is the ability to assess risk, i.e. the downside cases both in magnitude and likelihood. It would make sense for investors to spend ample time analysing the low end of the spectrum before they hit the 'buy' button.
Montgomery owns shares in REA Group.
Scott Shuttleworth is an analyst at Montgomery Investment Management. To invest with Montgomery domestically and globally, find out more.
This post was contributed by a representative of Montgomery Investment Management Pty Limited (AFSL No. 354564). The principal purpose of this post is to provide factual information and not provide financial product advice. Additionally, the information provided is not intended to provide any recommendation or opinion about any financial product. Any commentary and statements of opinion however may contain general advice only that is prepared without taking into account your personal objectives, financial circumstances or needs. Because of this, before acting on any of the information provided, you should always consider its appropriateness in light of your personal objectives, financial circumstances and needs and should consider seeking independent advice from a financial advisor if necessary before making any decisions. This post specifically excludes personal advice.
INVEST WITH MONTGOMERY