To Beer or Not to Beer
Part of helping manage a portfolio of global stocks involves staying on top of global trends, and determining whether there are ways to profit from any themes that emerge (either on the long or short side). One interesting theme the global team has observed is how Americans are increasingly drinking alcoholic beverages other than beer.
Following data released by the Beer Institute (yes, such an institute exists), American drinkers opted for beer 49.7 per cent of the time, which is down materially from 60.8 per cent in the mid-90s. What is notable is that the decline in beer consumption is even more pronounced amongst 21- to 27-year-olds. Data from Anheuser-Busch (owner of Budweiser) showed that young drinkers consumed beer just 43 per cent of the time when drinking alcohol, compared to 65 per cent around 10 years ago.
As can be seen from the graph below, the share of beer as a proportion of the total alcohol market has compressed in recent years.
Source: Beer Institute, via WSJ
As beer consumption per capita declines, beer companies have sought to offset this by putting through price increases.

Source: Bureau of Labor Statistics, via WSJ
Not only is this declining beer consumption story playing out, but there are also upstart beer brands biting at the heels of big beer companies. These challenger brands are appealing to the sensibilities of millennials, who desire beverages marketed as being healthier, more natural, or brands that have a unique backstory.
While this phenomenon of declining beer drinking has been happening in the U.S., there are some bright spots globally.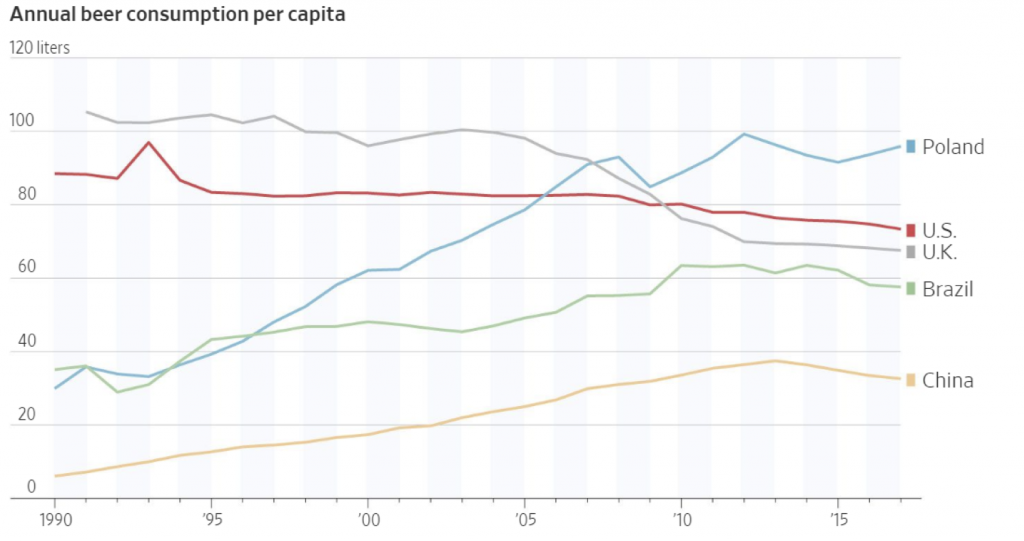 Source: IWSR, via WSJ
If you had to guess, what would the annual beer consumption per capita graph look like for Australia?