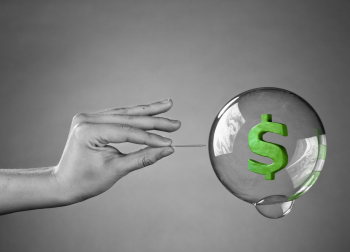 Three scenarios that could trigger a fall in house prices
As we've regularly noted in our blogs, we believe the residential property market, particularly in the major cities, is overheated and due for a correction.  And it's not just rising debt levels that have us concerned.
In the 10 months since April 2016, that is, since the RBA cut rates in May, Australian Capital City house prices have risen by 10.4 per cent per year.  In the year to February, Sydney house prices grew by 18.4 per cent and Melbourne by 13.1 per cent.
Auction clearance rates remain high – even amid a large volume of vendors selling, mortgage borrowing has accelerated again, banks aren't reporting any significant increase in defaults or non-performing loans and newspaper columnists regularly report properties selling well in excess of reserves.
And given persistent weakness in labour costs and a related lack of inflationary pressure, it is unlikely the Reserve Bank will raise interest rates any time soon.  As a result, the outlook appears rather rosy for property investors and the prices of their properties.
But there are also problems.  One of those problems is the small matter of debt.  The other is the fact that humans are notoriously bad at predicting turning points.  In addition, we have become so specialized that we often fail to see the wood for the trees.
Recently, in the financial press, TD Securities chief macro strategist Annette Beacher was quoted saying: "I certainly do not want to see a house price crash – and only a slump in employment will spark that…"
Yes, a house price collapse could be a genuine problem for owners, particularly those who have leveraged to purchase multiple properties.  But let's remember that there is an equally large number of people who currently cannot afford to buy. Those people would welcome falling dwelling prices.  And they may soon get their wish – the market has a handy way of ensuring that not everyone becomes rich.
It is perhaps more useful however to question Beacher's logic of house price falls only being triggered by a tidal wave of job losses.
House price falls are not entirely dependent on individual property owners losing their jobs. I can think of at least three scenarios that would trigger price falls.
Financial stress
First, if an oversupply of properties causes vacancies to rise – as is occurring now 5-15 km from the Brisbane CBD – owners may encounter financial stress.  Rental yields in Australia are already at record lows and after interest and maintenance expenses, residential property investors are losing money.  Yes, they get a tax deduction for the loss but that's the same as losing a dollar to make 50 cents.  Financial stress is a trigger for vendors to sell.  A job loss is just one of the causes of financial stress.
It's interesting that financial counselling support lines are reporting significant increases in the number of calls for help with many of the callers being investors who have leveraged into multiple properties.  Their financial stress is not entirely caused by job losses; for many it's rising interest rates on mortgages and/or a reduction in rental income as tenants migrate to recently-built cheaper apartments closer to the city.
Oversupply of apartments
Second, apartment developers are already under their own self-inflicted stress.  Having oversupplied the market with generic apartments and finding their overseas buyers unable to settle, thanks to capital restrictions in their home countries, developers are resorting to the types of discounting incentives we saw in the early 90's.  Ten-year rental guarantees, holidays to Asia, frequent flyer points and even free cars are all recent examples of Australian capital city developers throwing everything at potential buyers to lure them in.  As the oversupply accelerates, expect developers to start lowering prices.
Rising interest rates
And, finally, if interest rates rise in the bond market, banks will find their funding costs rising and when that happens mortgage rates will have to go up.  This is independent of the RBA raising rates.
Household debt to income is at a record high of 189.6% and credit card debt is also at a record. While many point to record cash balances as a reason to be relaxed, it is a fact that the people with all the cash are not the same people as those with all the debt.
When debt gets too high (and keep in mind incomes are growing very slowly if at all) it's a plain fact that spending slows.  Once animal instincts are sated, the spending and the price growth stops.  Slowing price growth may be all that it takes for some investors to reappraise their strategy and sell.
Stock market investors should be very cautious about property developers, construction companies, retailers catering to people fitting out their new apartments with appliances and furniture, and real estate agents.
This article first appeared in the Herald Sun Short Cut column.